Documentation Theme
A professionally-designed static theme for guide and docs websites, Documentation makes content the focus. Brimming with options like built-in support for DocSearch or syntax highlighting, this theme provides a clean base for your support center.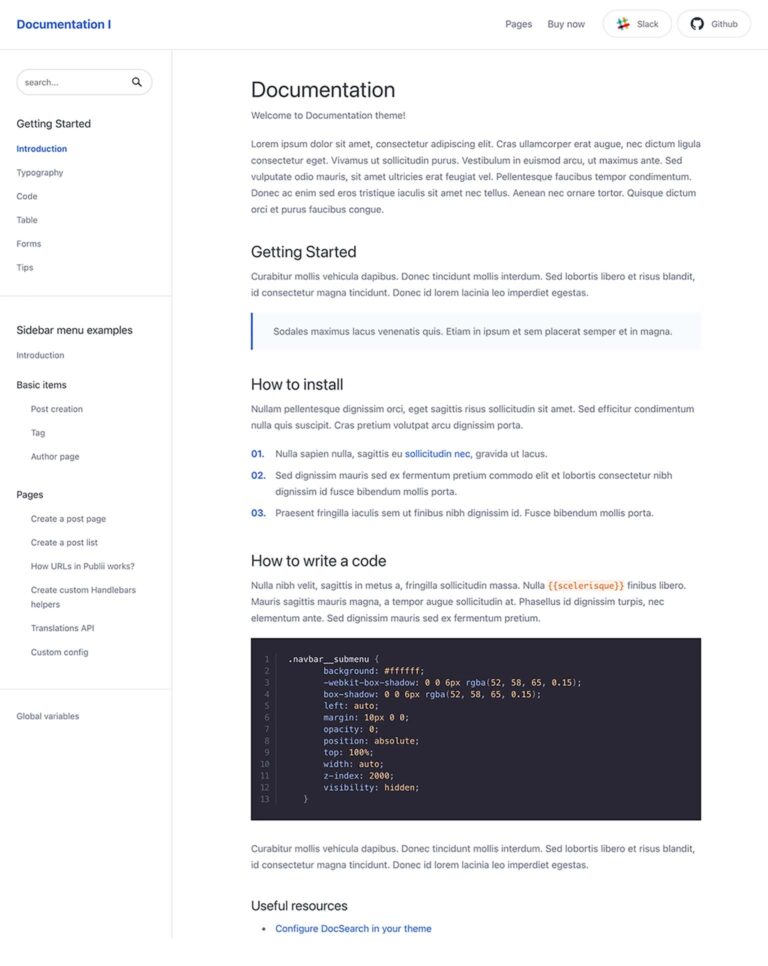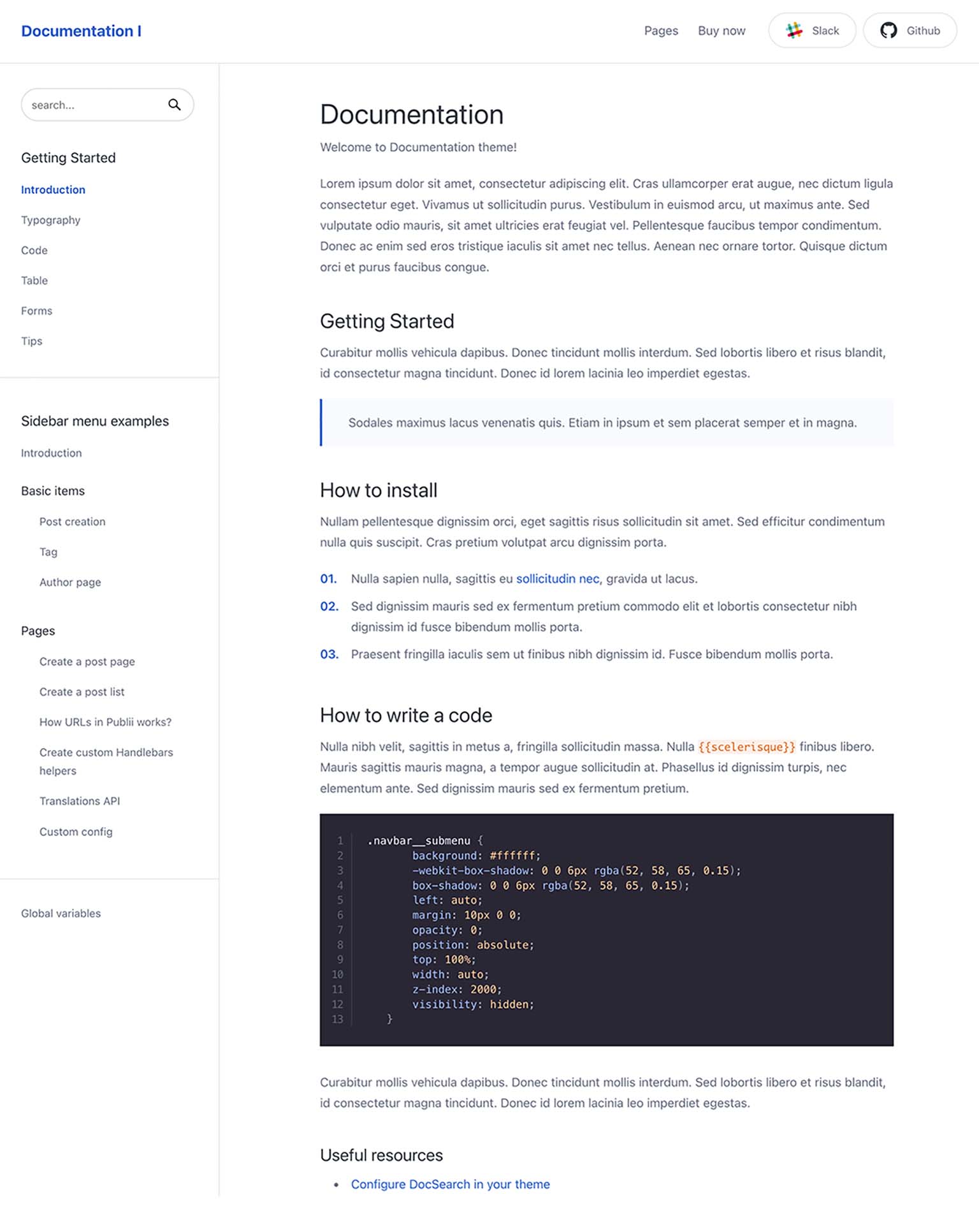 Take your pick from two layout styles
Get the layout that works best for your docs. Use the two-column spread with a sidebar for flowing content and quick links between sections, perfect for longer-form articles, and the cards layout to preview articles in individual preview blocks; great for secondary articles with independent content.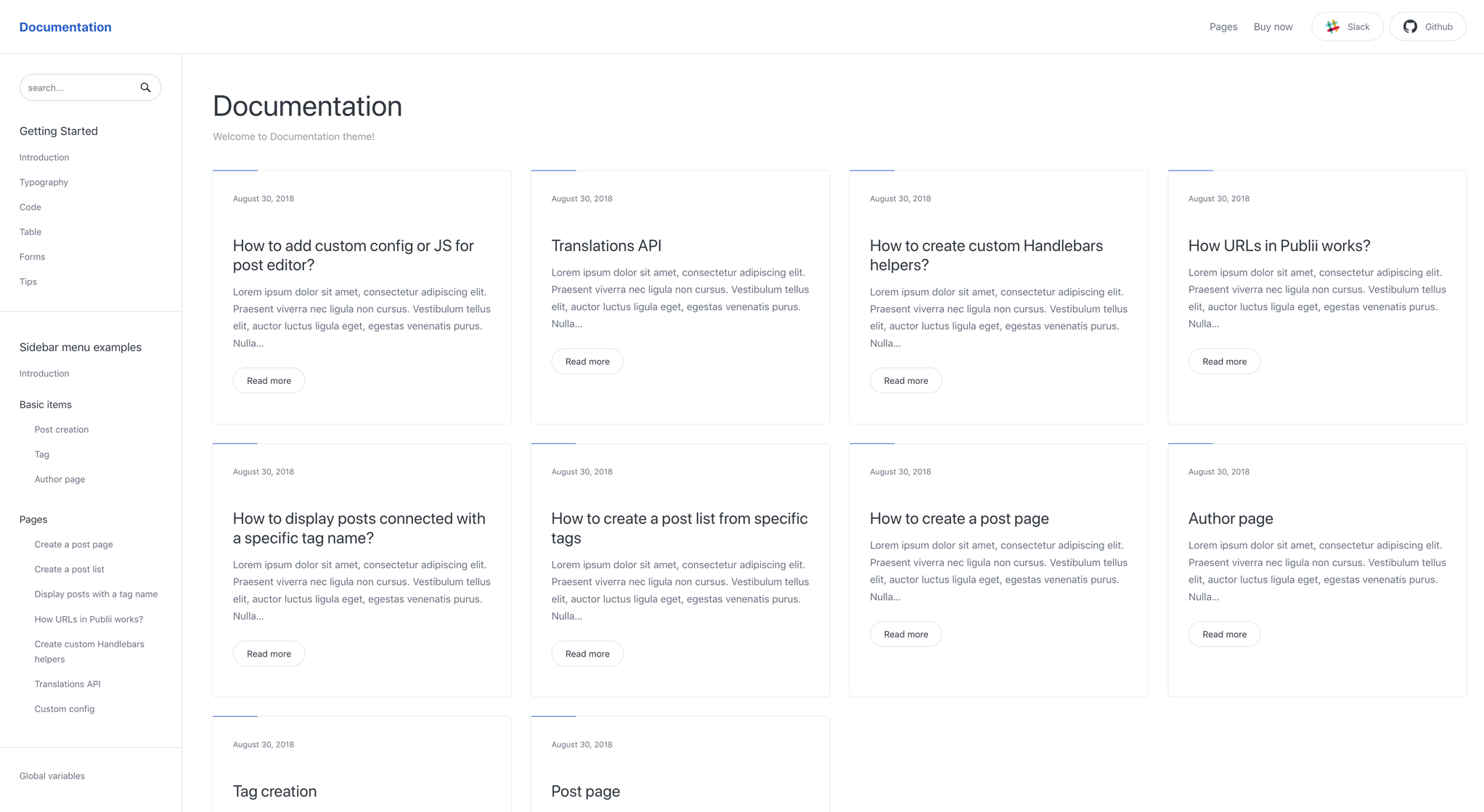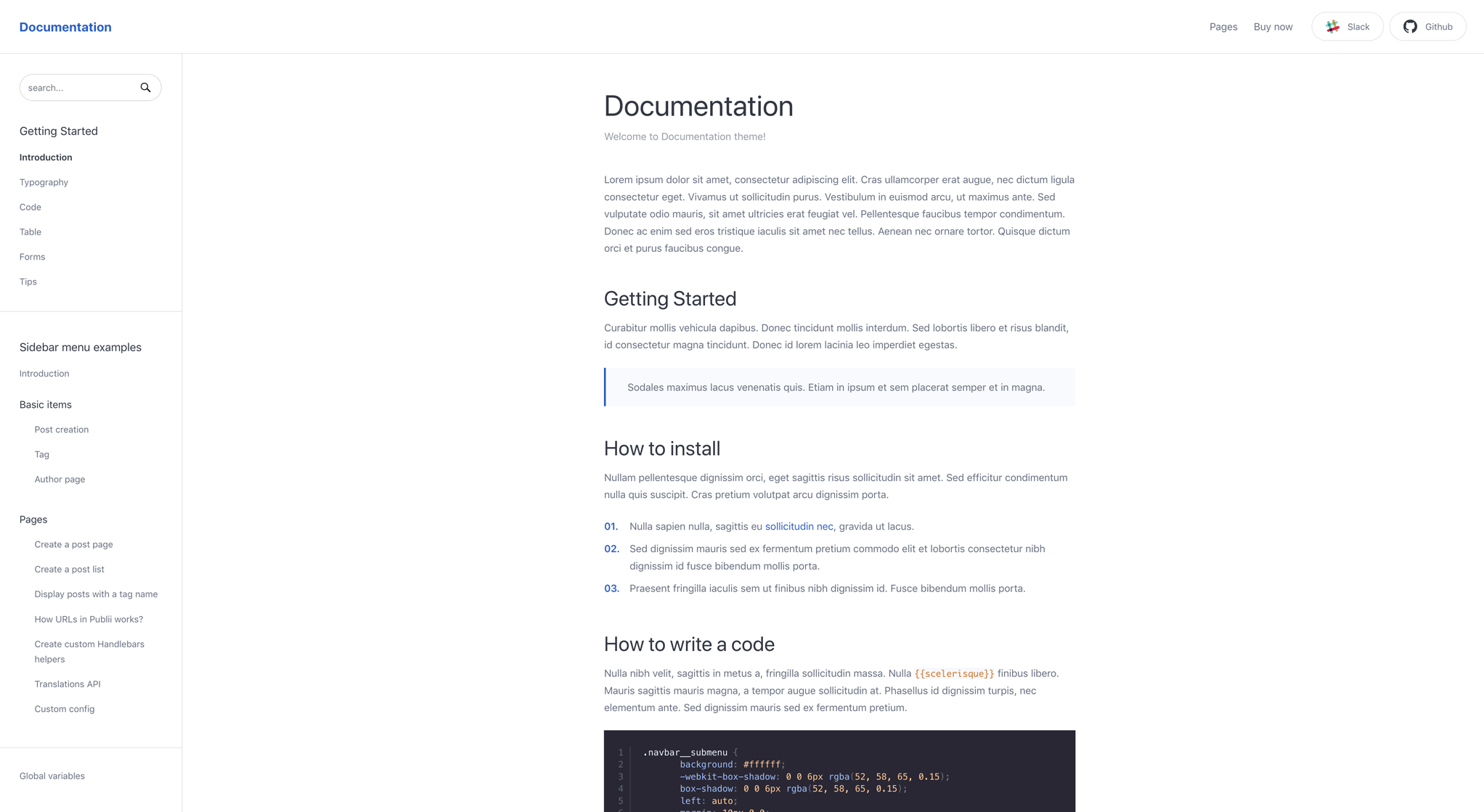 Control your card layout
The card's layout includes a ton of options to customize the layout's style. Enable or disable each aspect of the preview card from the read-more buttons to the date, or add images to each card. What's more, its CSS GRID layout reacts to display the optimal number of cards for each screen size. Make content easy to find with DocSearch
Documentation theme supports a fast, docs-focused solution with Algolia's DocSearch (it restyles the search plugin to fit perfectly with the theme style). DocSearch displays clear suggestions to search queries as you type, providing a fast and reliable method for your users to find what they're looking for.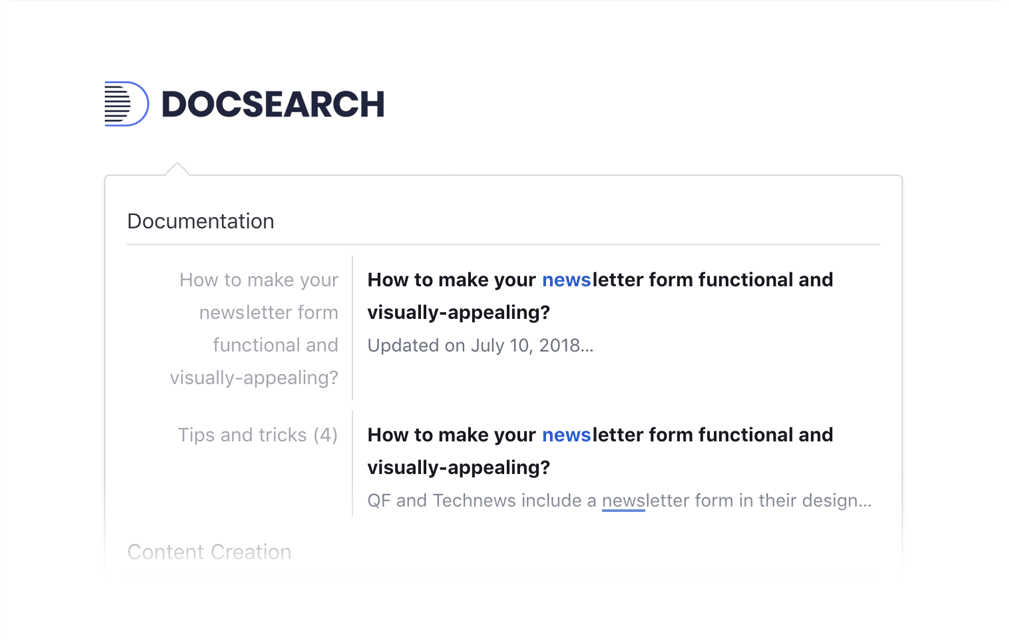 Elevate your coding experience with the Syntax Highlighter plugin
Transform the way you present code on your website with the Publii Syntax Highlighter plugin. Utilizing Prism.js, this tool makes code more readable and visually appealing. Its well-designed, clear presentation helps developers and readers quickly understand the underlying code, fostering a more intuitive content creation process. Not only does it enhance readability, but the plugin also comes with a range of customization options. These allow you to fine-tune the appearance of your code snippets, tailoring them to suit your specific preferences and aesthetic.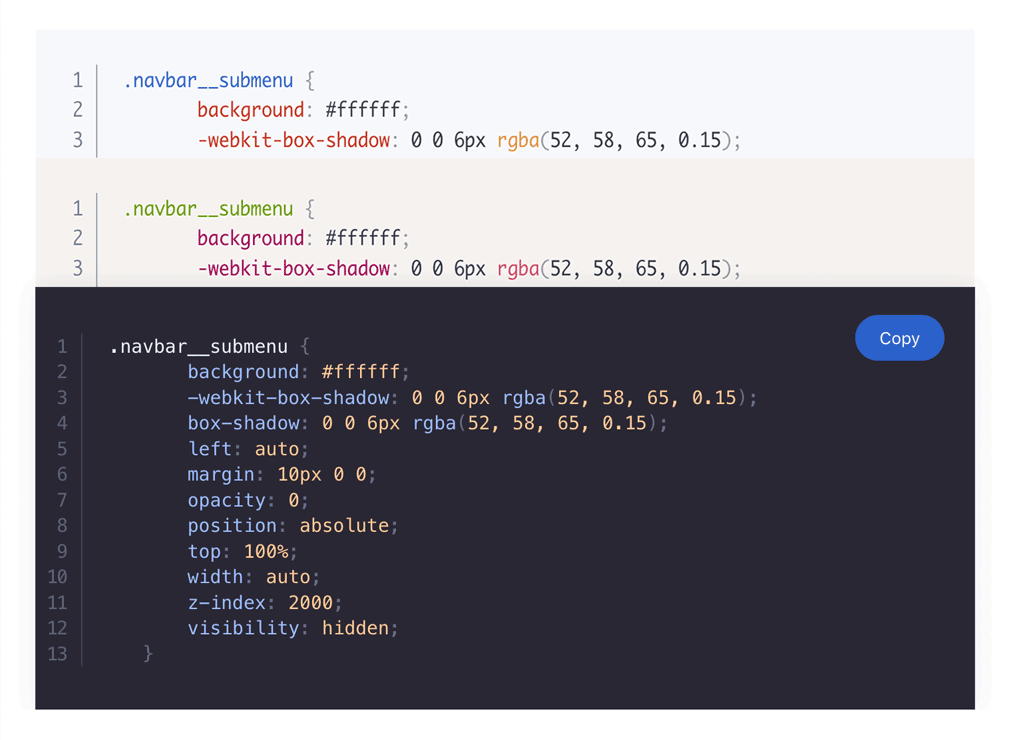 Fluid, flexible typography on any screen
In documentation the focus is on your text, and this theme is custom-built for this purpose. Fluid typography lets your text content resize perfectly to any screen size, with extras like styled buttons, warnings, and tip boxes to clearly separate the text to make it easy to read.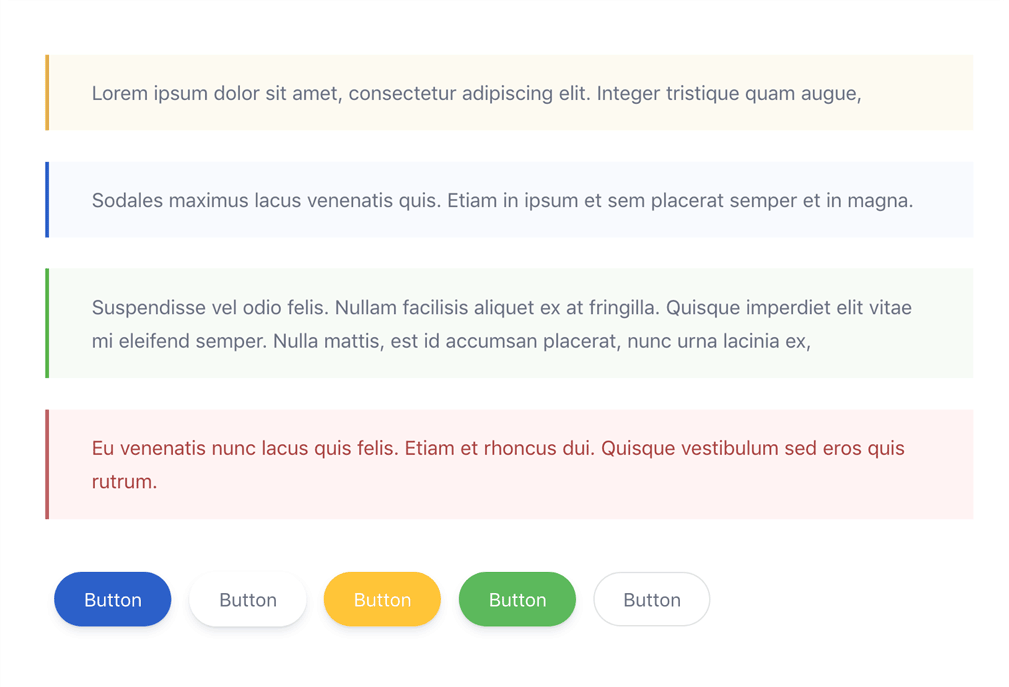 Sleek, customisable newsletter popup
Encourage your community to stay in touch with a customizable newsletter sign-up popup. Add your own form code, then clearly-define exactly when the popup should appear, either after a time-delay or after the user has scrolled a certain distance down the page, or both!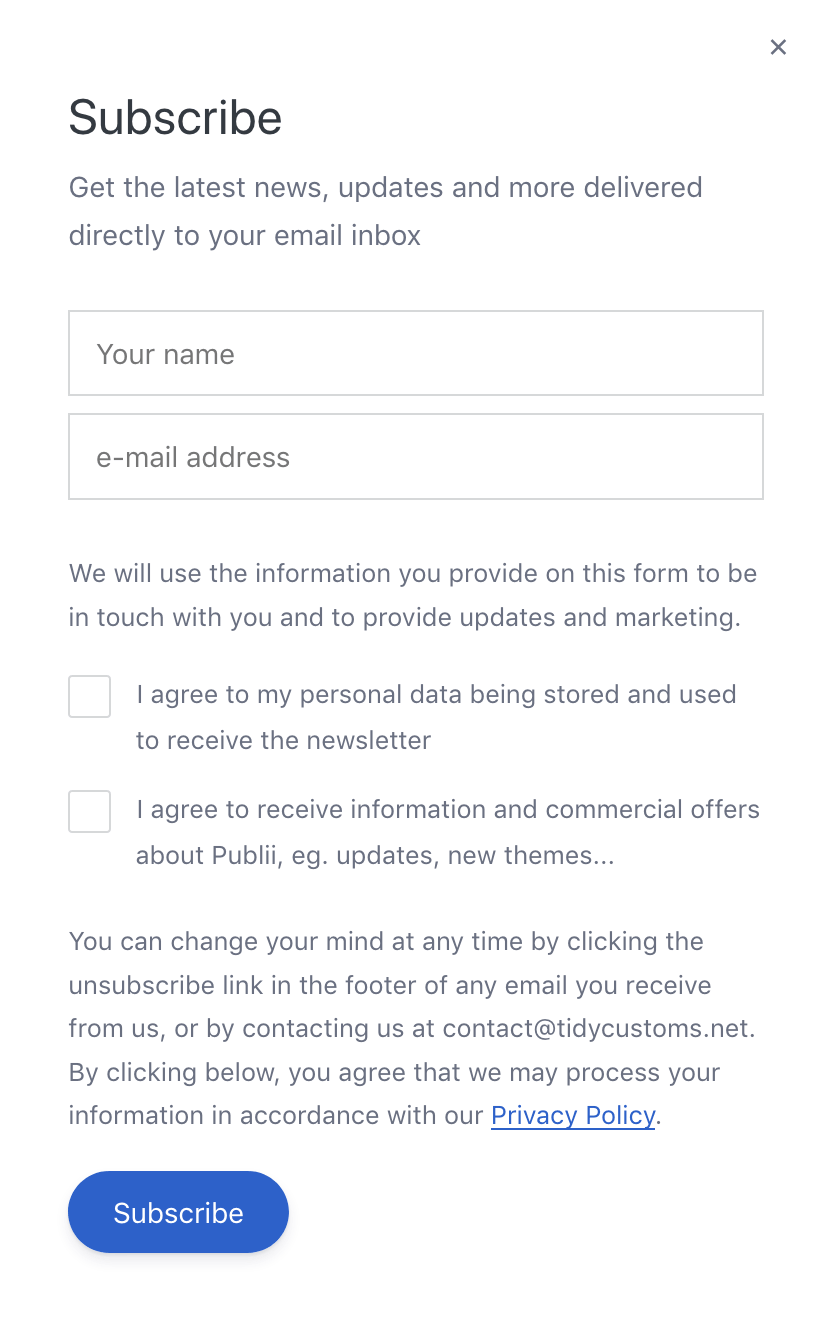 €

35.00
for 1 year
* Plus VAT for EU customers
What's included
✓ Lifetime usage on unlimited domains
✓ 12-months access to the files and updates
✓ 3-months premium support
Details
Version:

Updated:

Aug 07, 2023
Requirements and compatibility
Browser:

Edge, Firefox, Chrome, Safari, Opera

Requirements:

Publii 0.42 and up
Lightweight for a hyper-fast load time
Speed is of the essence when you're looking for answers, so our themes use no jQuery libraries or CSS frameworks; just pure JavaScript and custom CSS for shorter load-times. You won't need to worry about FOUT or FOIT effects in your text either, as you can use a system default fonts.
Get 3 months of professional support
Getting started with a new theme on a new website can be a challenge, but our experts are here to help. Every purchase of the commercial theme includes three months of support through our dedicated ticket system, so you'll have efficient and effective assistance with any issues you run into.
Standard features *
Manage your page look and feel with extensive coloring, menu, social media sharing and layout options, or switch it up completely with one of our many unique themes.
* The available options may vary from theme to theme but they are mostly standardized.