ProDocs: Create a Smooth, Customizable Knowledge Base Site
ProDocs offers the next evolution in documentation themes for Publii, boasting a range of options that make for a smooth, customizable knowledge base site that's fast and easy to navigate. Provide a premium user experience and help your users find all the information they need in moments.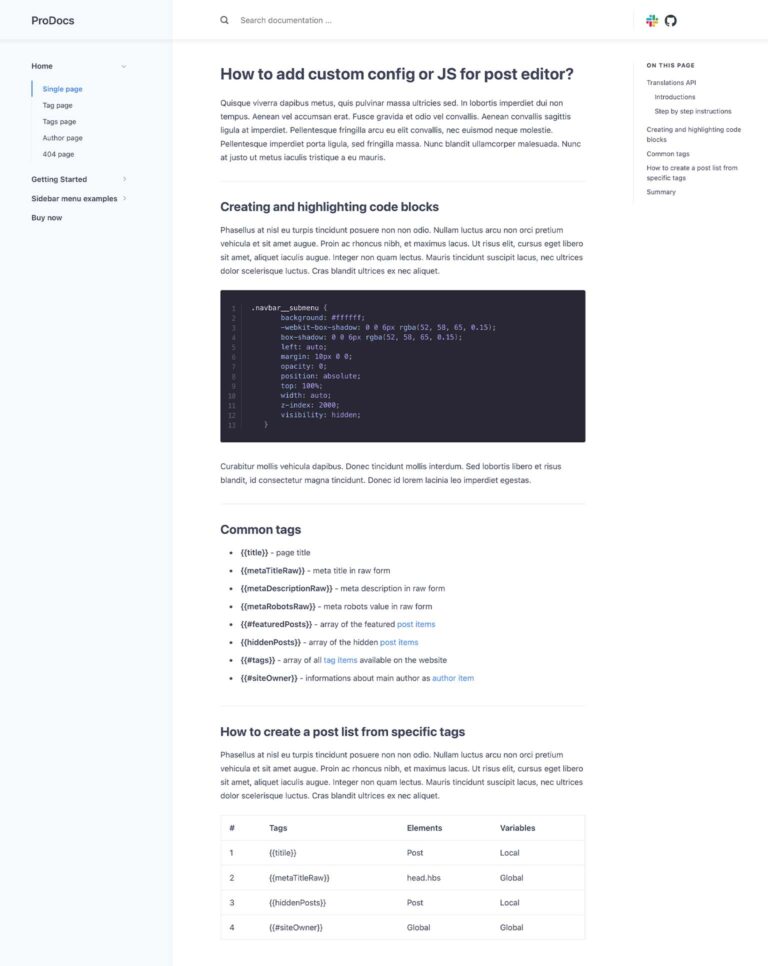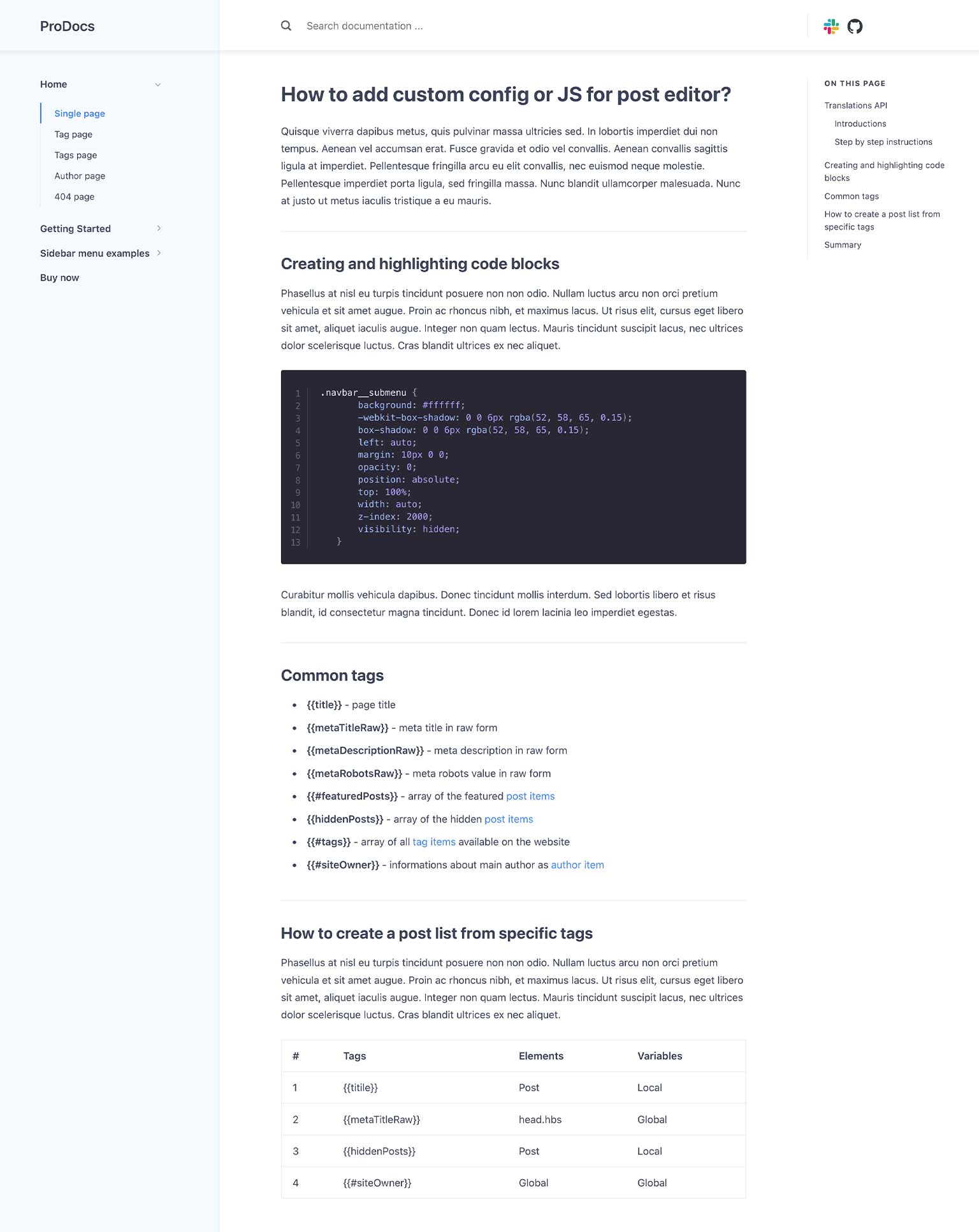 Customisable Post Listing Layouts
A bespoke block layout lets you control the appearance of your article previews, with a multitude of toggles to display the title, date, text, author name, and more, with each type of post listing, such as tag, author and the frontpage boasting its own set of options. Create unique layouts for each type, and take advantage of special frontpage-specific options, including a featured and latest articles section.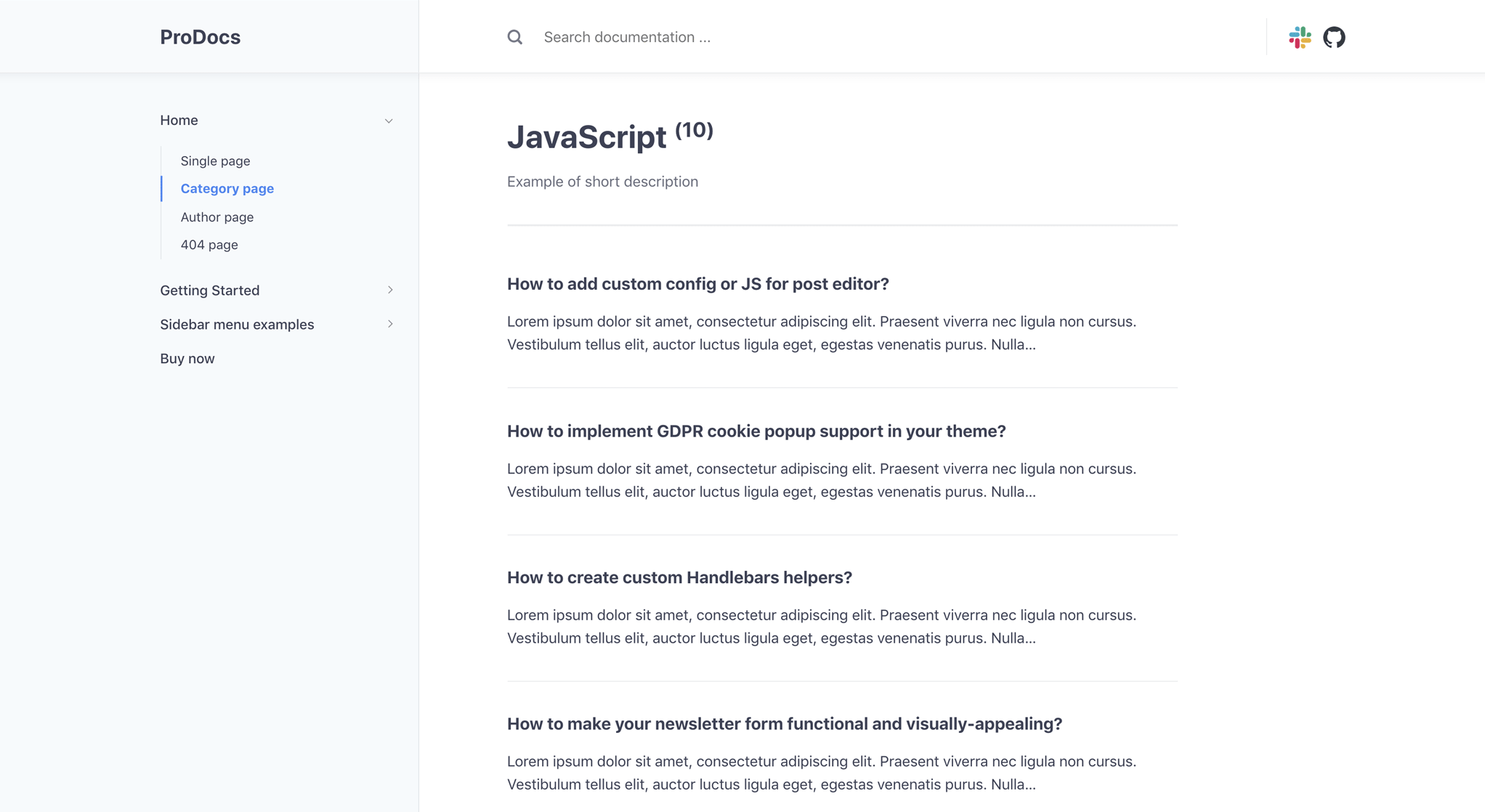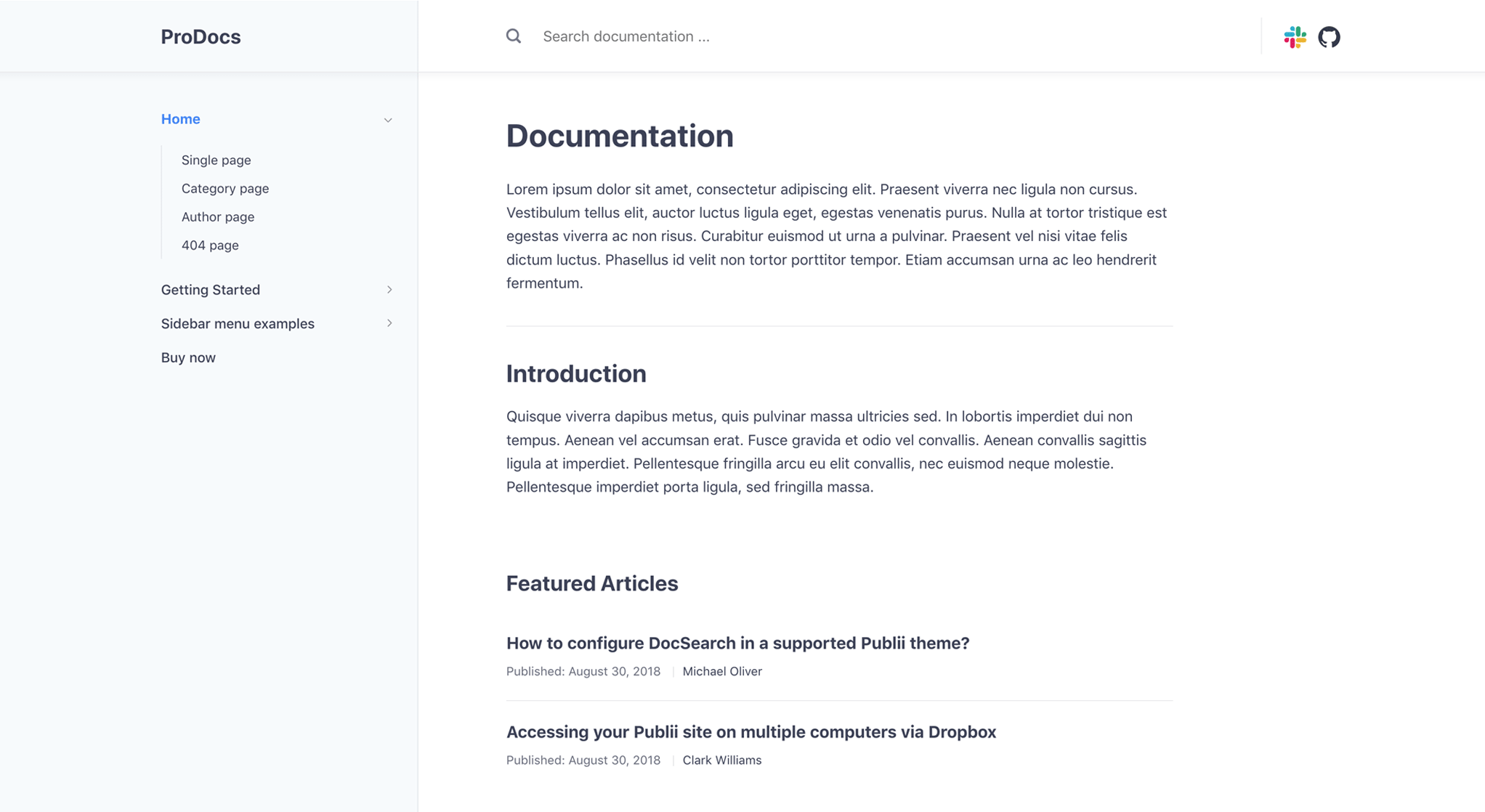 Auto-Generate a Table of Contents for your posts
For longer documentation, ProDocs includes a TOC generator that automatically creates a full table of contents in the right sidebar, with individual anchor links to each header element in the post. The header range is user-specified, so you can choose whether you want to link to all subsections individually, the main Header 2 elements, or anything in between.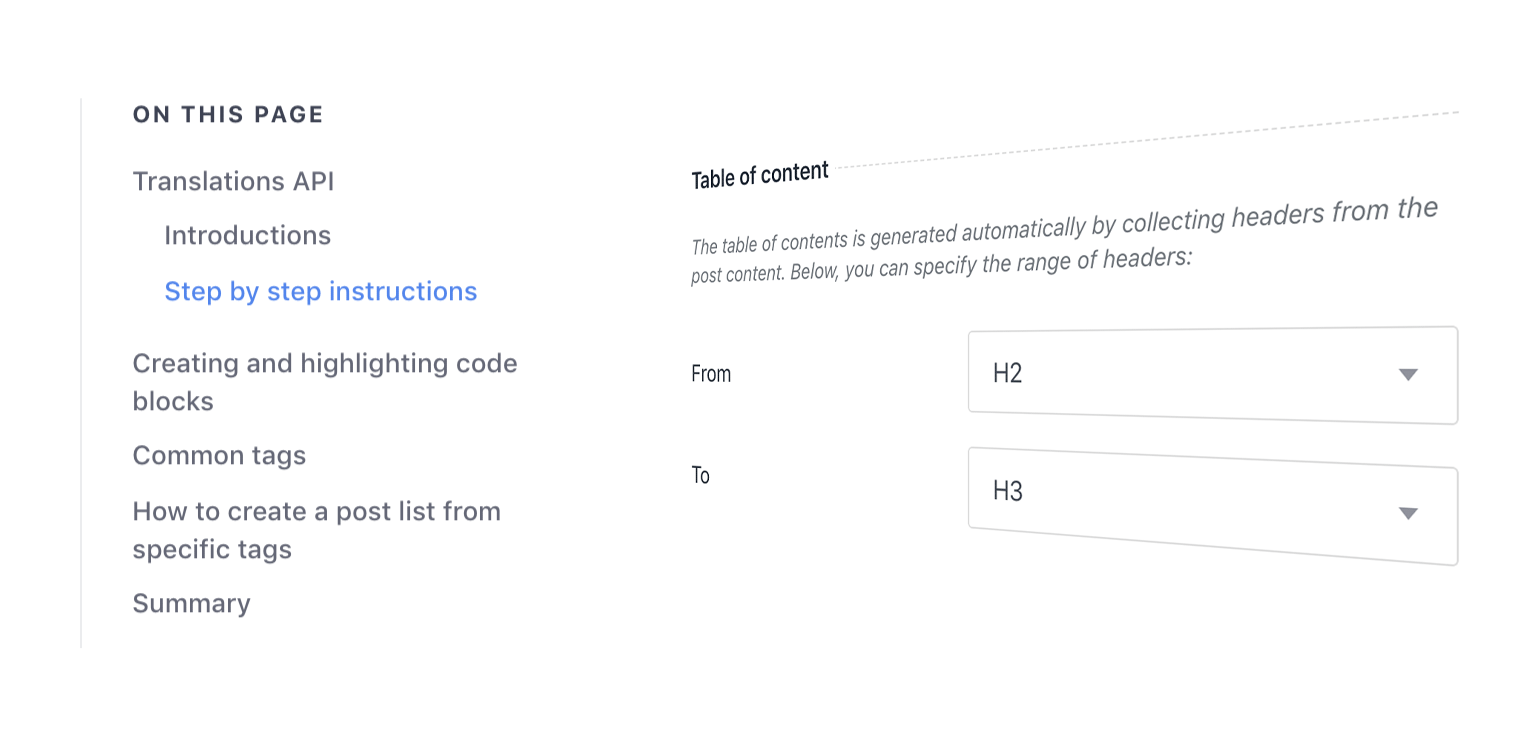 Fast and Accurate Searches from DocSearch
Help users find what they want faster. The ProDocs theme seamlessly integrates and redesigns Algolia's DocSearch plugin, ensuring a perfect match with the theme's aesthetic.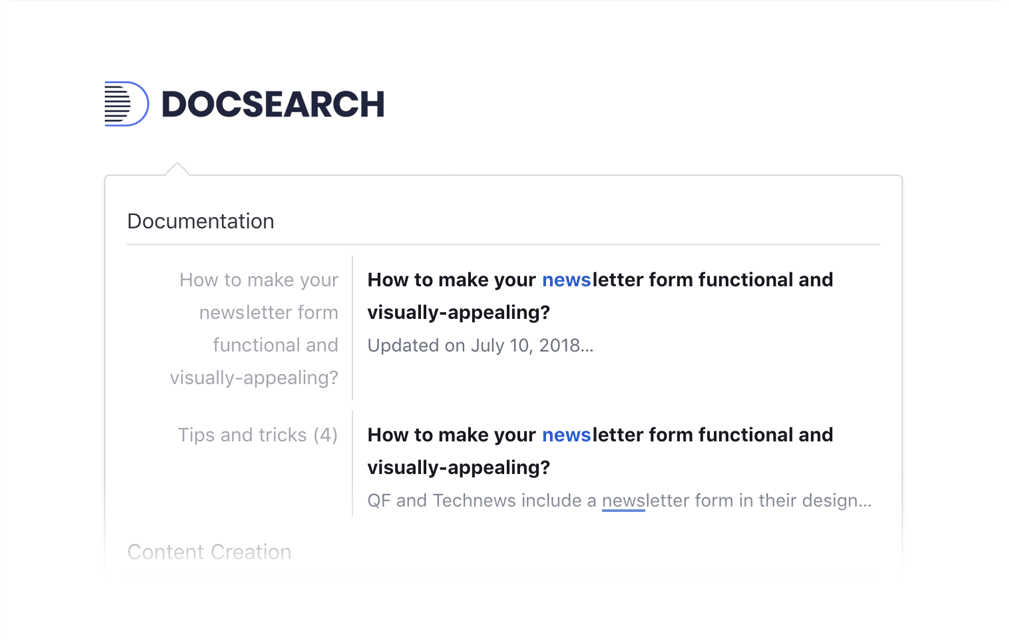 Highlight your Code with Prism.js
Discover an enhanced way of showcasing code on your website with the Publii Syntax Highlighter plugin. Through its modern approach to presentation, this plugin renders code more readable and visually striking. Its clear and crisp design aids developers and readers alike in quickly grasping the information, fostering a more intuitive content creation process. But it's not all about aesthetics; the plugin also boasts a variety of customization options, letting you tweak the appearance of code snippets to suit individual preferences.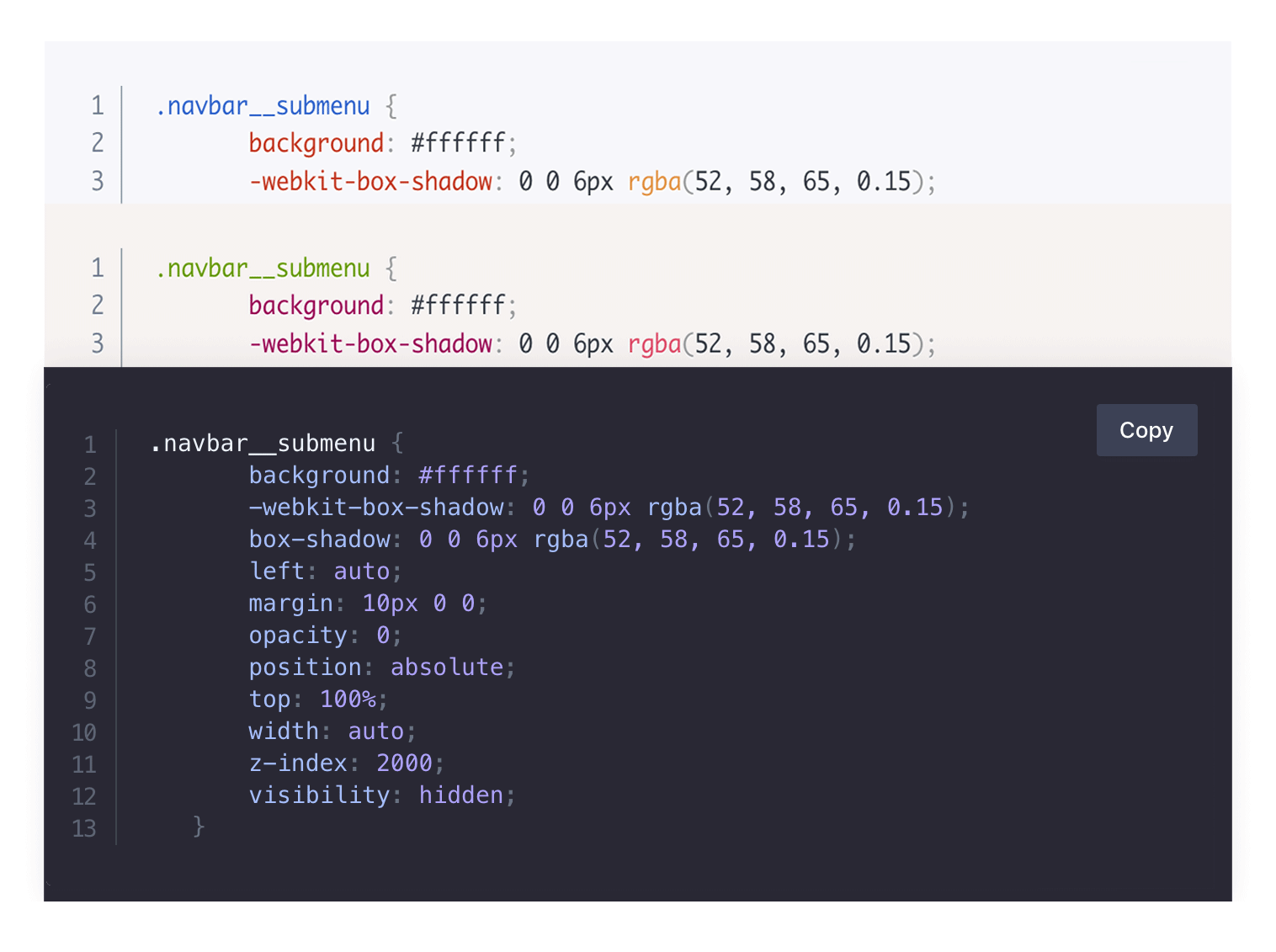 Navigation Made Easy with a SideNav Menu
When there's a lot of documentation to read through, users will want to be able to find what they need fast. ProDocs includes a SideNav menu in the left sidebar that's always available, with collapsible submenus for a cleaner, clearer layout.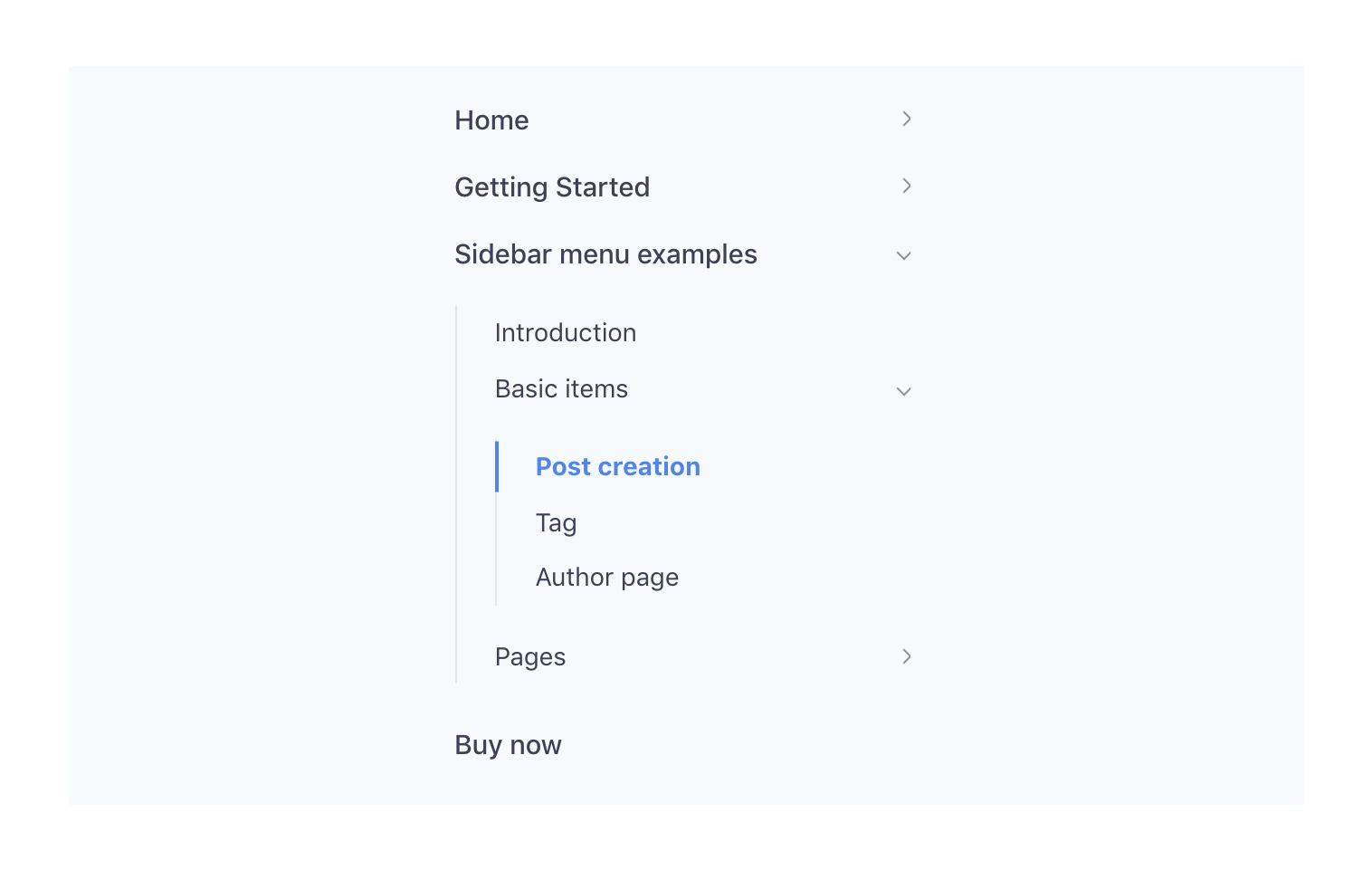 Speed-Up Page Loads with Page Prefetching
Page load times are a key factor in user engagement, and ProDocs utilizes page-prefetching to minimize wait times. When enabled, idle browser time is used to find any links in the browser viewport and pre-load them in the background so that the linked page can be displayed almost immediately when clicked.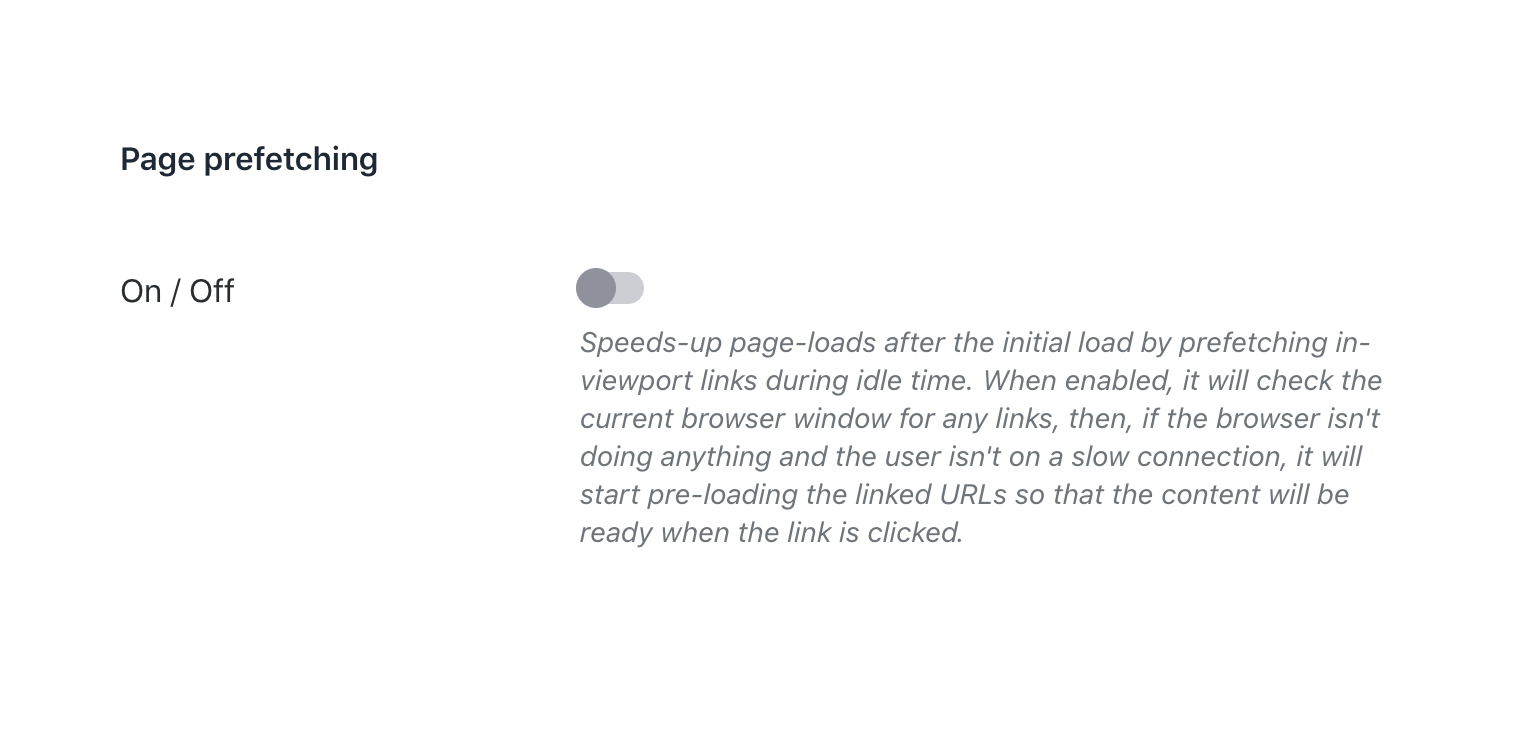 Fluid typography provides readable text on any screen
Like all Publii themes, ProDocs includes a variety of typography options such as warnings, buttons, and tip-boxes to clearly-separate your content, and makes use of Fluid Typography to resize text to precisely fit the screen size, making it clear and readable no matter what device is being used.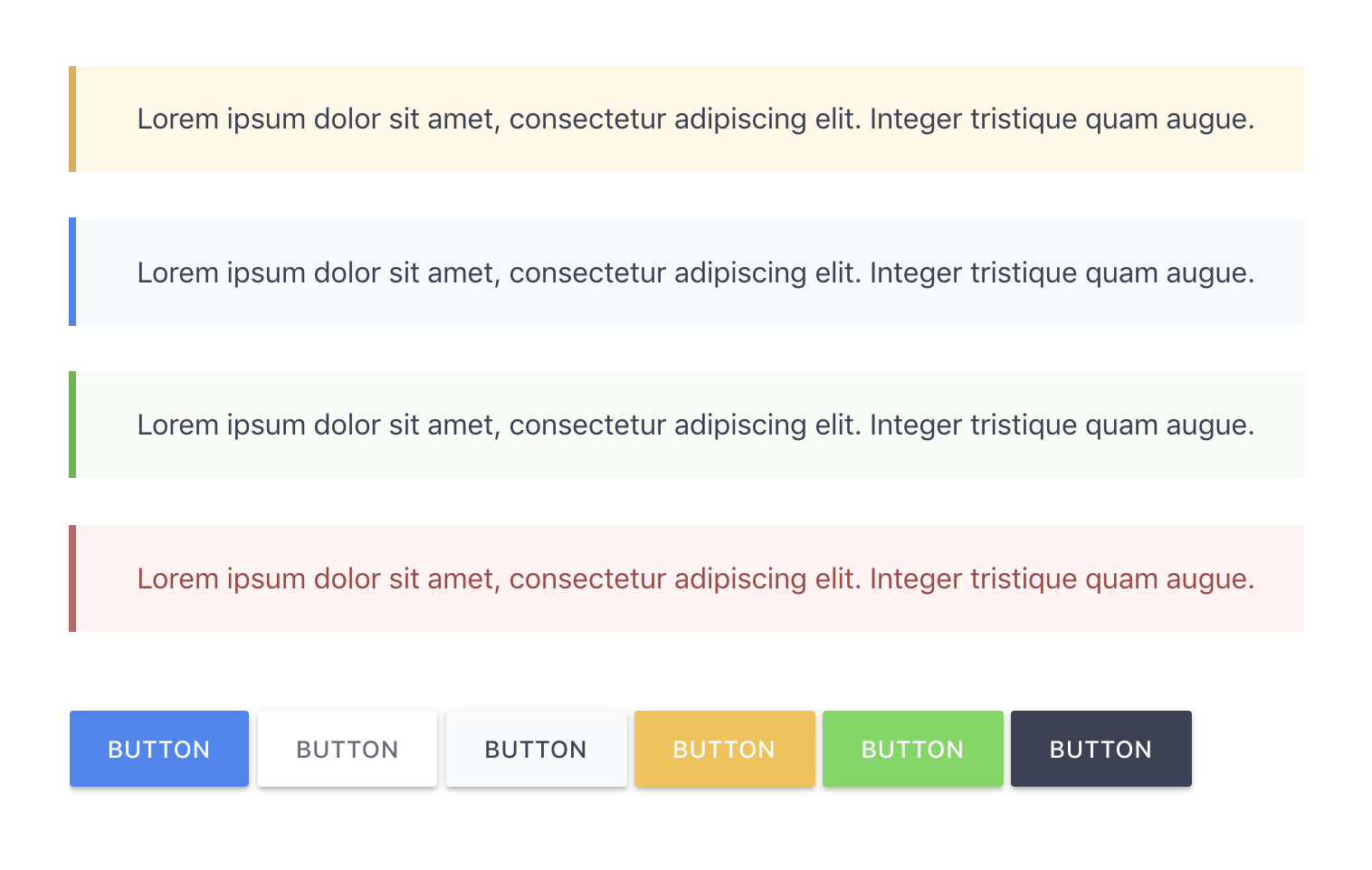 User-Friendly Newsletter PopUp
Newsletters are a simple way to engage with your users. ProDocs includes an unobtrusive newsletter popup to encourage sign-ups without getting in the way of the reading experience. With multiple customizable options, you can decide exactly when and why it should appear.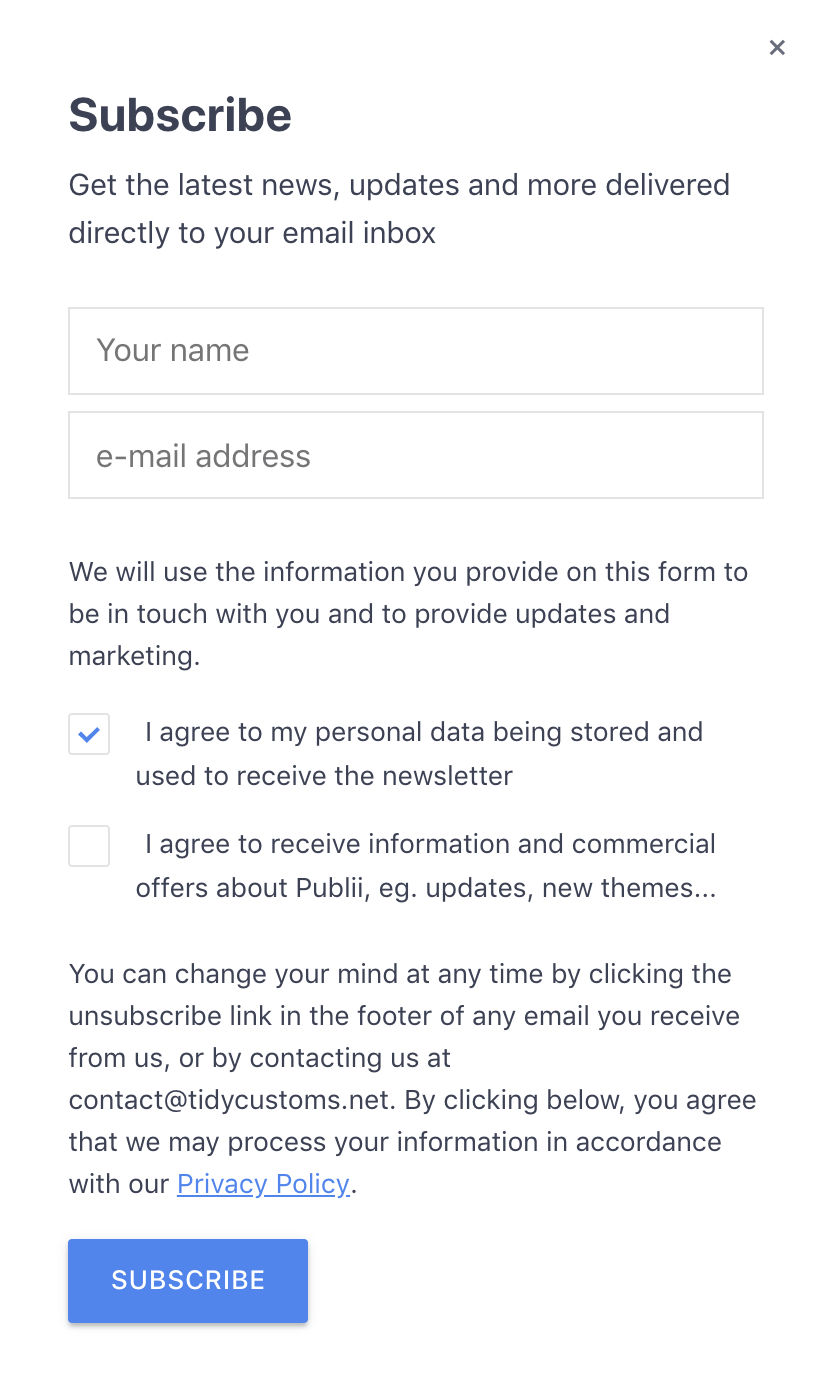 €

35.00
for 1 year
* Plus VAT for EU customers
What's included
✓ Lifetime usage on unlimited domains
✓ 12-months access to the files and updates
✓ 3-months premium support
Details
Version:

Updated:

Nov 03, 2023
Requirements and compatibility
Browser:

Edge, Firefox, Chrome, Safari, Opera

Requirements:

Publii 0.43.1 and up
Lightweight for a hyper-fast load time
Speed is of the essence when you're looking for answers, so our themes use no jQuery libraries or CSS frameworks; just pure JavaScript and custom CSS for shorter load-times. You won't need to worry about FOUT or FOIT effects in your text either, as you can use a system default fonts.
Get 3 months of professional support
Getting started with a new theme on a new website can be a challenge, but our experts are here to help. Every purchase of the commercial theme includes three months of support through our dedicated ticket system, so you'll have efficient and effective assistance with any issues you run into.
Standard features *
Manage your page look and feel with extensive coloring, menu, social media sharing and layout options, or switch it up completely with one of our many unique themes.
* The available options may vary from theme to theme but they are mostly standardized.