Changelog: A feature-packed theme for creating change logs or blogs
With a clear layout and elegant stylings, the Changelog theme adds a dash of panache for users that want a bit of flair in their updates. Packed with tag and post filtering options to help visitors, this theme is a great choice for developers that need to stand out from the crowd. With multiple layouts available and light and dark modes, the Changelog theme can also be an ideal base to build a visually-appealing blog or personal site too.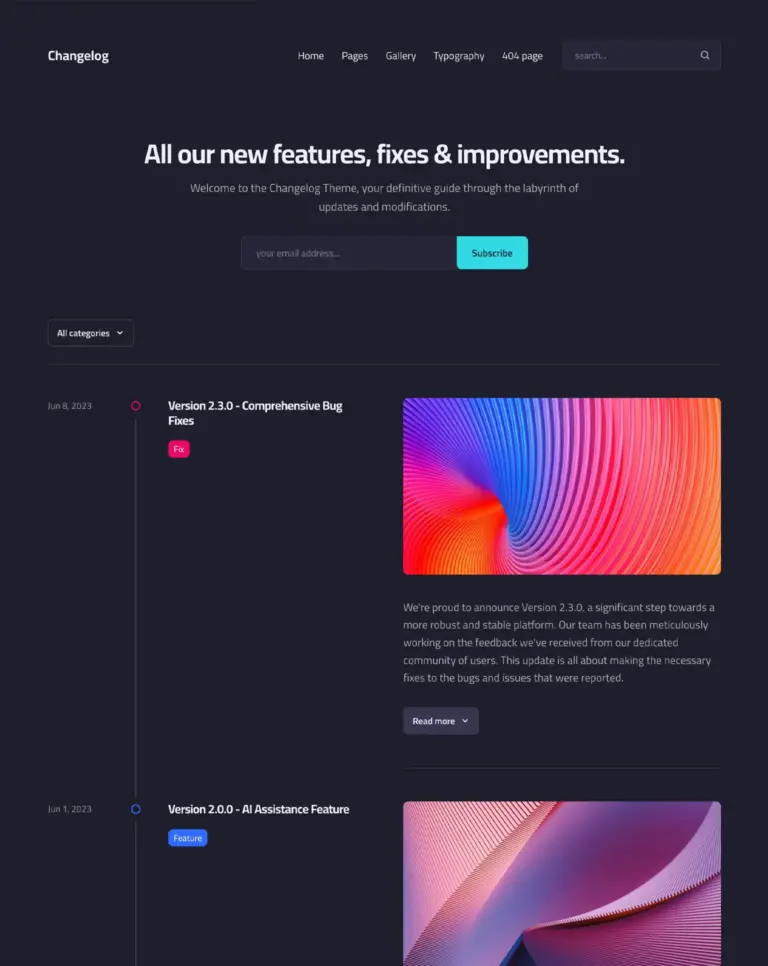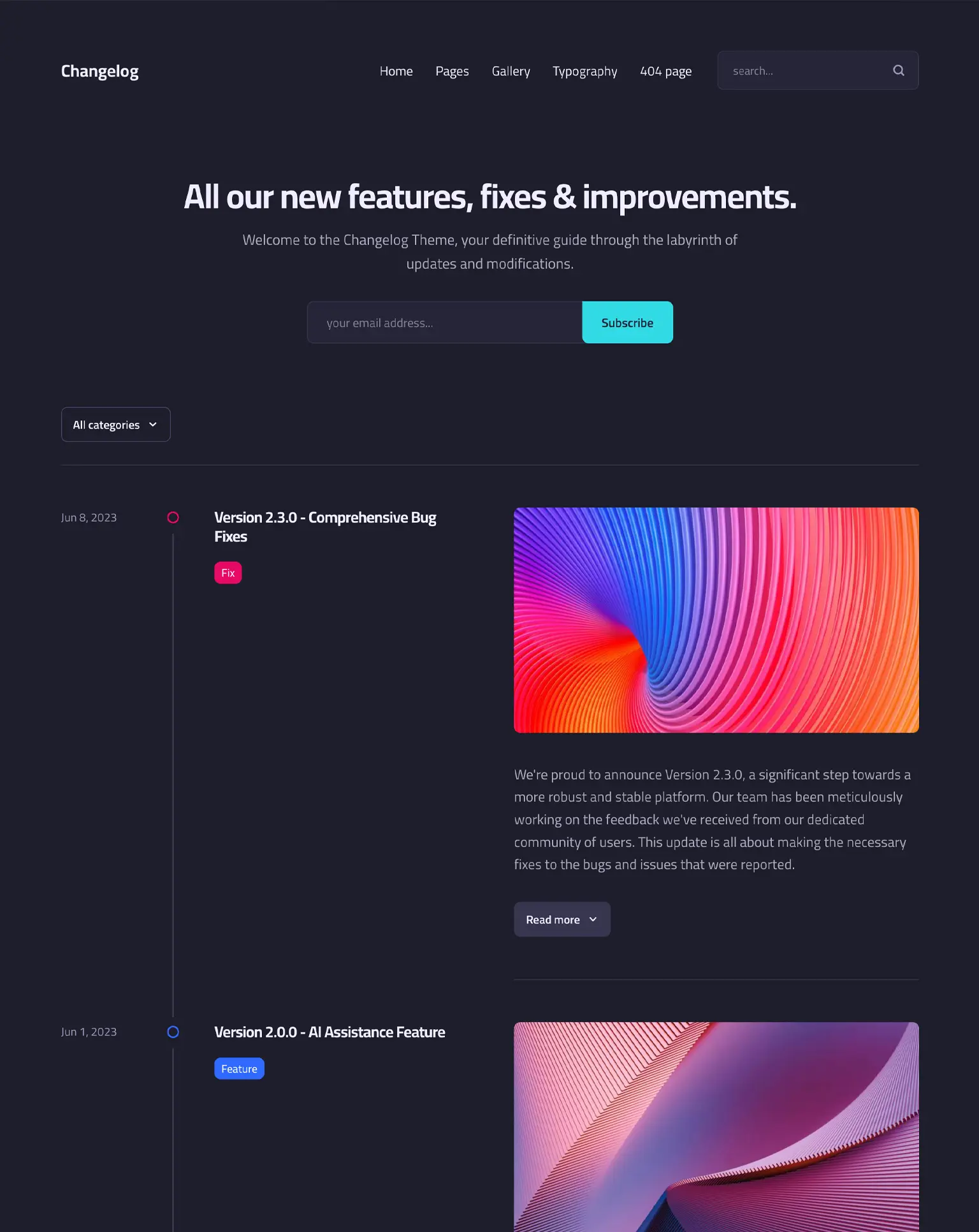 Three layout styles
Changelog includes three different layouts that subtly refocus the theme's function without sacrificing the modern aesthetics, and instantly switchable via the theme settings. Use the default view to clearly separate and label each post, or keep things tight and direct with the Compact layout. Prefer a regular blog-style look? The Boxed layout delivers with a classic but easily-readable style.
Multiple header variations
Changelog lets you pick the hero section style that best suits your needs, with three variations to pick from. Stick with the standard hero text with an image for a welcoming introduction to new visitors, or get a head-start with promoting your app with a newsletter sign-up form or call-to-action button to encourage interaction and build your site community. Flexible options let you control the button colors and styling, define links, and add custom text to make your site unique.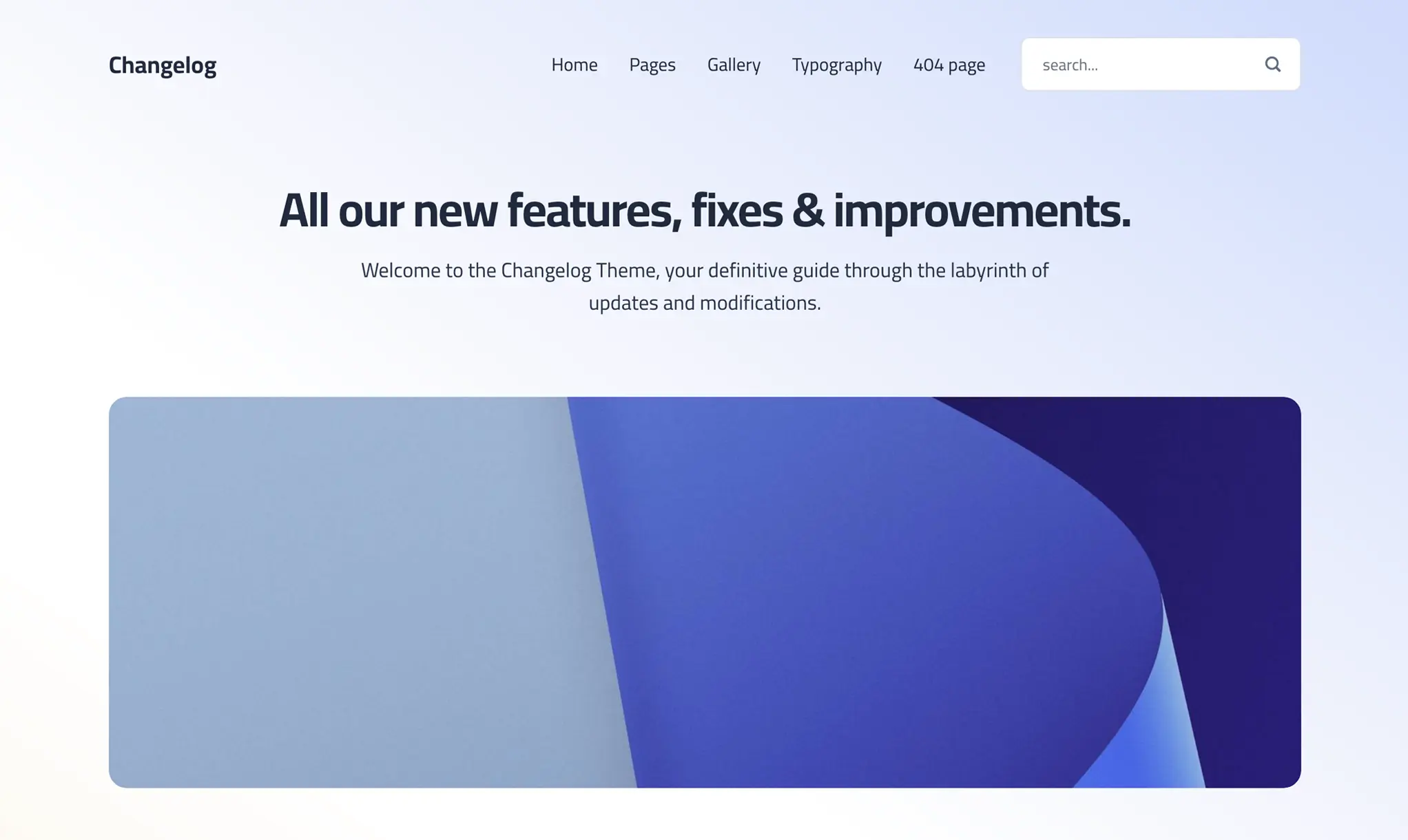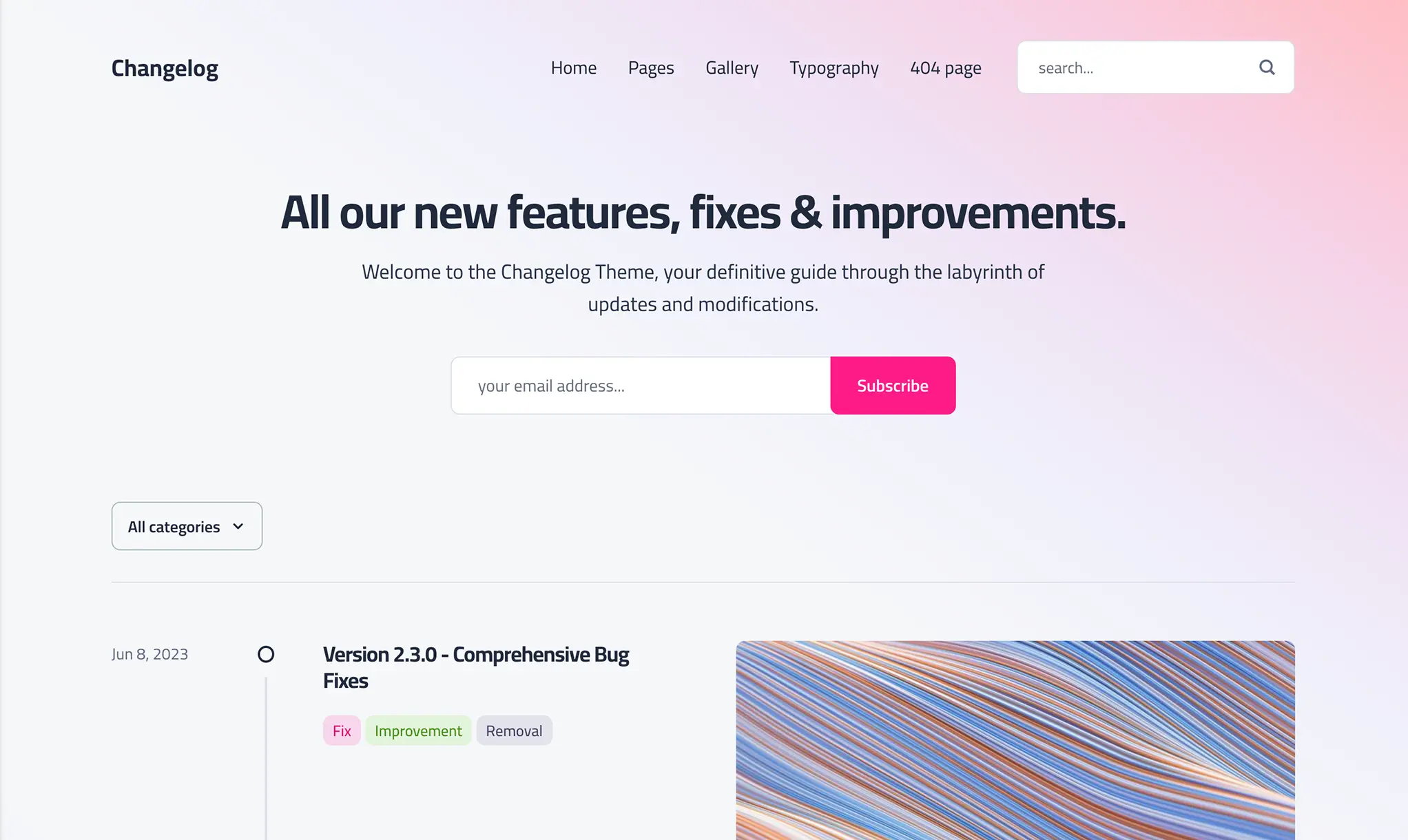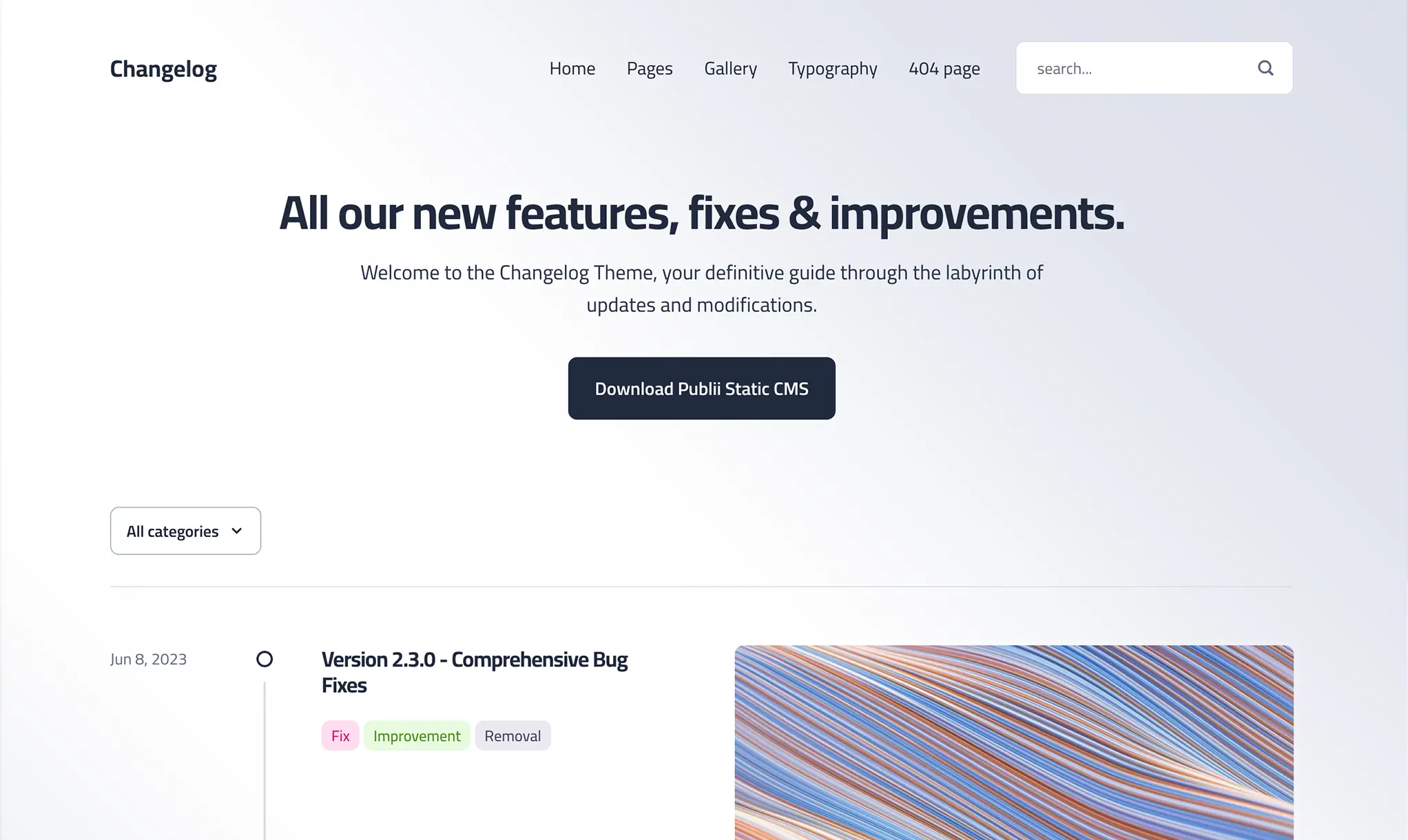 Flexible post listings
Your posts are the star of the show, and Changelog is loaded with settings so that you can control exactly what is shown in the listings, and how. Display a specific tag, or showcase a list of all tags. Display the date by either the published or modified post. You can even decide what elements to include, from Read More button, Author names, and Featured images.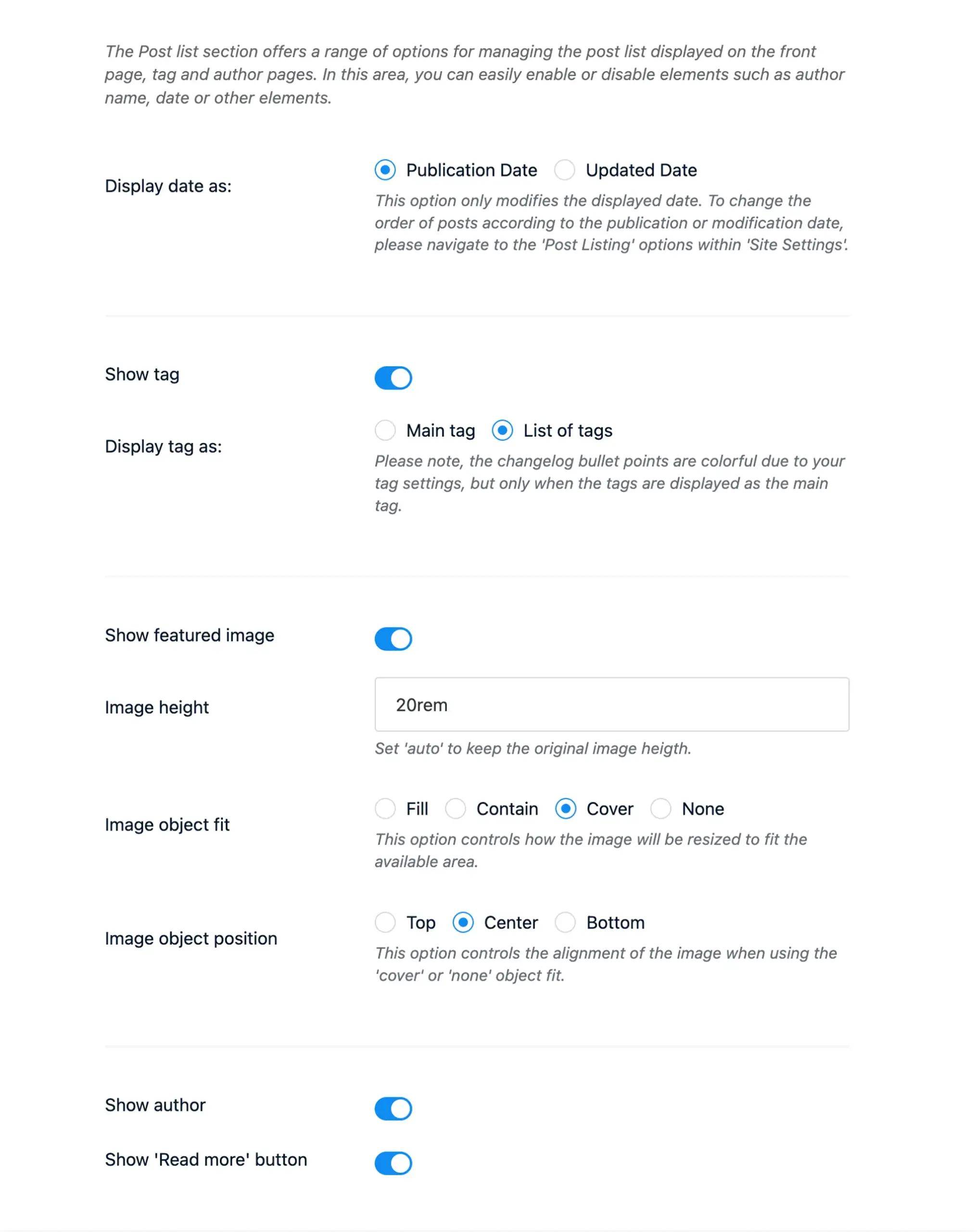 Tag color customization and filtering
Tags are how your visitors find the subjects that interest them, so you'll want your tags to be clear and navigatable. As well as the flexible post listing options, the Filtering function lets visitors immediately open specific tag listings via a drop-down list instantly. For added readability, the tag buttons can be individually colored so experienced visitors can see at a glance which tag a given post belongs to. In addition, the bullet points on the left of the post can also be colored to provide a uniform visual aid.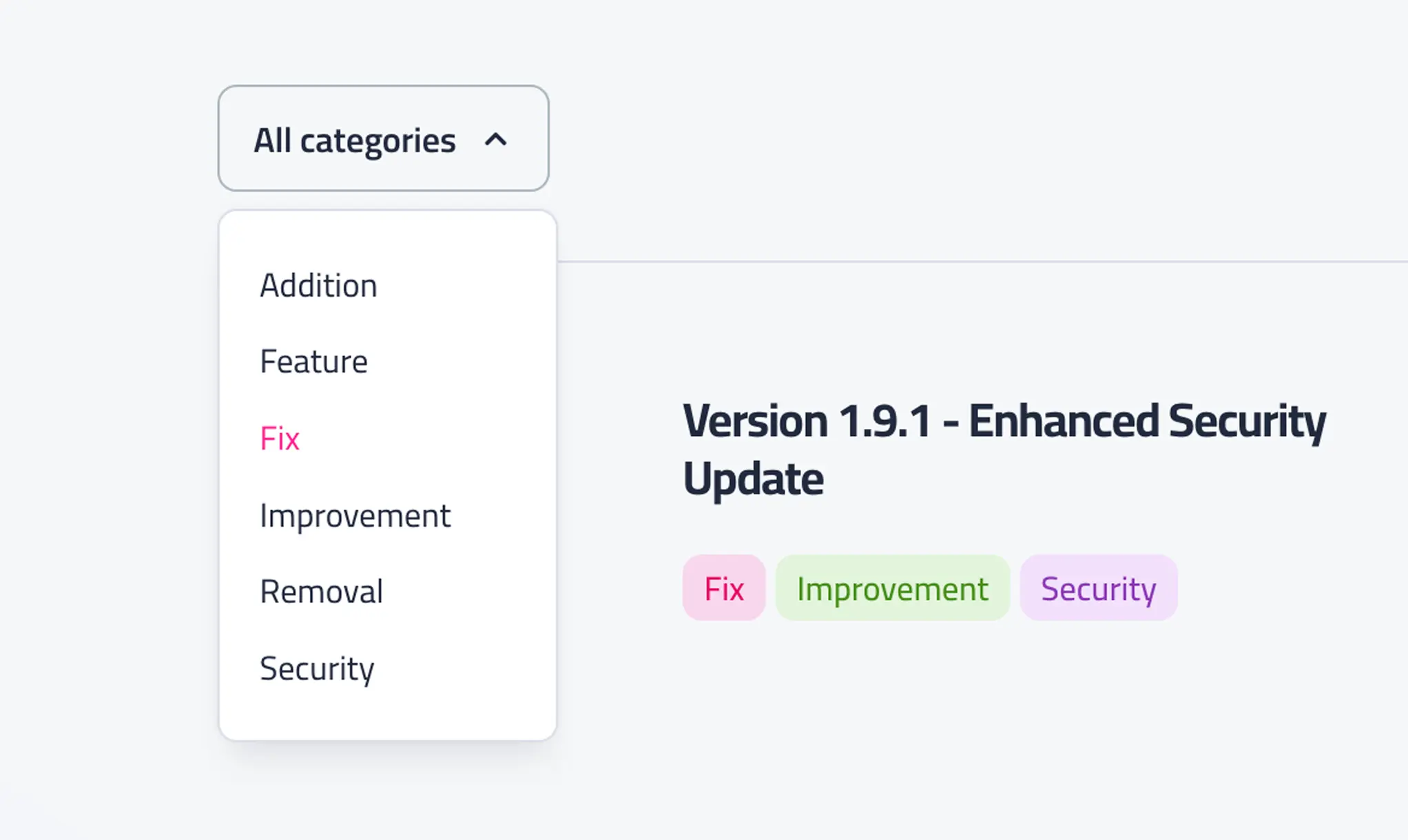 Light and Dark modes
Some people like to browse in the dark, and the dark mode included in this theme means you won't be blinding the night owls in your audience. If a bit of color is more your style, the light mode provides a inviting backdrop for your content. Each mode can be forced in the theme settings, or you automatically match the visitors browser settings, providing them with the experience they expect without fuss.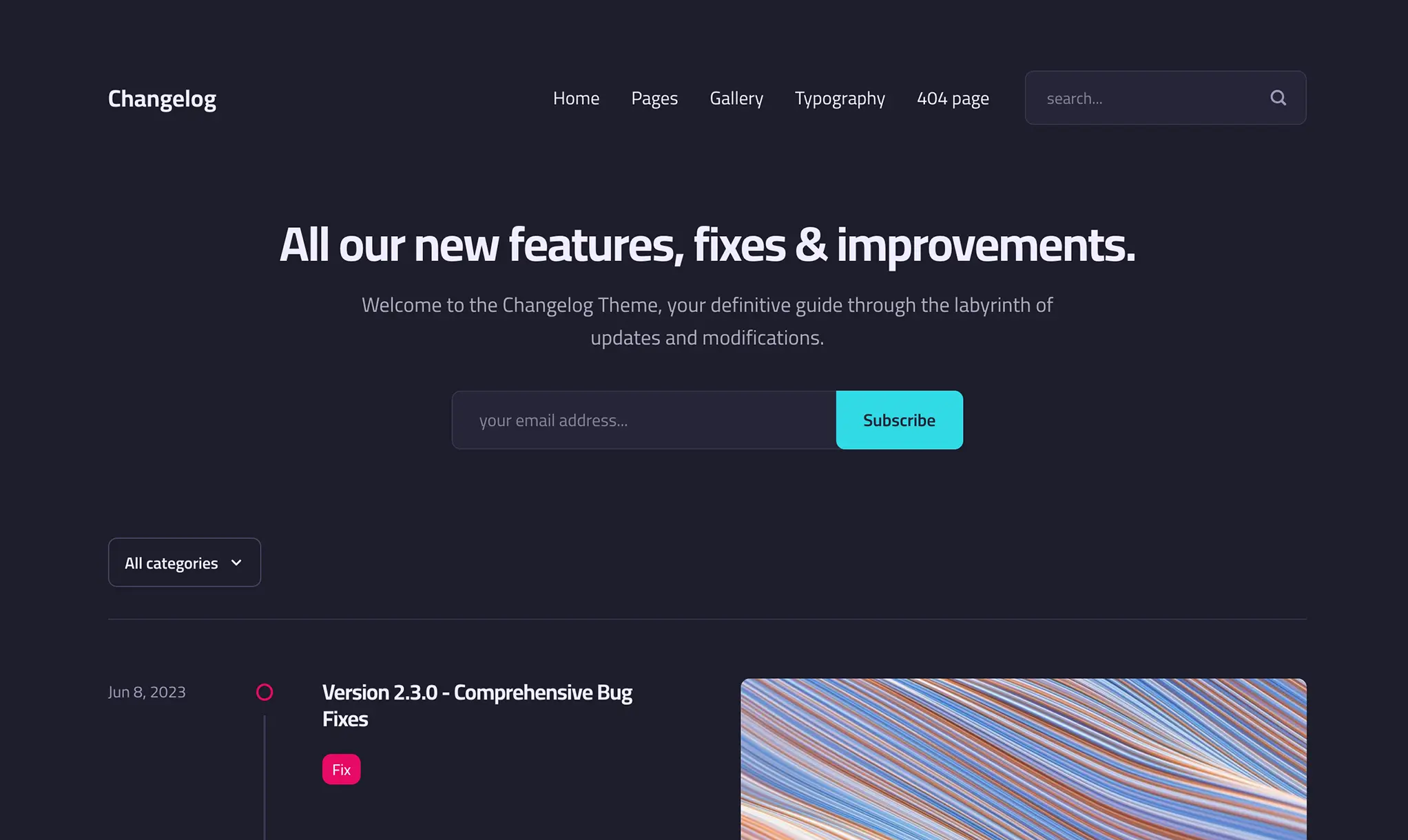 Expansive color options
Changelog's light mode brings the style, with colorful gradients adding a warm essence rather than a businesslike flat color. There are several stunning gradient styles included in the theme with a custom option, so users can achieve the exact look they want that matches their branding. All this is available via clear options included in the theme settings for easy access.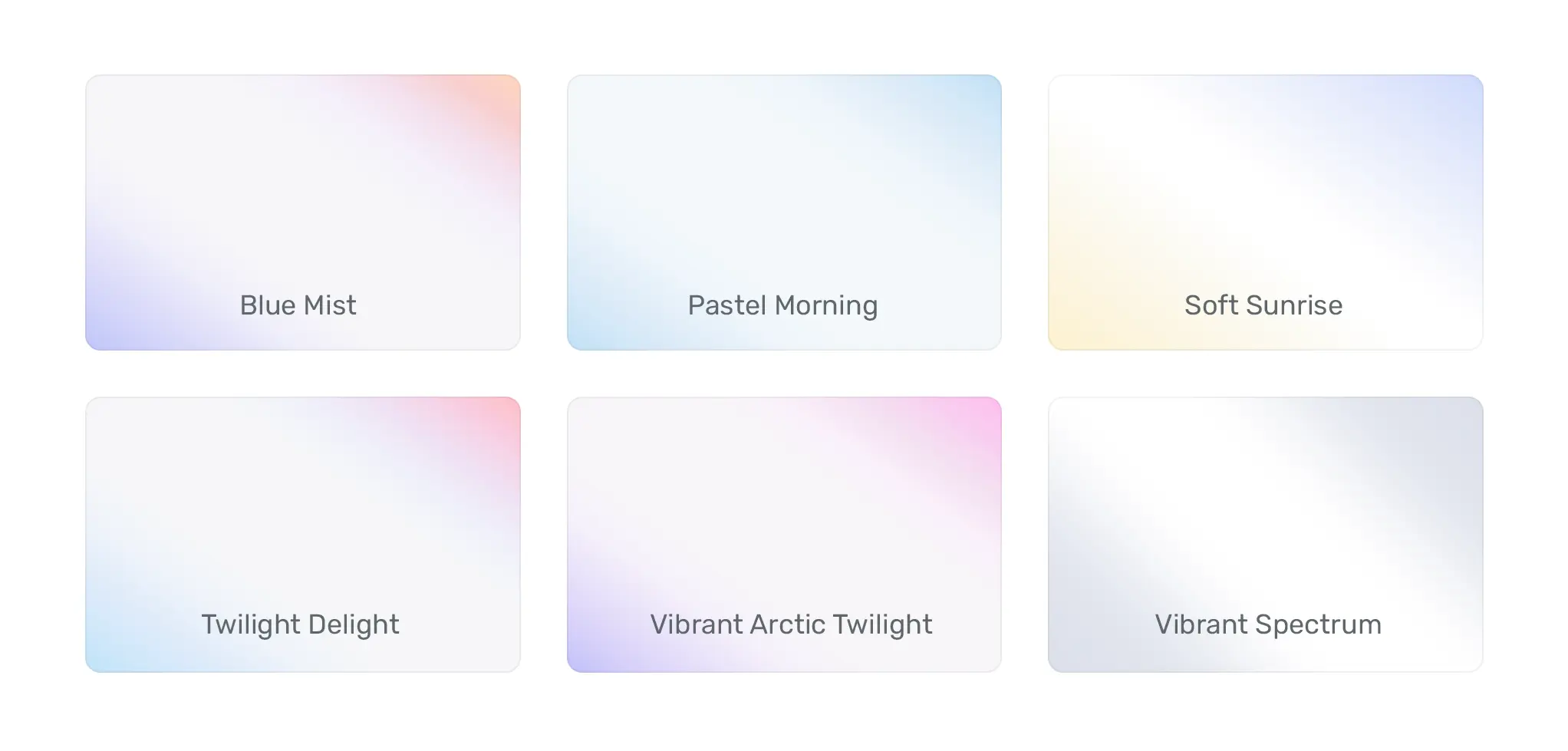 Two pagination options
Embrace modern trends with infinite scrolling, where older posts are loaded as the visitor scrolls down the listings for a slick, uninterrupted site experience; you can even set the posts to load automatically, or load on click from the user. Alternatively, if you prefer your site to have a solid sense of space, stick with traditional pagination with the 'prev/next' buttons. Highlight your code efficiently with Syntax Highlighter plugin
Using the Syntax Highlighter plugin, you can benefit from the robust capabilities of Prism.js. This tool offers extensive syntax highlighting across a vast range of programming languages. Additionally, features such as line numbering and a Copy to Clipboard button make your coding content even more accessible and user-friendly.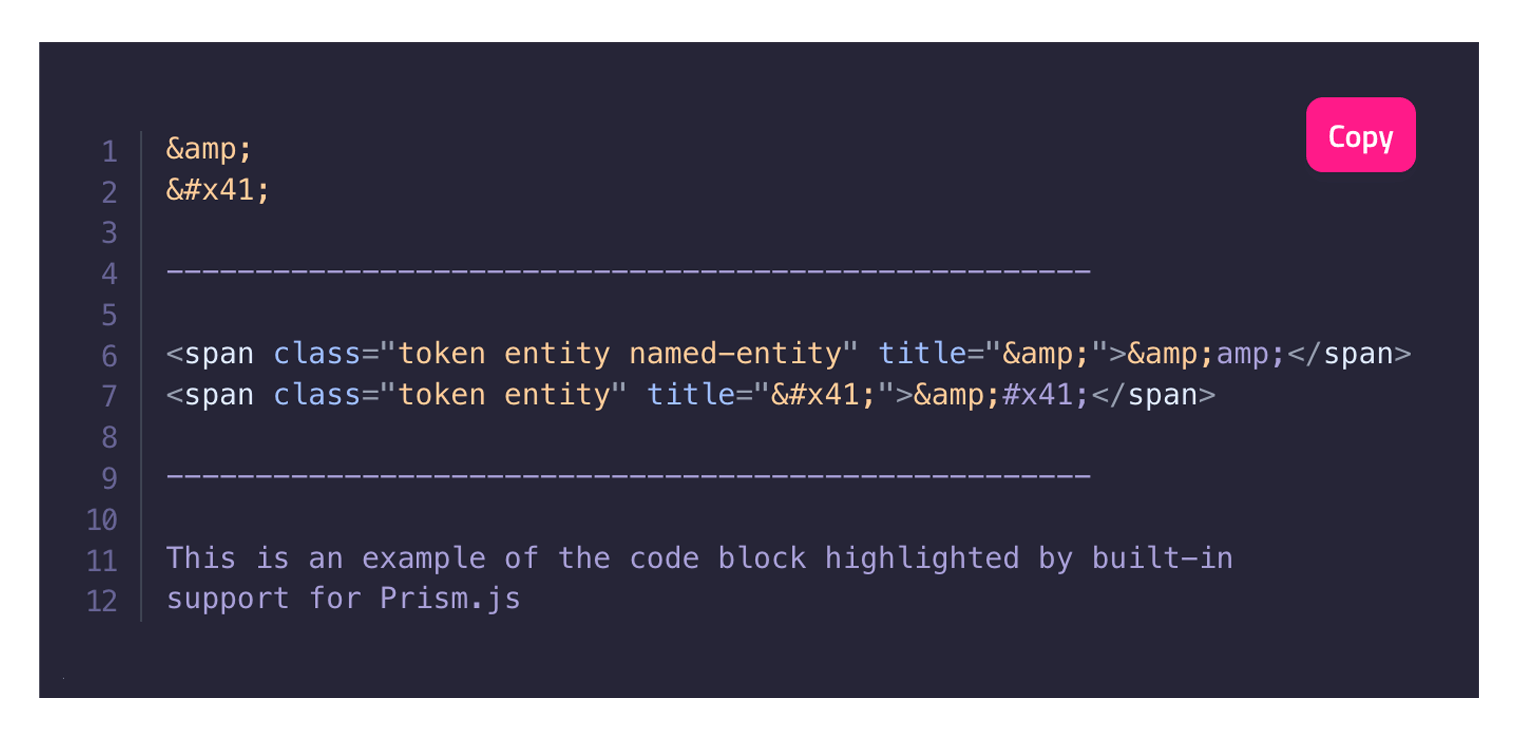 €

39.00
for 1 year
* Plus VAT for EU customers
What's included
✓ Lifetime usage on unlimited domains
✓ 12-months access to the files and updates
✓ 3-months premium support
Details
Version:

Updated:

August 07, 2023
Requirements and compatibility
Browser:

Edge, Firefox, Chrome, Safari, Opera

Requirements:

Publii 0.42 and up
Lightweight for a hyper-fast load time
Speed is of the essence when you're looking for answers, so our themes use no jQuery libraries or CSS frameworks; just pure JavaScript and custom CSS for shorter load-times. You won't need to worry about FOUT or FOIT effects in your text either, as you can use a system default fonts.
Get 3 months of professional support
Getting started with a new theme on a new website can be a challenge, but our experts are here to help. Every purchase of the commercial theme includes three months of support through our dedicated ticket system, so you'll have efficient and effective assistance with any issues you run into.
Standard features *
Manage your page look and feel with extensive coloring, menu, social media sharing and layout options, or switch it up completely with one of our many unique themes.
* The available options may vary from theme to theme but they are mostly standardized.