Persona Subtle, Minimalist Blog & Portfolio Theme
Dynamic, subtle, and wholly-unique; Persona displays a minimalist aesthetic that helps your blog or portfolio stand apart from the crowd. The magic layout allows instant, eye-pleasing filter transitions in a grid or masonry-style, with subtle, decorative line animations providing a hint of character. Feature-rich options enable full control over the grid display, and multiple pre-made color combinations add variety to an already evocative theme.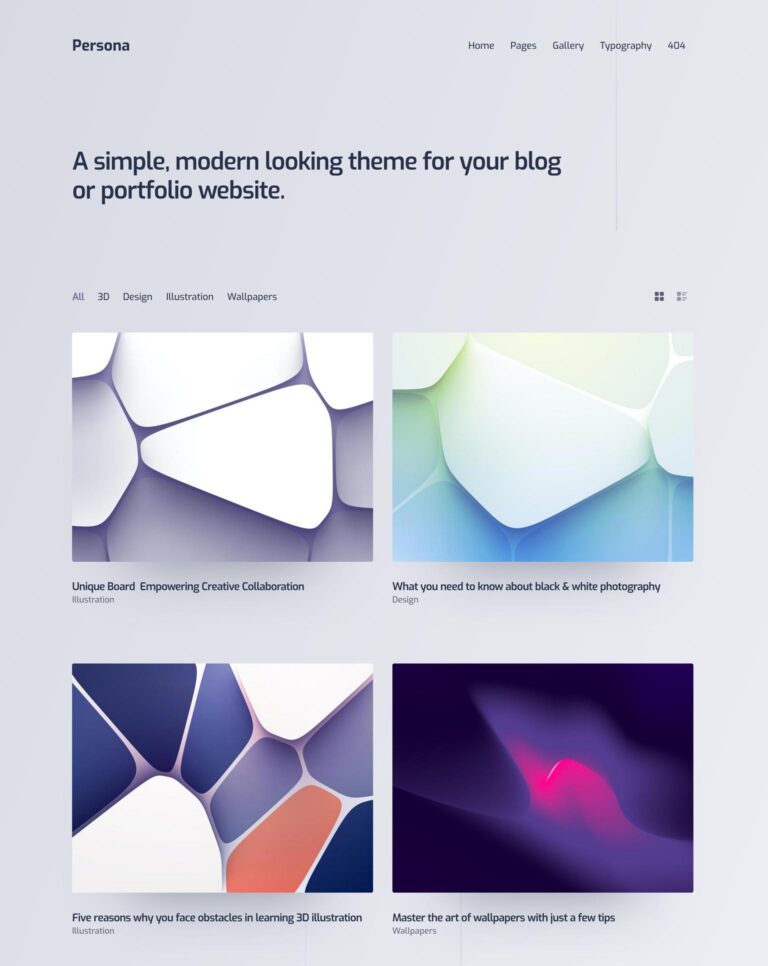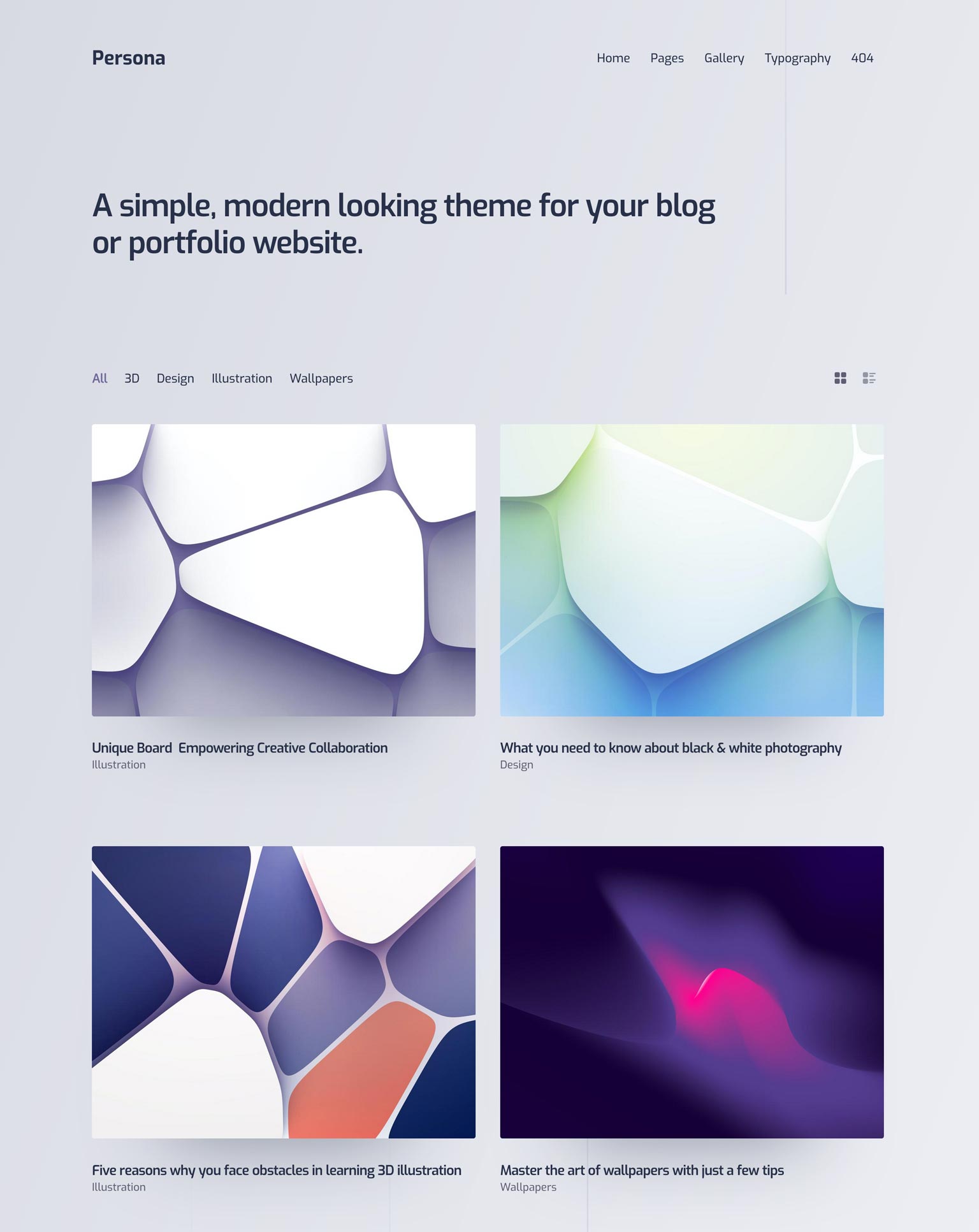 Make a Magical Frontpage
The core magic layout provides a dynamic view of your post previews; users can instantly filter your items according to tag, with smooth animations between the transitions. If simplicity is your preference, then the Static layout keeps the looks, but pulls back on the animations for a more straightforward, accessible site experience that will still turn heads.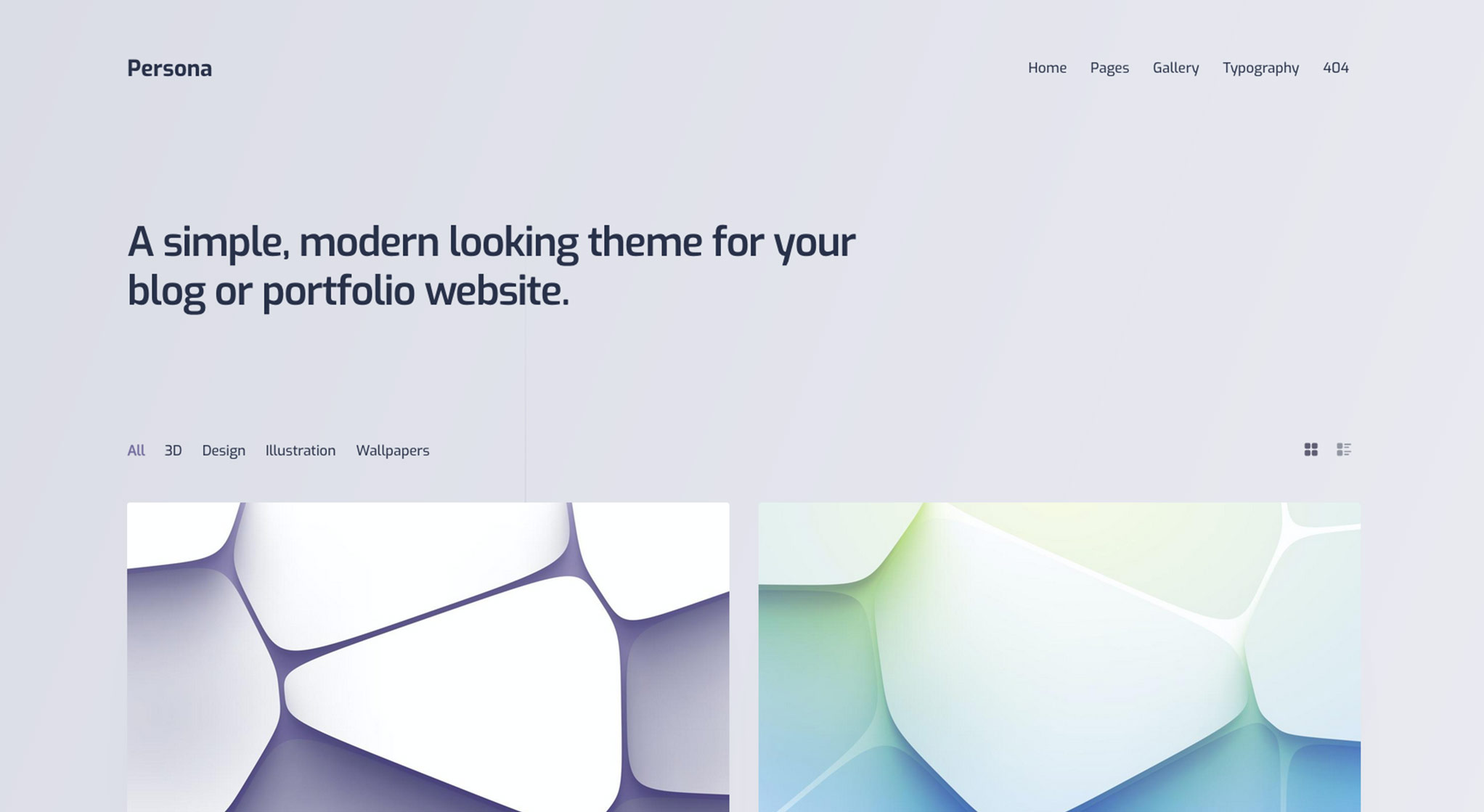 Let Users Control the Layout
With the included Layout Switcher, users can instantly switch between a Grid or Row layout at the click on a button; get the style of the grid, or keep things simple with a clearly-defined list of items for easy reading; all enabled with blinding speed thanks to Publii's efficiency-focused design philosophy.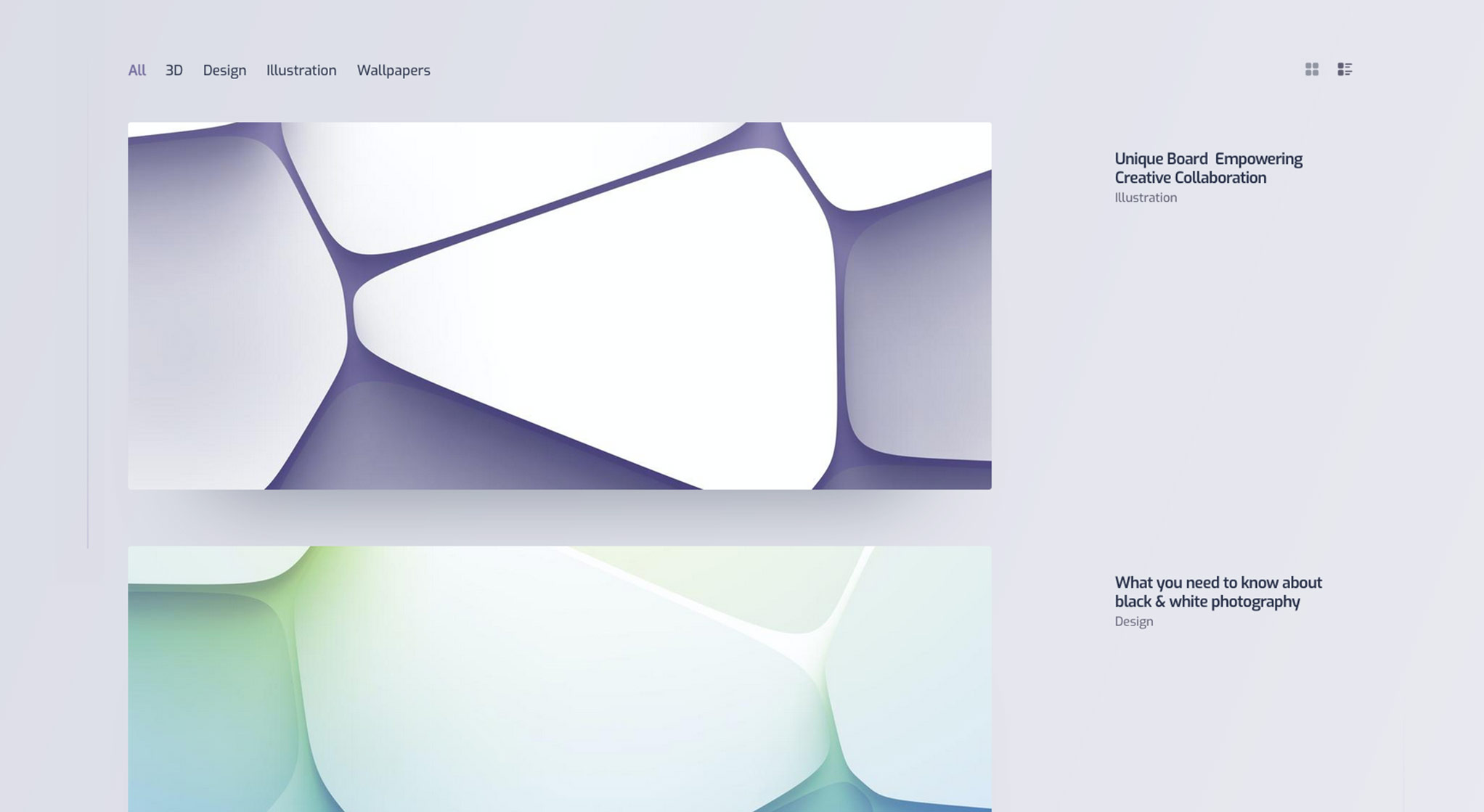 Customize Your Grid
The grid display includes column options to help you find the view that suits you. Set the number of columns separately for each type of listing page; have four columns on the homepage, two on the author page, and three on the tag page! Give each page its own particular look that makes it easy to distinguish between page types.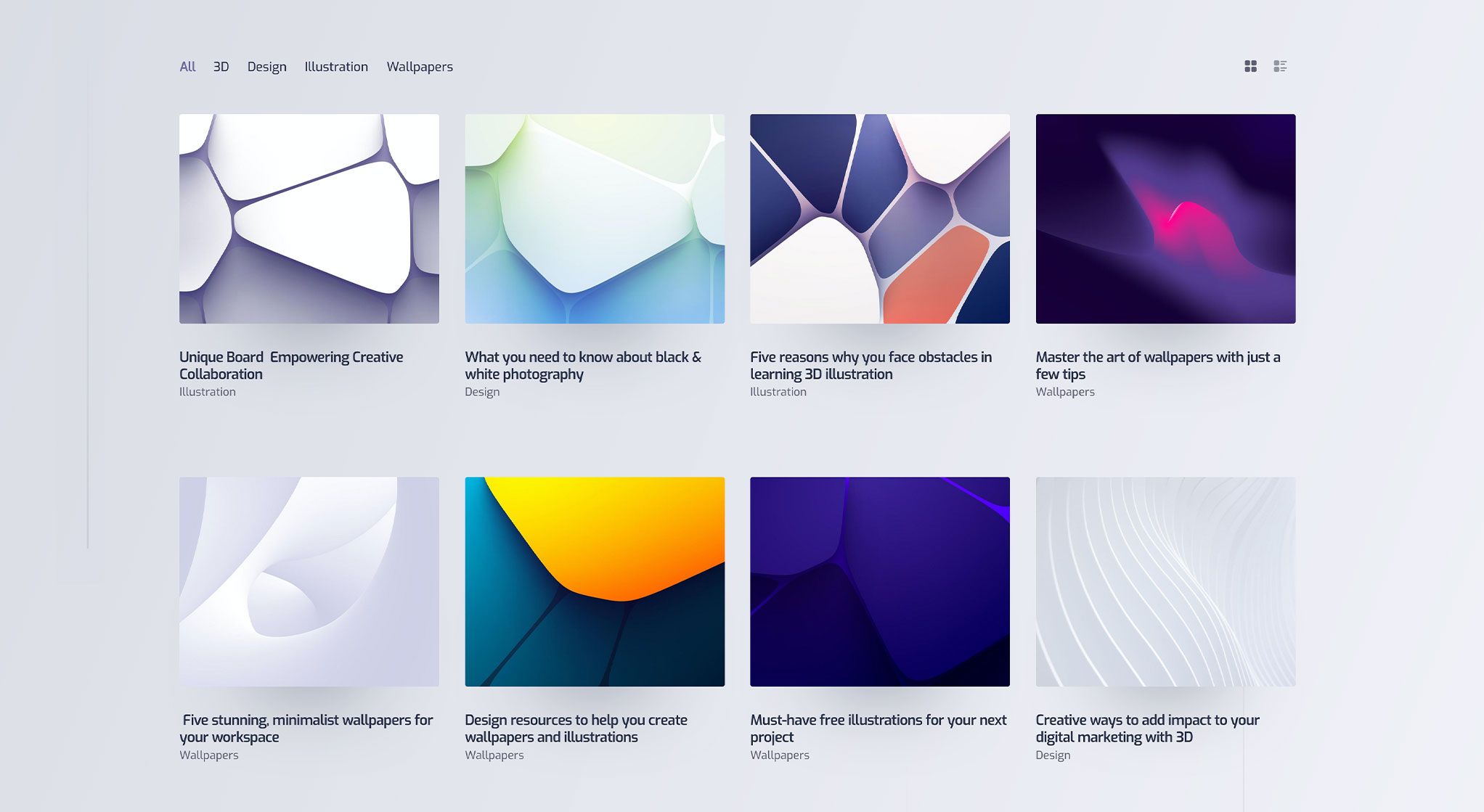 Pick Standard, or Masonry Mode
If you like to keep things clean, the standard grid view standardizes post preview cards to keep a uniform image height as defined by you; traditional and quick to read. For a more modern take, set it to 'auto' and have the preview images display at their full height, bringing a more contemporary masonry design to your site.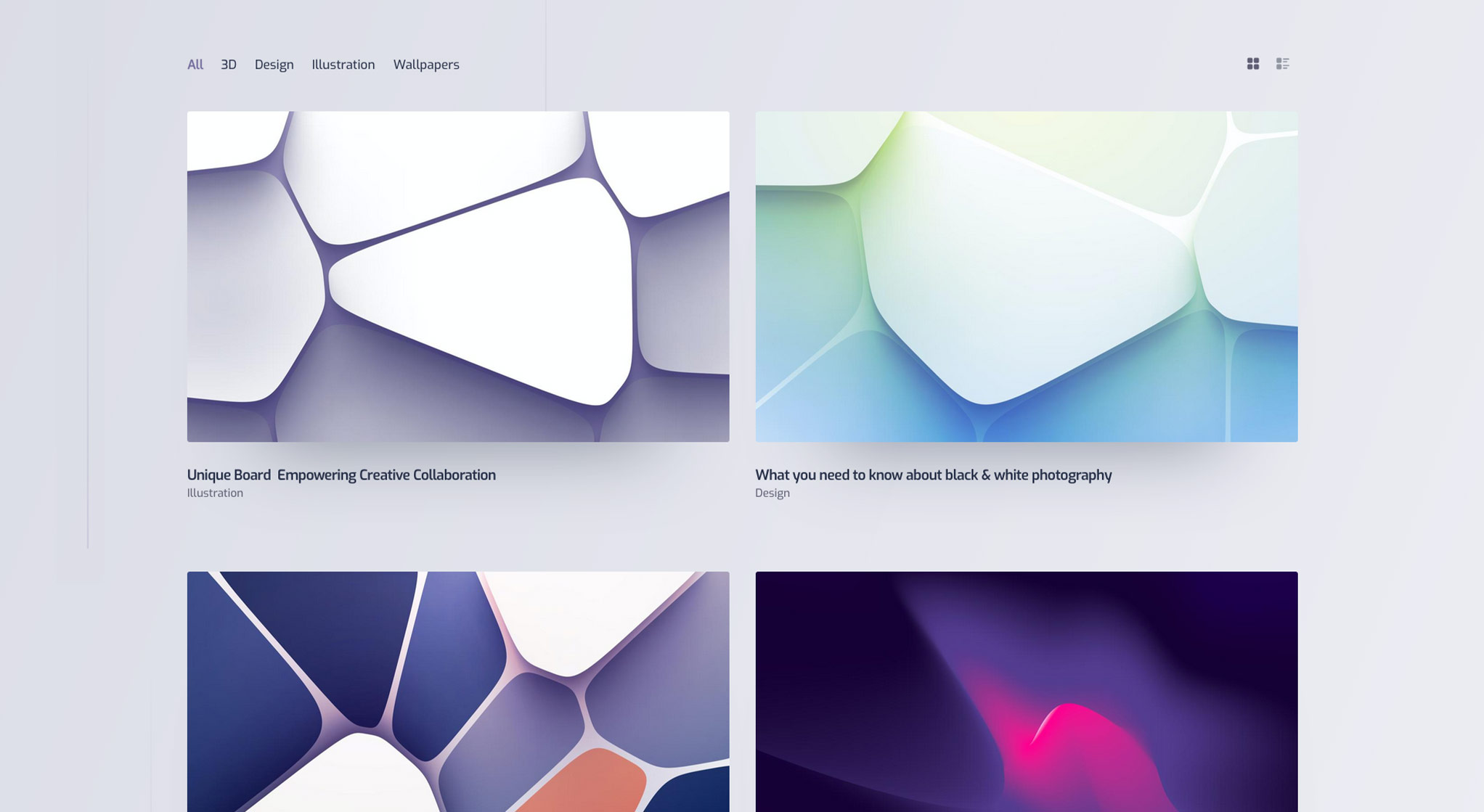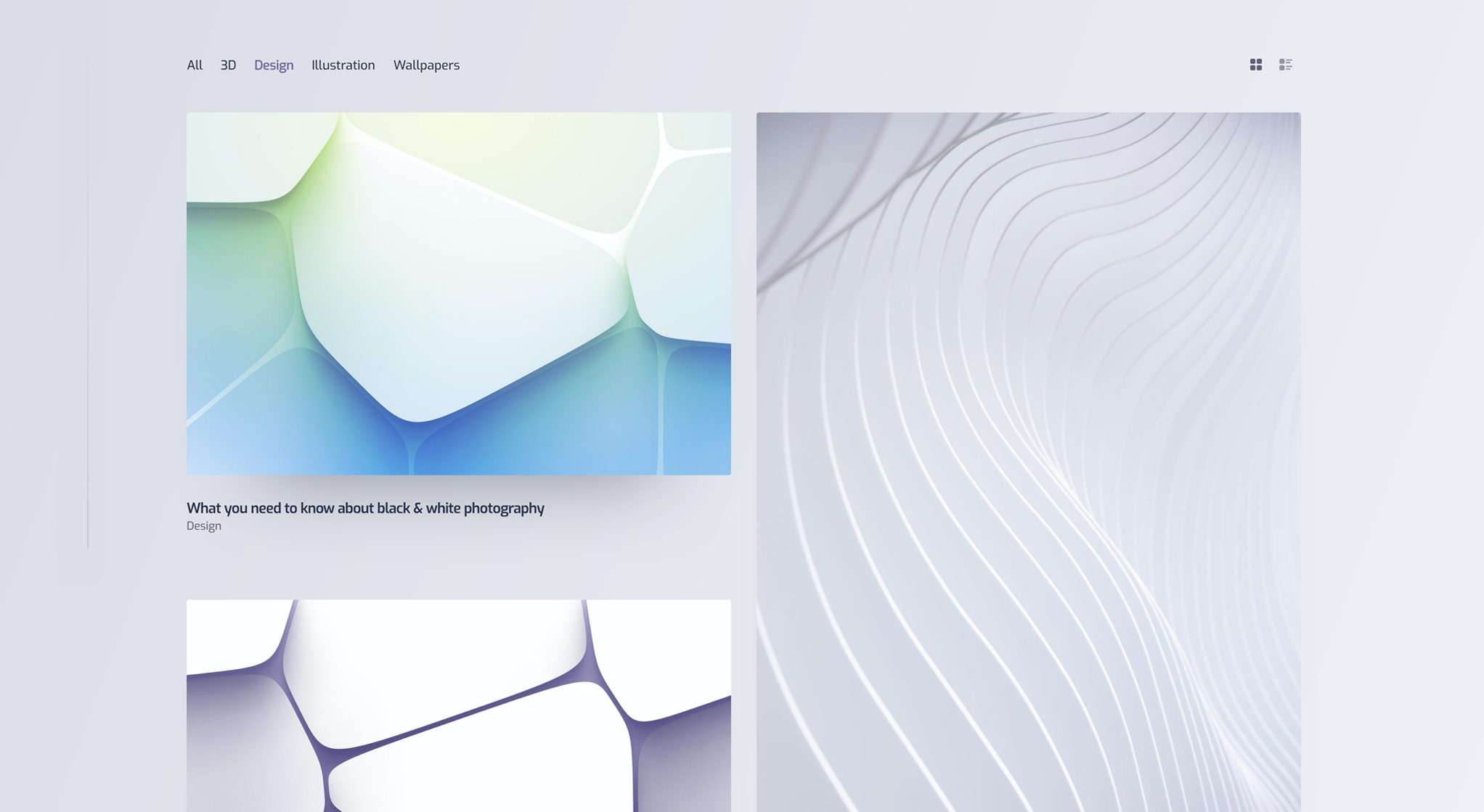 Multiple Color Options, or Go Dark
Subtle color combinations add style to your site without going overboard; choose from violet, beige or gray, or take advantage of the included dark mode to add a touch of night to proceedings. Want to give your users the best experience? Enable auto-switching to automatically enable dark-mode according to the users' settings.
Stay in Touch with a Newsletter
Want to be able to get in touch with your regular visitors? The Persona theme includes a dedicated section for your newsletter sign-up form with Mailchimp integration or your own custom code, allowing you to build a relationship with your users and let them know of any exciting news.

Paginate Forever
Got a lot of posts? You could let users click through each page one-by-one, or you could enable infinite scrolling and let your site dynamically load new posts as the user scrolls down. And if you're worried about loading too much at once, you can include a toggle to allow users to choose when to start loading more posts or use standard, numbered pagination. Free and Premium Versions to Meet Your Site Needs
For the first time, this premium Publii theme also includes a free option for users that like the look, but don't feel like splashing out on the extra features. The free version of this theme lacks some of the more dynamic features of the premium versions, such as the magic layout, filters and infinite scroll, but loses none of the delightful design elements.
| | | |
| --- | --- | --- |
| | Free | Premium |
| Magic layout | – | ✓ |
| Filters | – | ✓ |
| Grid-switcher | ✓ | ✓ |
| Multiple grid columns | ✓ | ✓ |
| Masonry mode | – | ✓ |
| Infinite scroll pagination | – | ✓ |
| Newsletter | ✓ | ✓ |
| Color schemes | One | Four |
| Auto Dark mode | – | ✓ |
| Animated page background | ✓ | ✓ |
€

35.00
for 1 year
* Plus VAT for EU customers
What's included
(Premium version only)
✓ Lifetime usage on unlimited domains
✓ 12-months access to the files and updates
✓ 3-months premium support
Details
Version:

Updated:

August 24, 2023
Requirements and compatibility
Browser:

Edge, Firefox, Chrome, Safari, Opera

Requirements:

Publii 0.42 and up
Lightweight for a hyper-fast load time
Speed is of the essence when you're looking for answers, so our themes use no jQuery libraries or CSS frameworks; just pure JavaScript and custom CSS for shorter load-times. You won't need to worry about FOUT or FOIT effects in your text either, as you can use a system default fonts.
Get 3 months of professional support
Getting started with a new theme on a new website can be a challenge, but our experts are here to help. Every purchase of the commercial theme includes three months of support through our dedicated ticket system, so you'll have efficient and effective assistance with any issues you run into.
Standard features *
Manage your page look and feel with extensive coloring, menu, social media sharing and layout options, or switch it up completely with one of our many unique themes.
* The available options may vary from theme to theme but they are mostly standardized.