Lignes - Modern Tech Blog Theme
Unique and modern in its aesthetic, the Lignes theme boasts an advanced style that's the perfect fit for a tech-focused website, yet user-friendly enough to be used for many other types of websites, from blogs to news. Auto-switching colour-schemes, a sticky sidebar, touch-friendly elements, and multiple page layouts that provide a superior experience on desktop and mobile make this a truly cutting-edge theme for the new decade.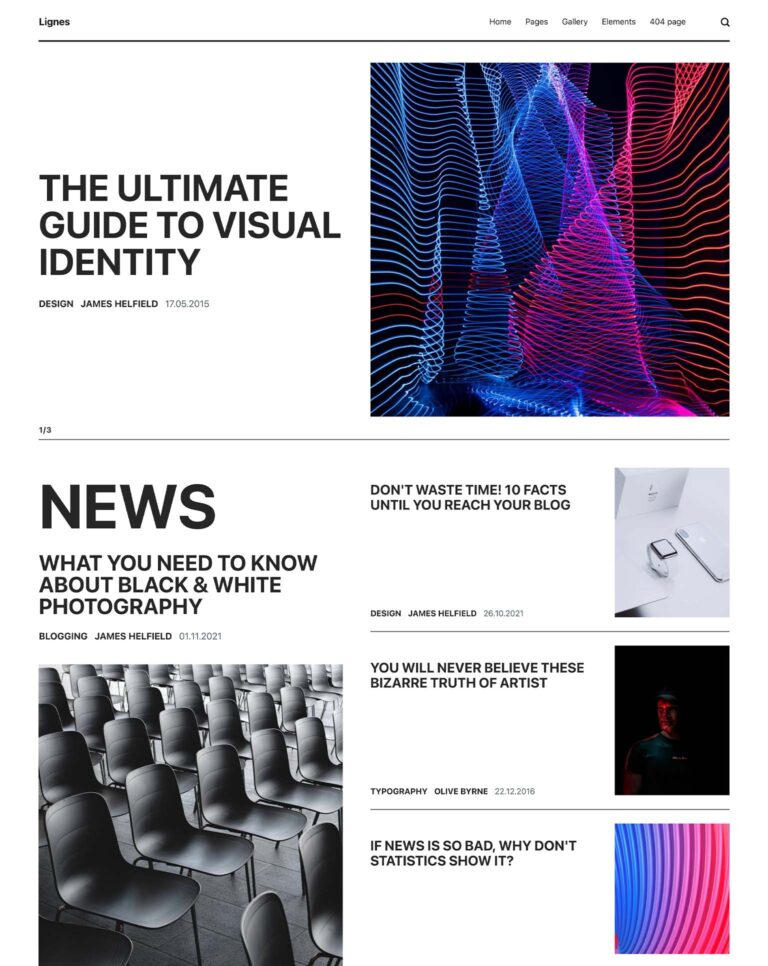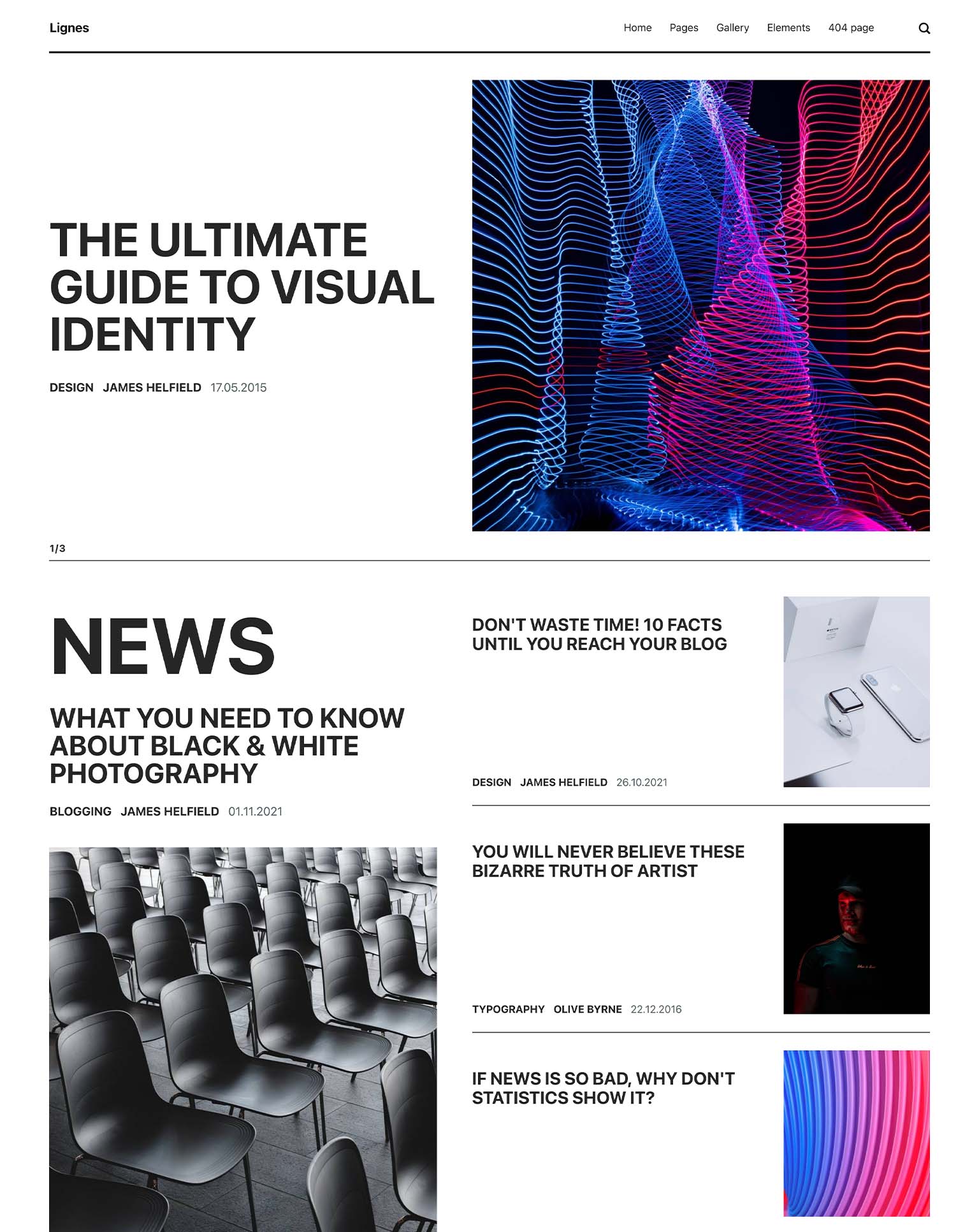 Touch-friendly Article Sliders keep your best posts in view
Lignes' huge article slider provides a spectacular first impression, with chunky visuals that look amazing on a full-size screen, but with touch-based navigation support, large fonts and multiple customisation options that provide a stunning yet user-friendly experience for mobile users. What's more, ARIA implementation allows your site visitors with disabilities to enjoy the full range of your content.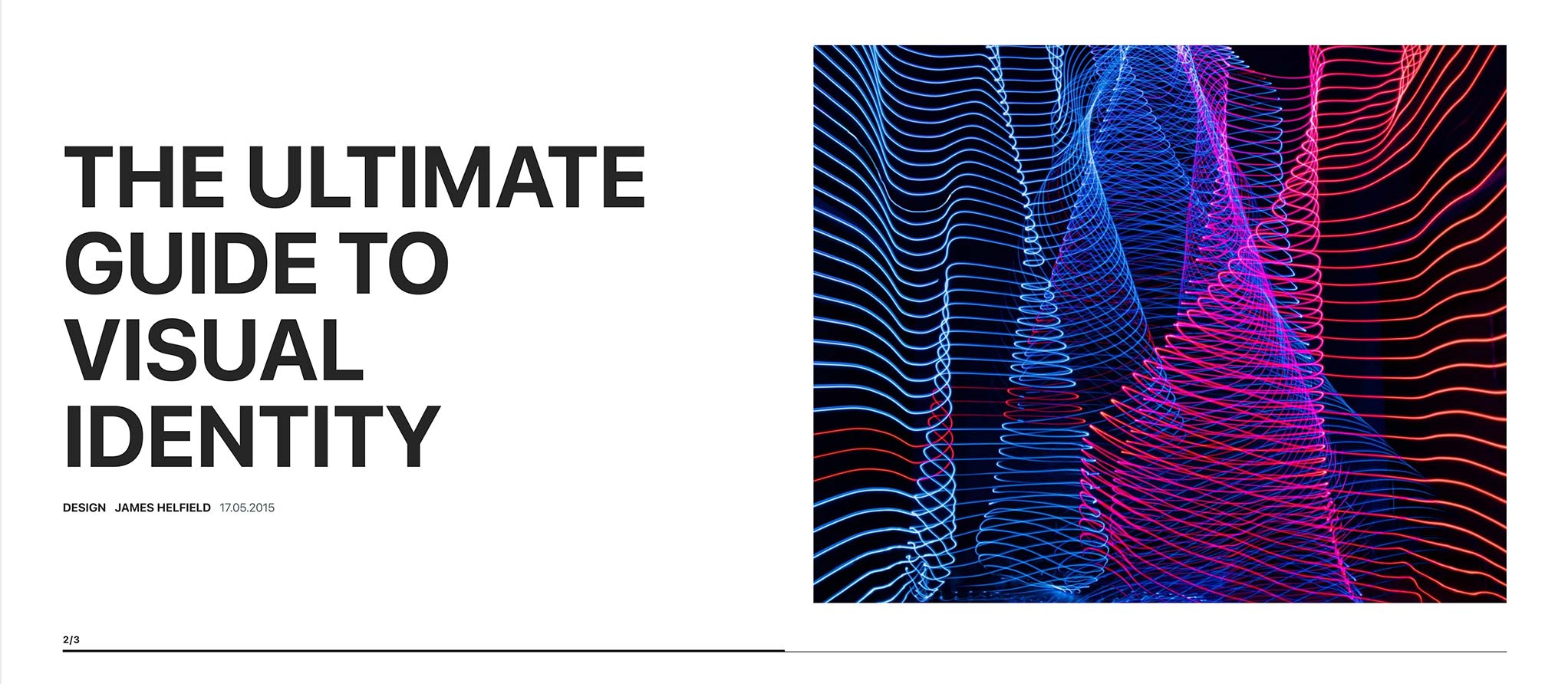 Standout Post Pages with Multiple Layouts
Post pages are where the majority of your visitors will spend their time, so it's important that they look good; and Lignes delivers. Clean, readable text combines with a sticky sidebar that scrolls with the page makes it easier for users to jump to new content. Additional options let you set the sidebar to both the left or the right, or set it to scroll normally if you've got more content that you want users to see.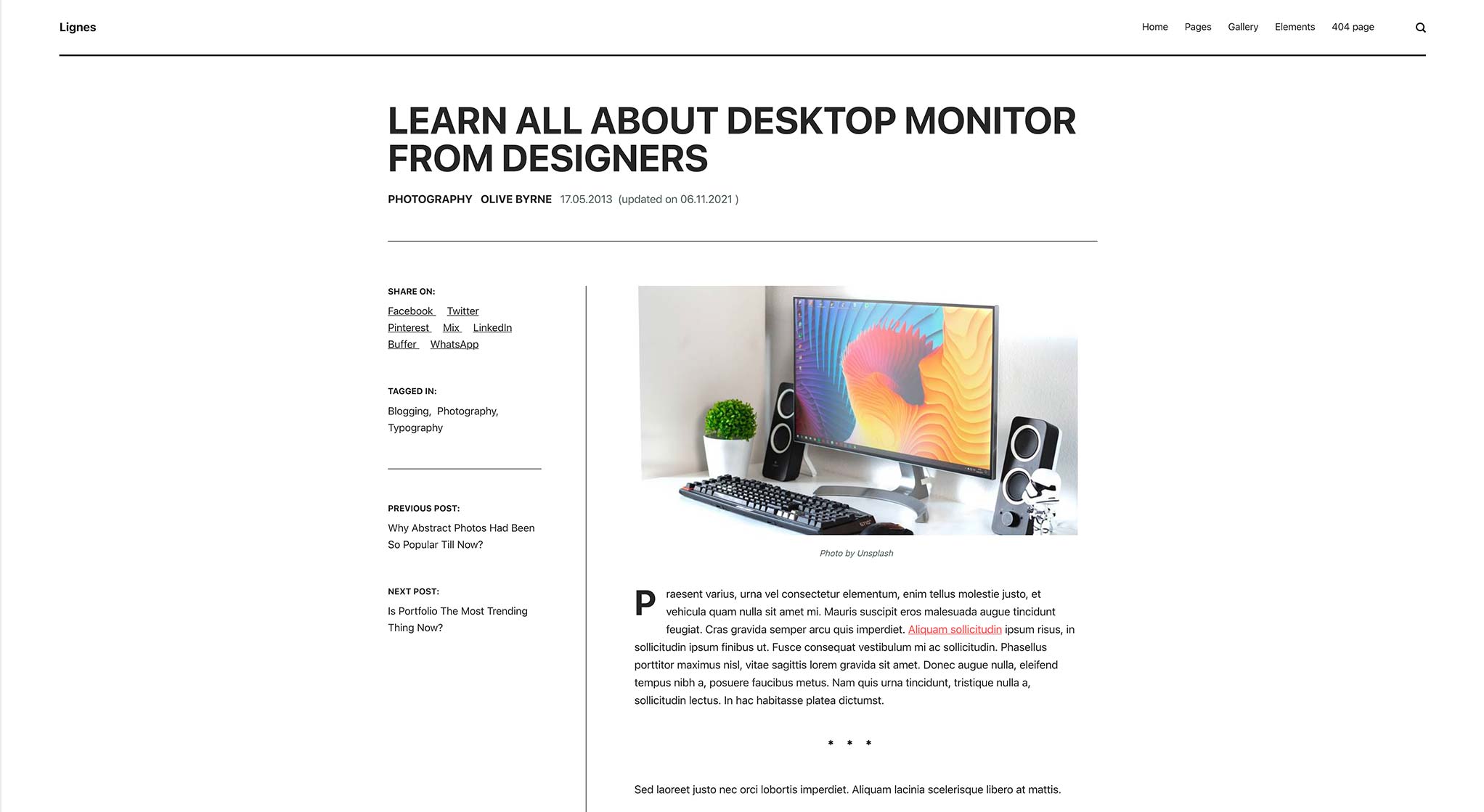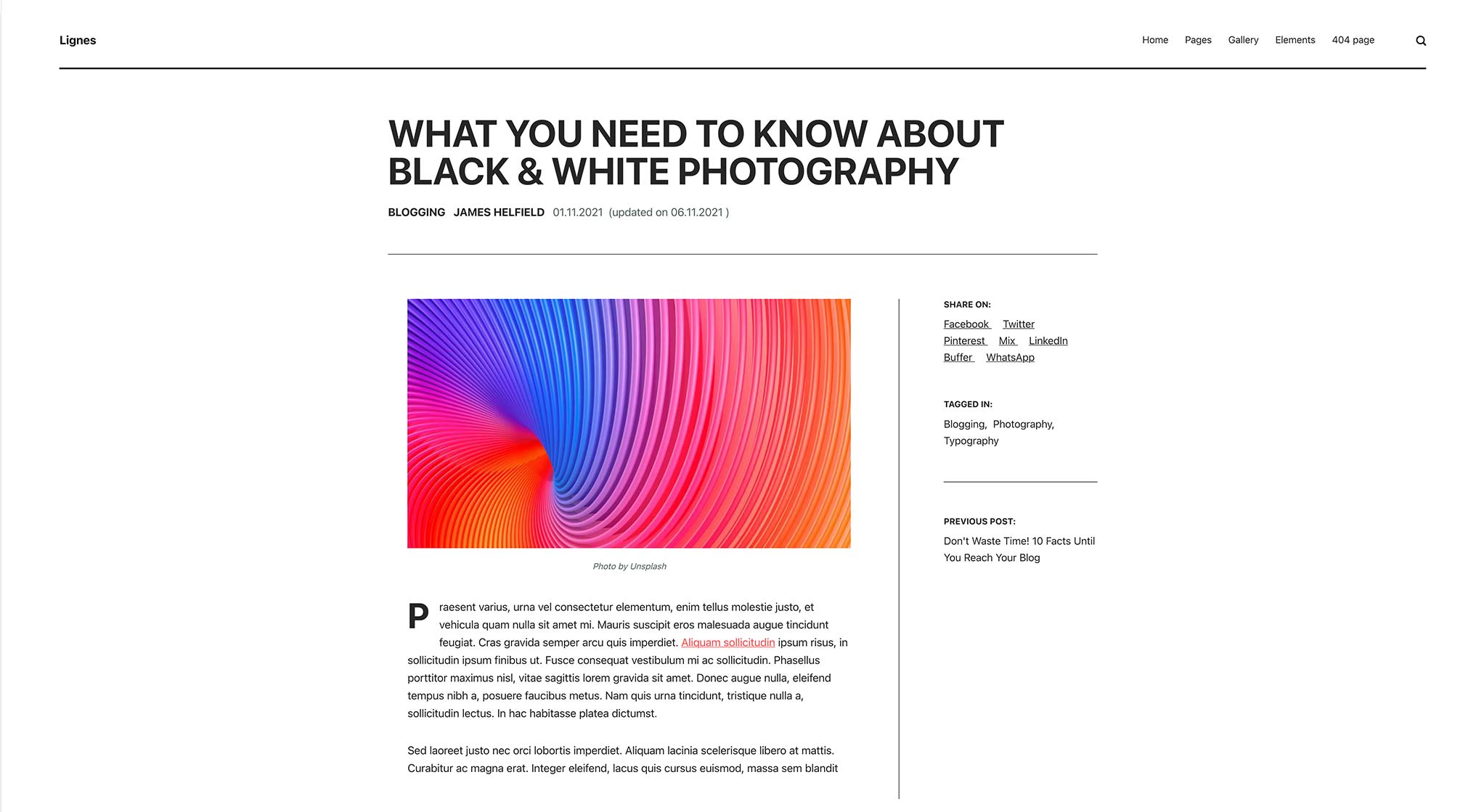 Go Big or Compact on your Tag Pages
Tag pages help users find exactly the kind of posts they're looking for, and in this theme you'll find two different tag page styles to help you get your user base where it wants to be. Pick the visually-striking standard tag page, or keep it clear and simple with a compact tag layout that gets more eyes on your posts.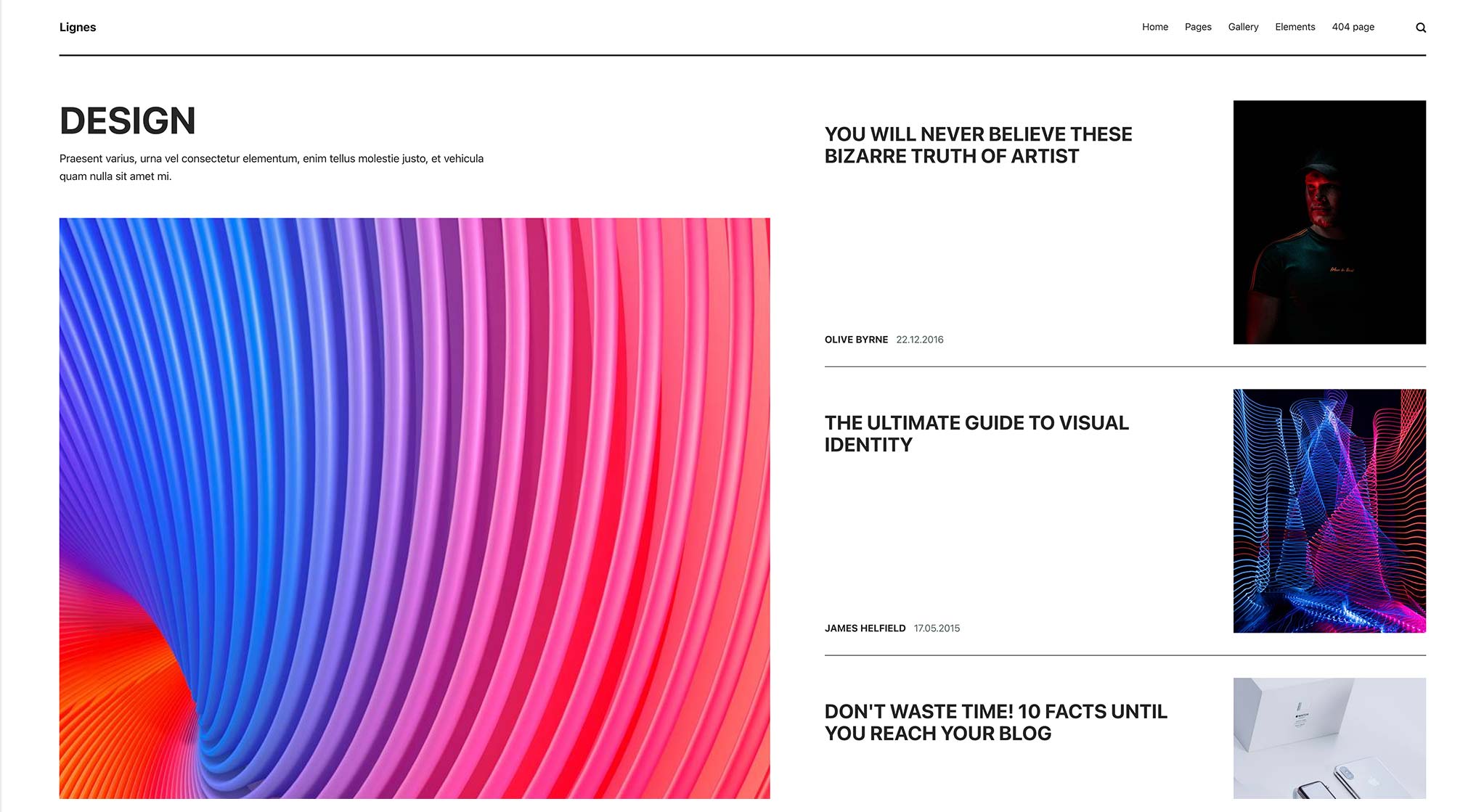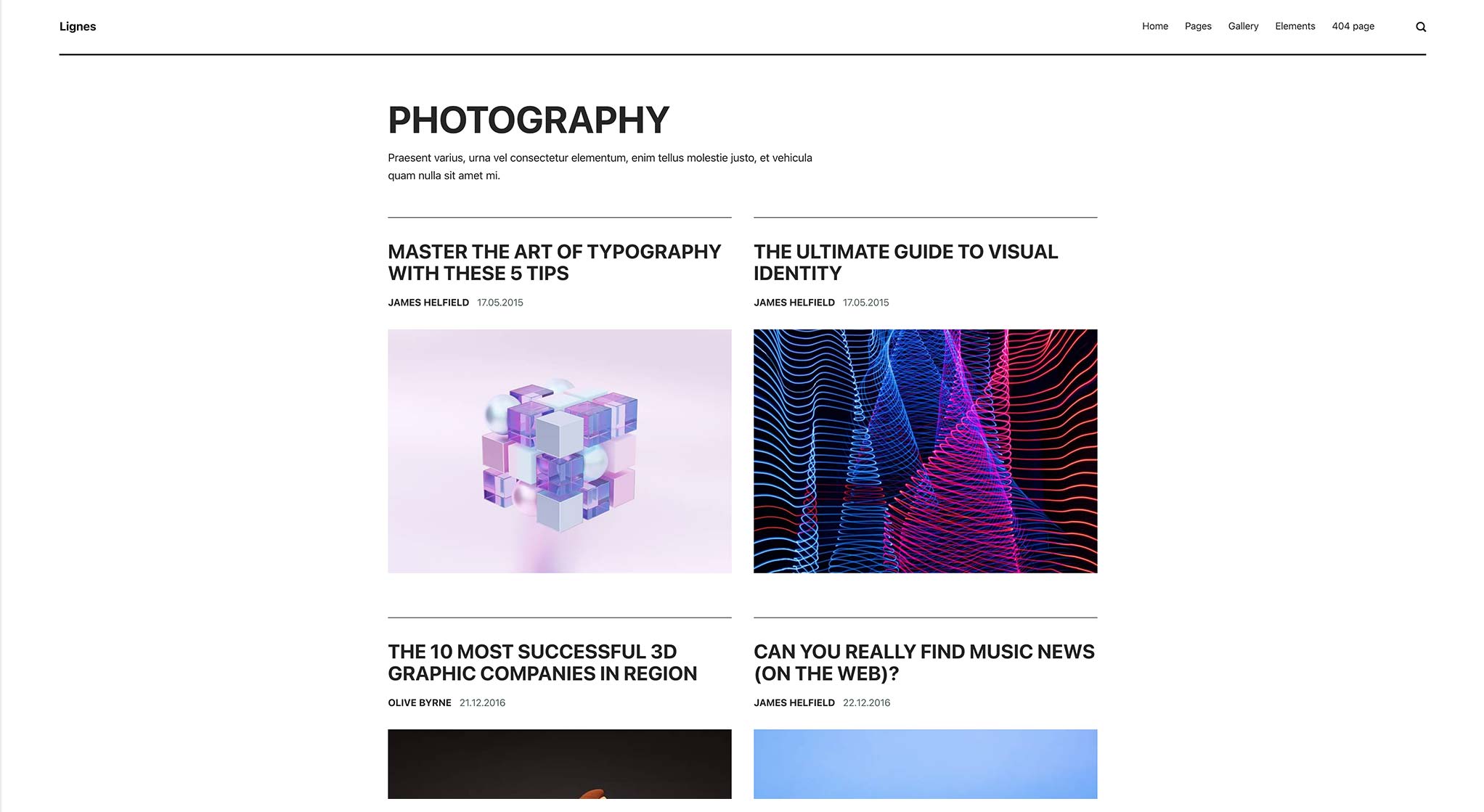 Extend your Chosen Style to Author Pages
There's a theme to this theme, and that's flexibility. Whether its the looks or the accessibility that matters to your site, there's an option in Lignes to match. Like tag pages, author pages include both a standard and compact option, letting you switch up layouts across multiple page types so that your content never feels stale.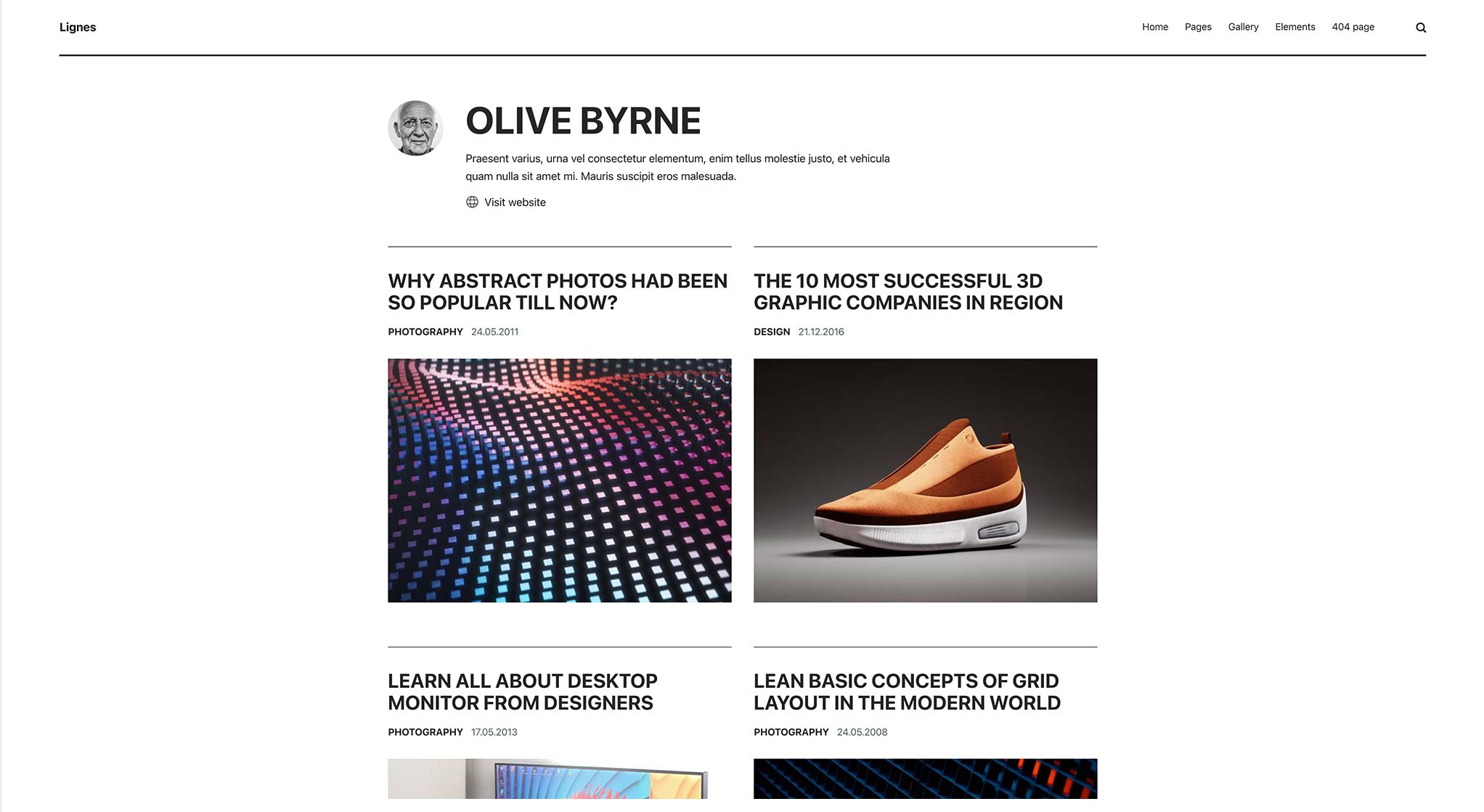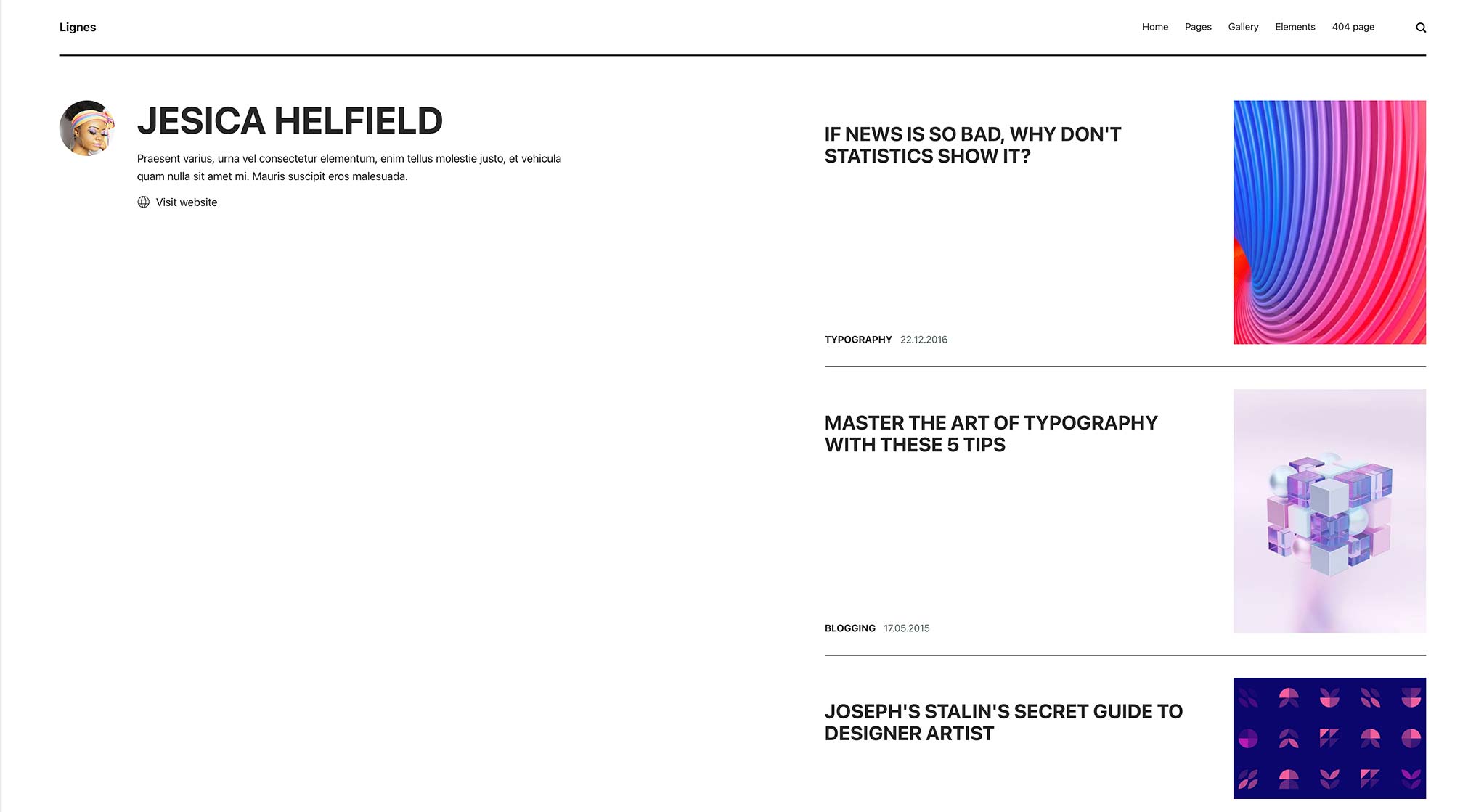 Keep the UX Consistent with Automatic Colour-Scheme Switching
The problem with having Dark mode in your browser is that you don't know if the site you're going to supports it; getting hit with a bright white light while browsing in dark mode at night isn't a pleasant time! The Lignes theme gets around this by automatically loading a light or dark colour scheme depending on the user's browser settings, making the transition to your site content ever smoother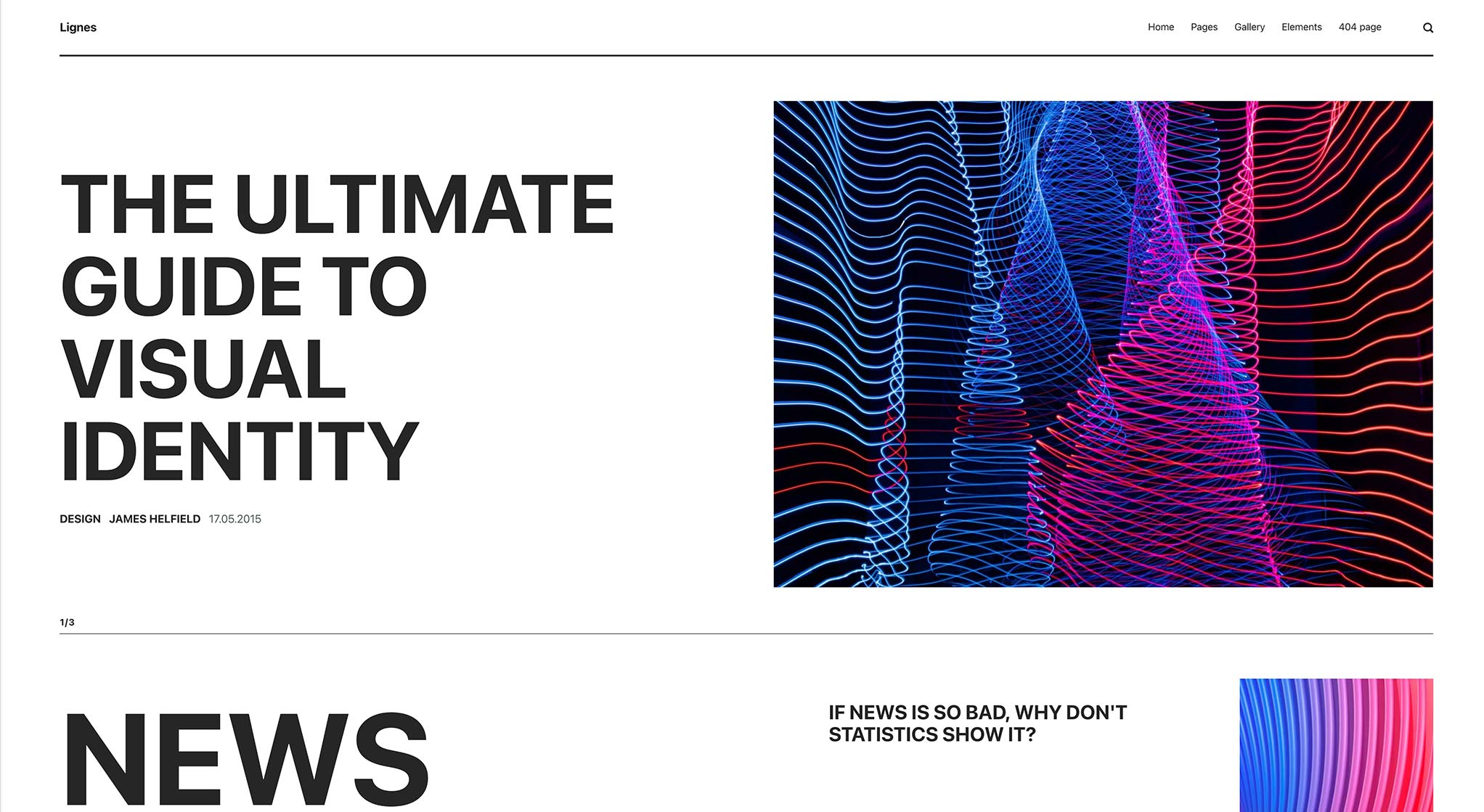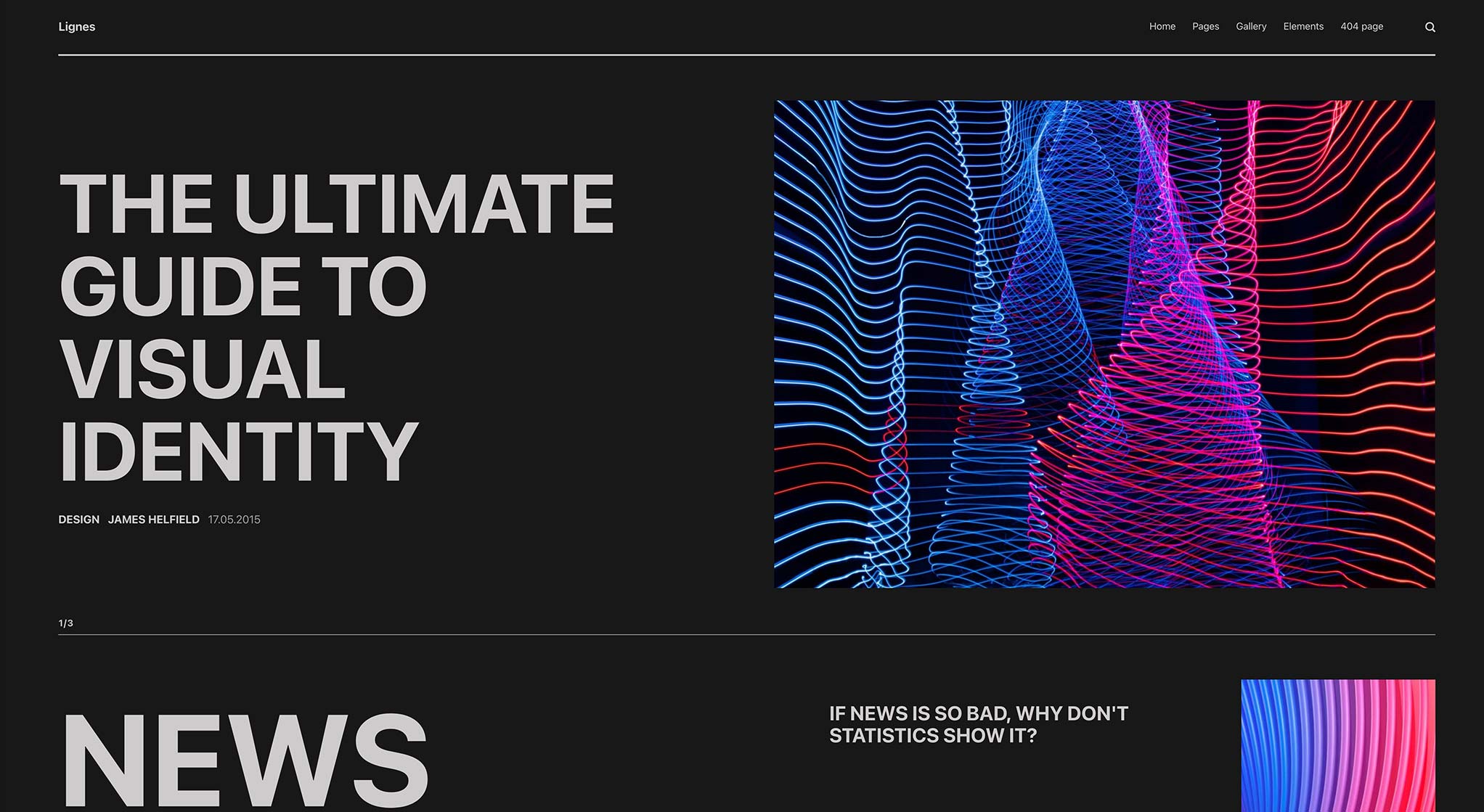 Add a stunning gallery to your posts
TThrough Photoswipe, you can add intuitive, responsive galleries that are perfect for showing off the latest piece of tech. With touch and click-friendly navigation, it doesn't matter what device your visitors use to visit your site, they'll be able to enjoy the full experience.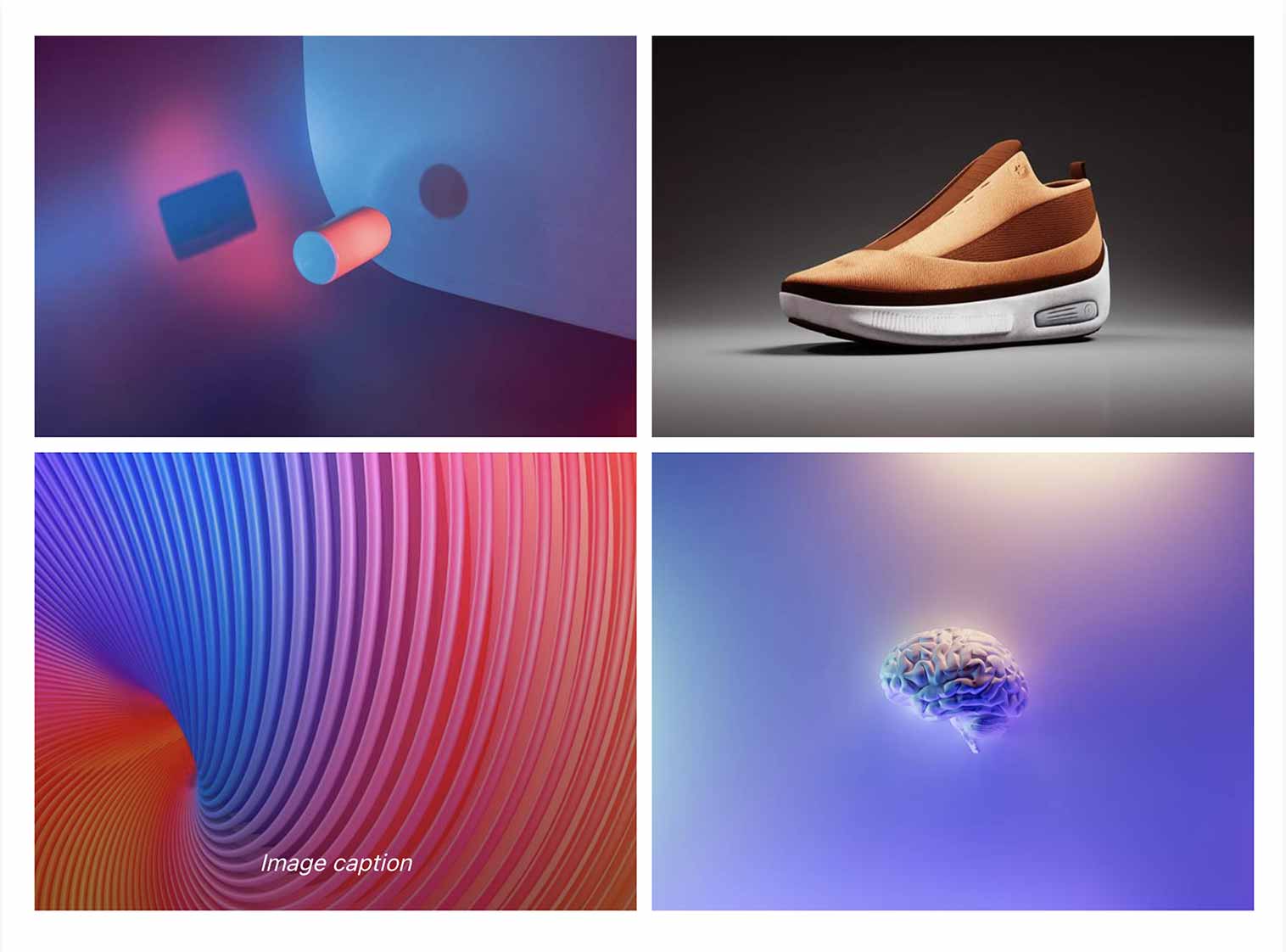 Keep users engaged with Page Prefetching
In the fast-paced modern world, even the shortest delay in load-time can lead to your visitors heading to pastures new. With page prefetching, links that are in view in the browser that users may want to click are preloaded in the background when the browser is idle, to make loading almost instantaneous.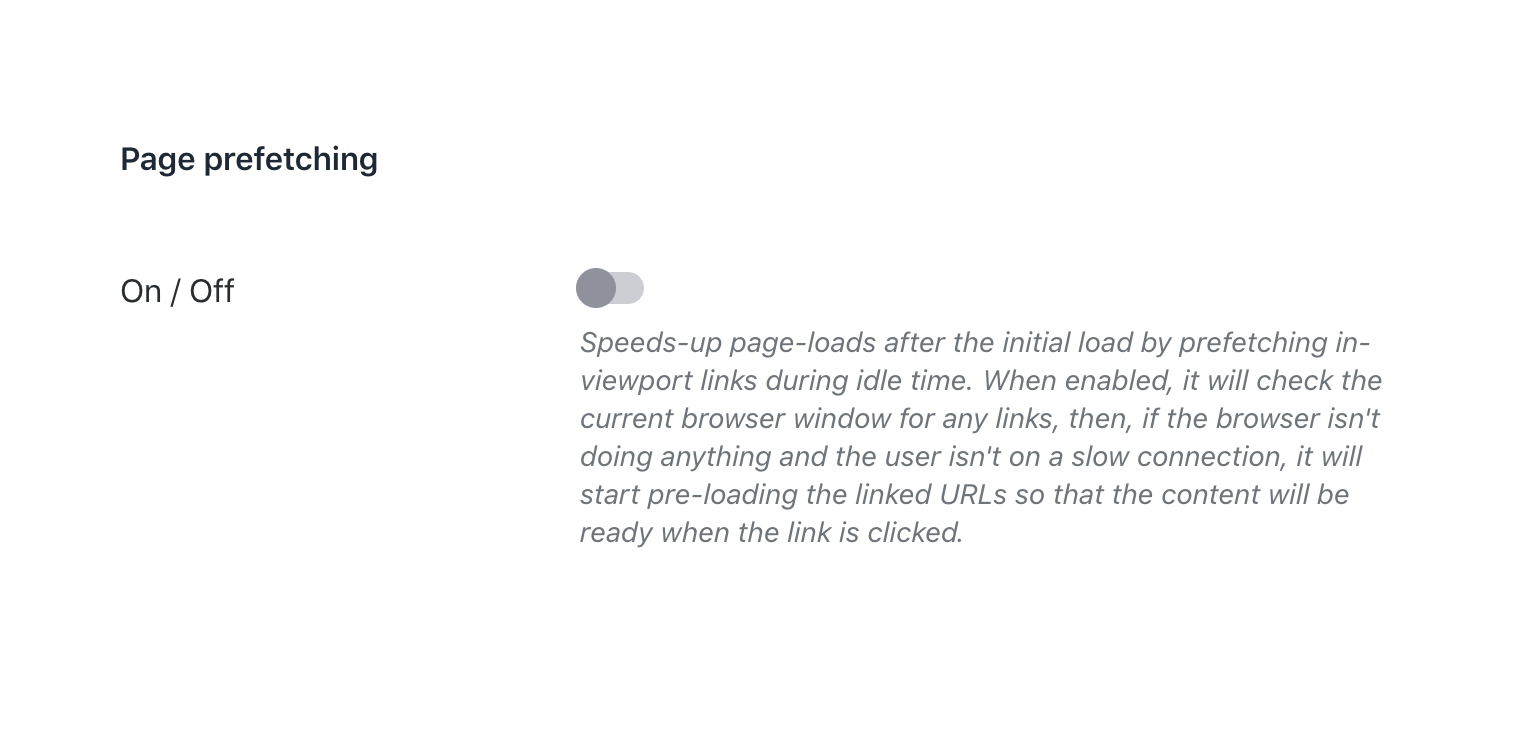 €

35.00
for 1 year
* Plus VAT for EU customers
What's included
✓ Lifetime usage on unlimited domains
✓ 12-months access to the files and updates
✓ 3-months premium support
Details
Version:

Updated:

Apr 05, 2023
Requirements and compatibility
Browser:

Edge, Firefox, Chrome, Safari, Opera

Requirements:

Publii 0.42 and up
Lightweight for a hyper-fast load time
Speed is of the essence when you're looking for answers, so our themes use no jQuery libraries or CSS frameworks; just pure JavaScript and custom CSS for shorter load-times. You won't need to worry about FOUT or FOIT effects in your text either, as you can use a system default fonts.
Get 3 months of professional support
Getting started with a new theme on a new website can be a challenge, but our experts are here to help. Every purchase of the commercial theme includes three months of support through our dedicated ticket system, so you'll have efficient and effective assistance with any issues you run into.
Standard features *
Manage your page look and feel with extensive coloring, menu, social media sharing and layout options, or switch it up completely with one of our many unique themes.
* The available options may vary from theme to theme but they are mostly standardized.