Ella Portfolio Theme
Are you an artist looking for a fresh and modern theme to showcase your work? Look no further than this new, cutting-edge theme explicitly designed for designed specifically with photographers in mind, providing you with all the tools you need to present your work in the most captivating and visually stunning way possible.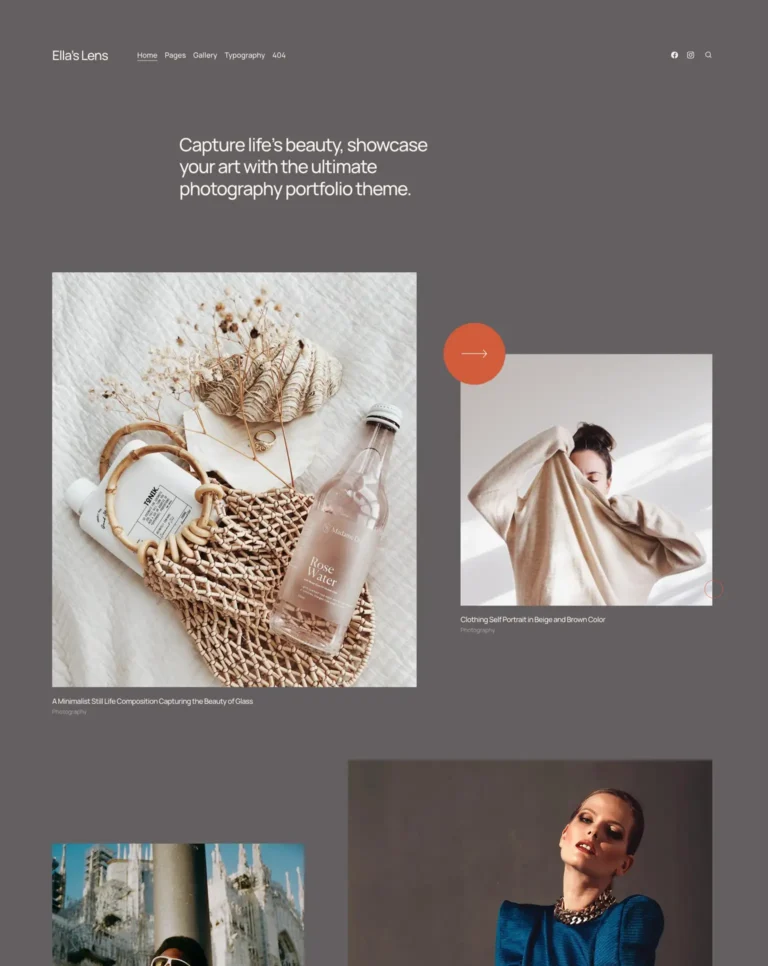 Two distinct layouts to showcase your work
Choose between two layouts; display your content on the left or centered on the page. The left layout provides a modern, sleek look that highlights your content. The centered layout offers a more traditional design, allowing you to present your content in a balanced and visually appealing way.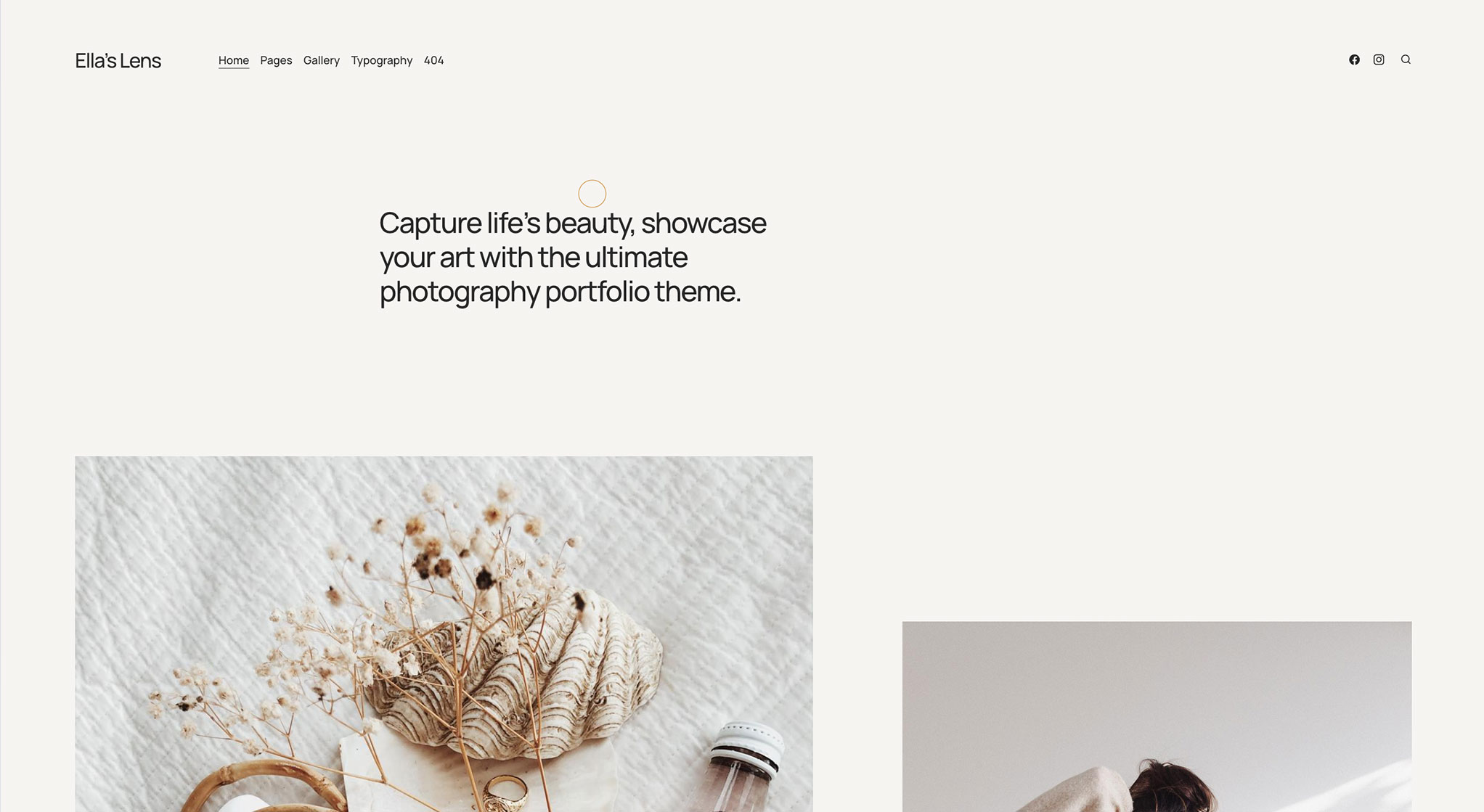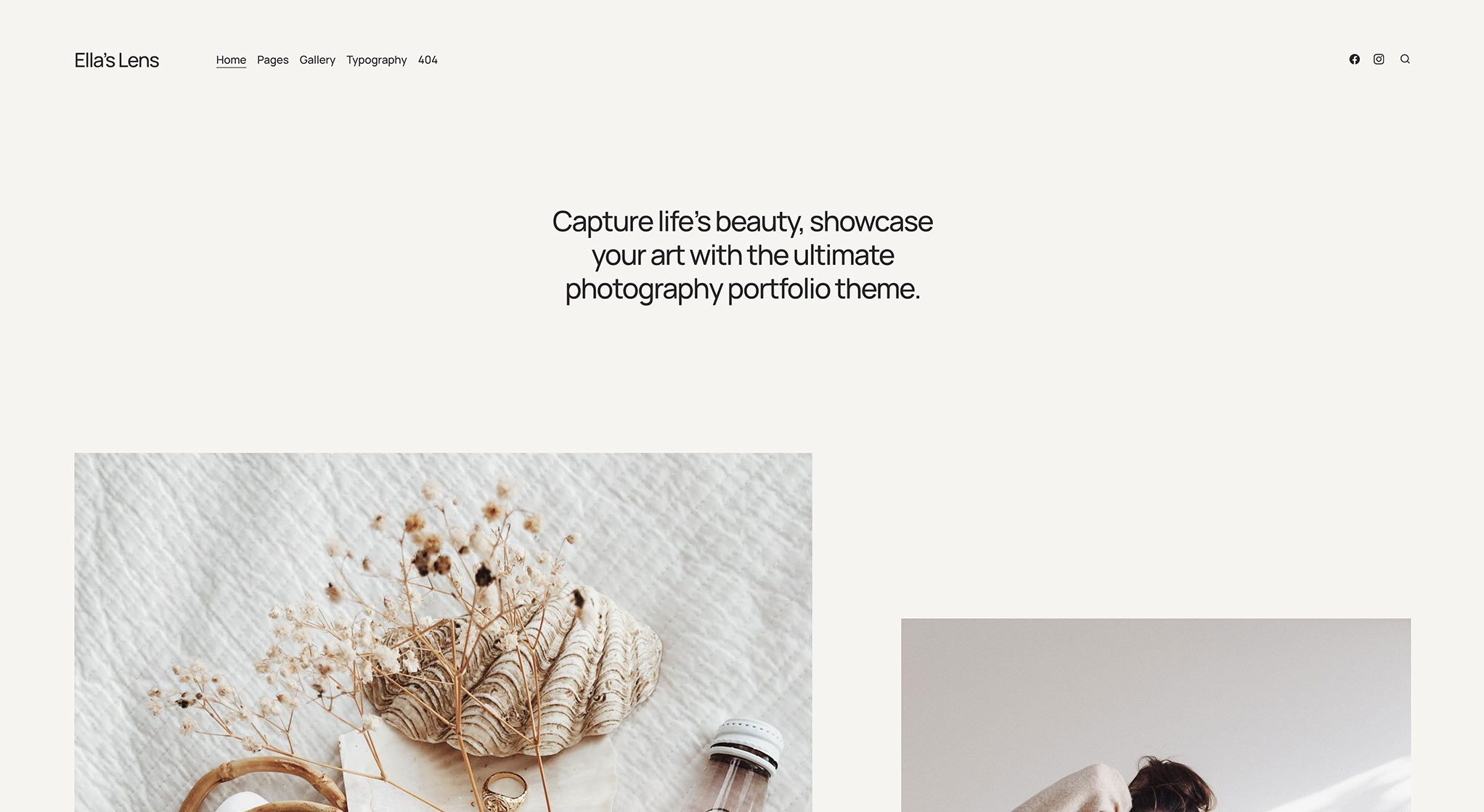 Versatile grid options for customized display: flex and masonry with multiple columns
With two grid options, flex and masonry, and the ability to choose between two, three, and four columns, you can display your photos in a way that suits your style. The flex grid lets you easily arrange your photos into rows and columns. The masonry one provides a unique and dynamic way to display your photos, with images arranged in a cascading, Pinterest-like layout. Plus, you can select a different source for your grid, including the latest post, featured post, or posts from a selected tag.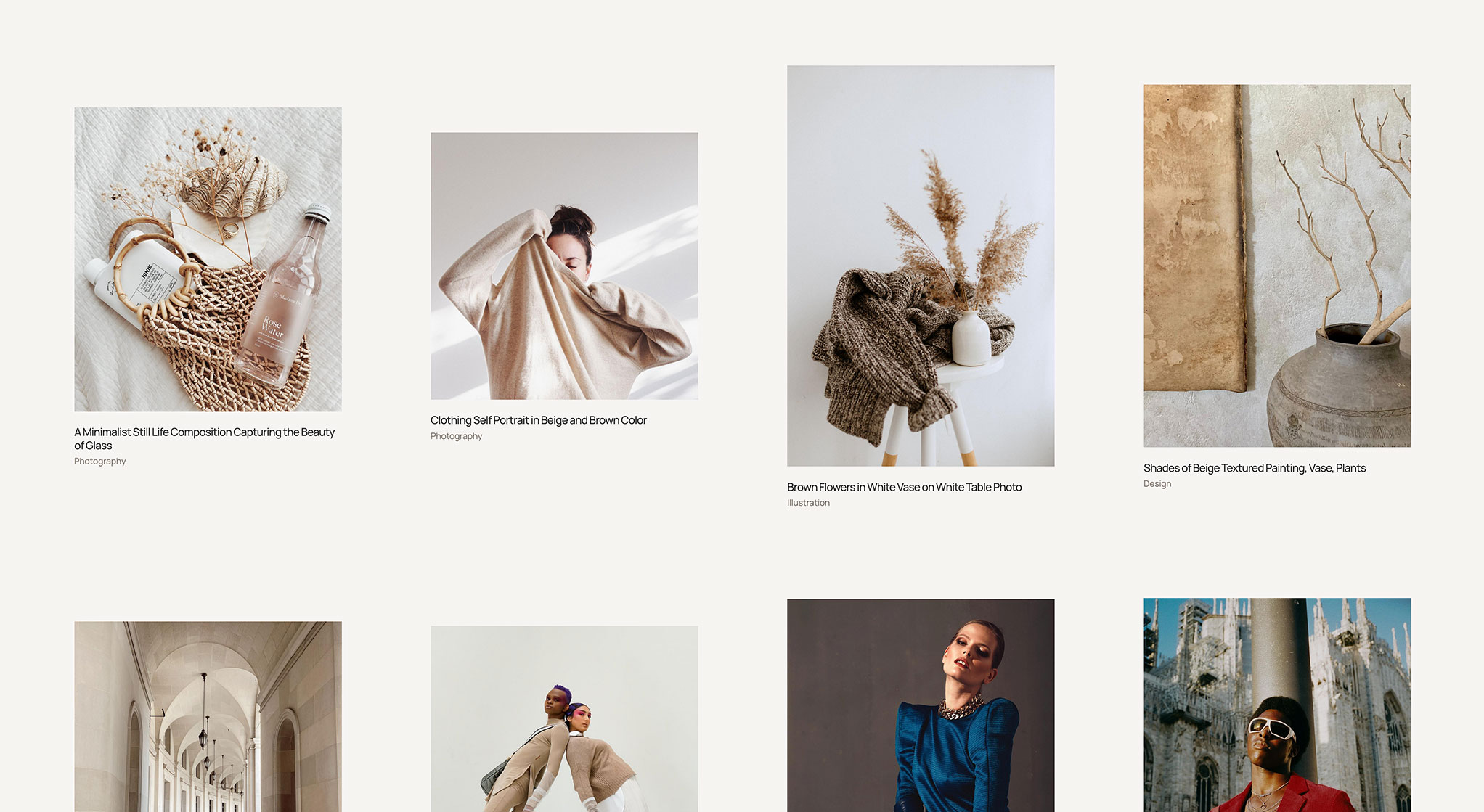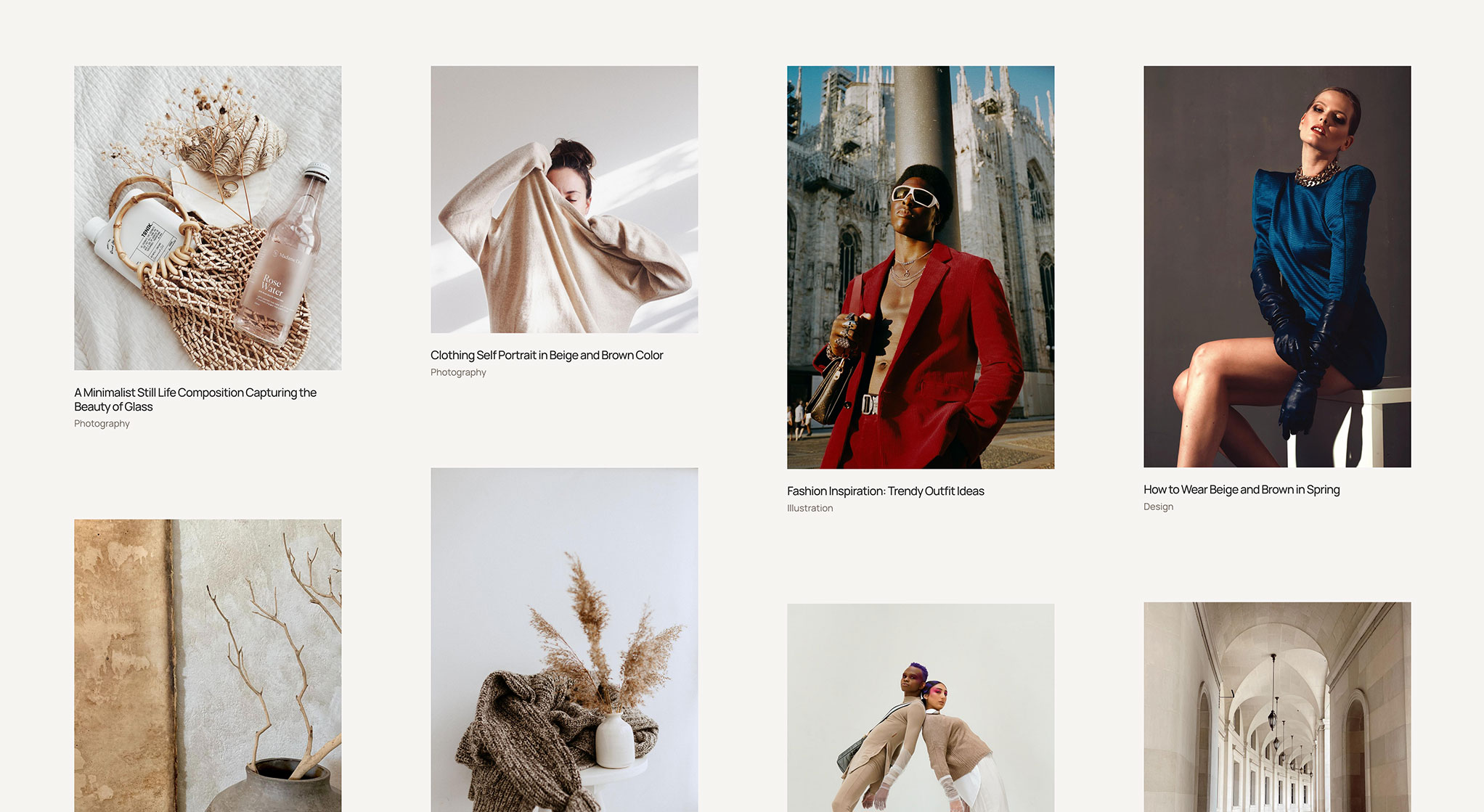 Customizable cards for a unique and personalized portfolio presentation
The cards in your grid can be fully customized to fit your preferences. You can choose to display a featured image, title, maintag, date, and author on each card, or disable any of these elements if you prefer a simpler design. This level of customization allows you to create a unique look for your portfolio that truly represents your style and aesthetic.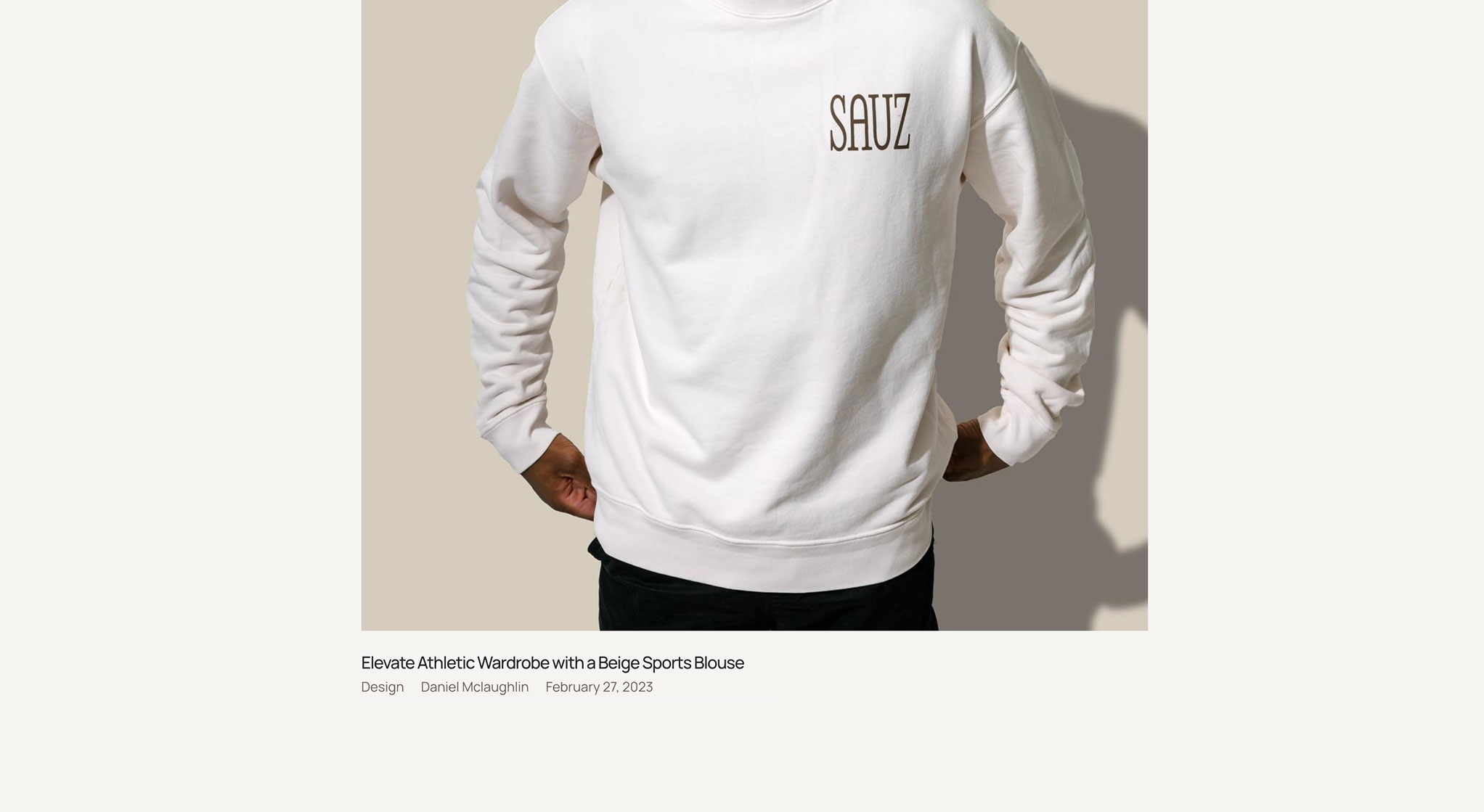 Multiple color options with auto light/dark mode for optimal user experience
Ella theme comes with eight styles and the ability to create your own color scheme; you can customize your site to match your brand and style. The theme also includes auto light/dark mode, which automatically switches between light and dark themes based on the user's preference.
Two post template layouts for unique display options
Ella offers two different post template layouts. The first one features the post title prominently displayed over the featured image, providing a sleek and modern design. The second layout places the featured image at the top of the post, allowing for more visual emphasis on the image itself. These two options allow you to choose the template that best suits your content and style. So whether you want to highlight your photography or showcase your latest blog posts, Ella theme has you covered.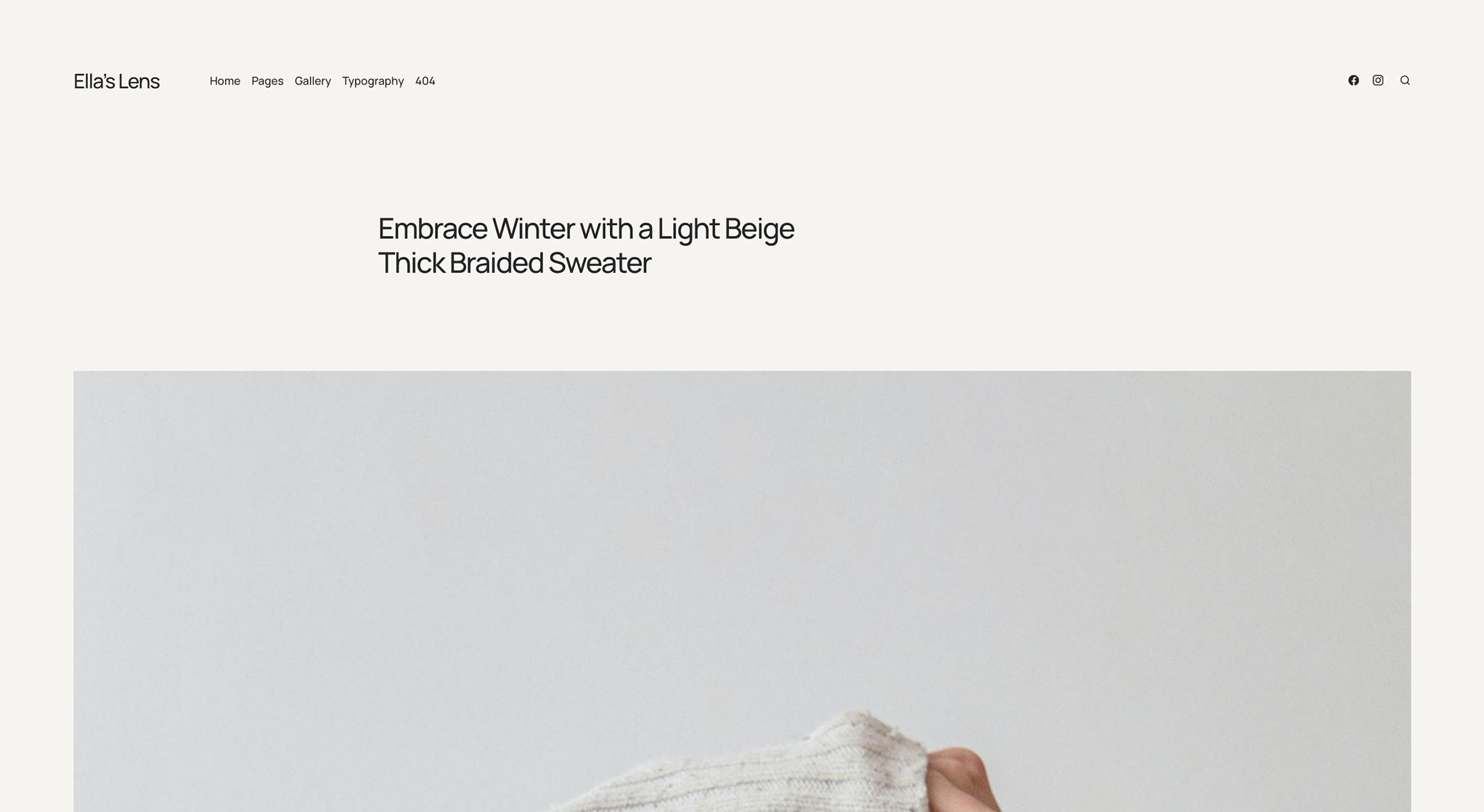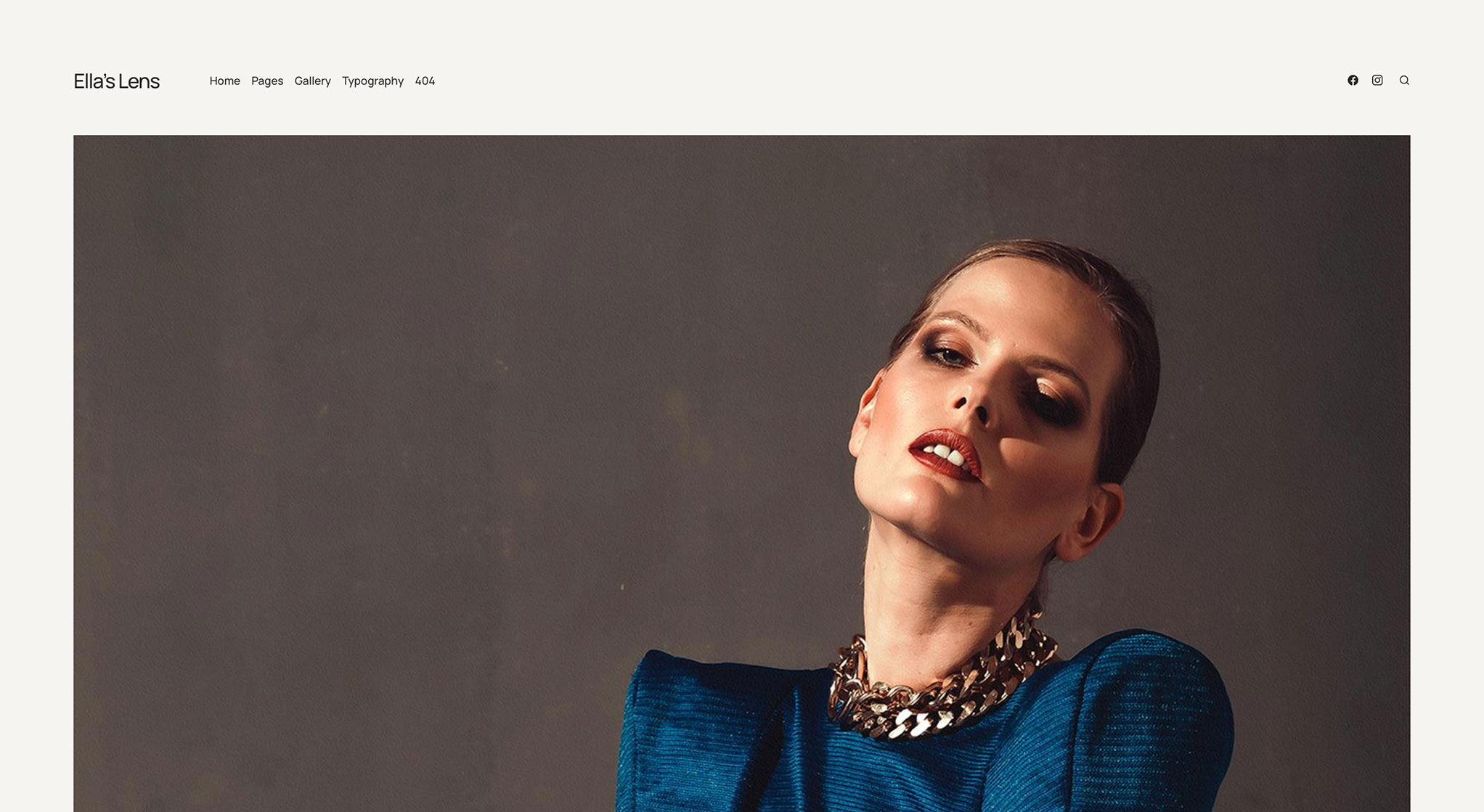 Custom cursor for immersive and engaging user interaction
Ella theme offers a unique and customizable cursor that adds an extra layer of interactivity to your portfolio. You can replace the default cursor with a circular one, adding elegance to your site. Additionally, you can add a "big arrow" cursor to any HTML element, making it easy for users to navigate your site and find the information they need.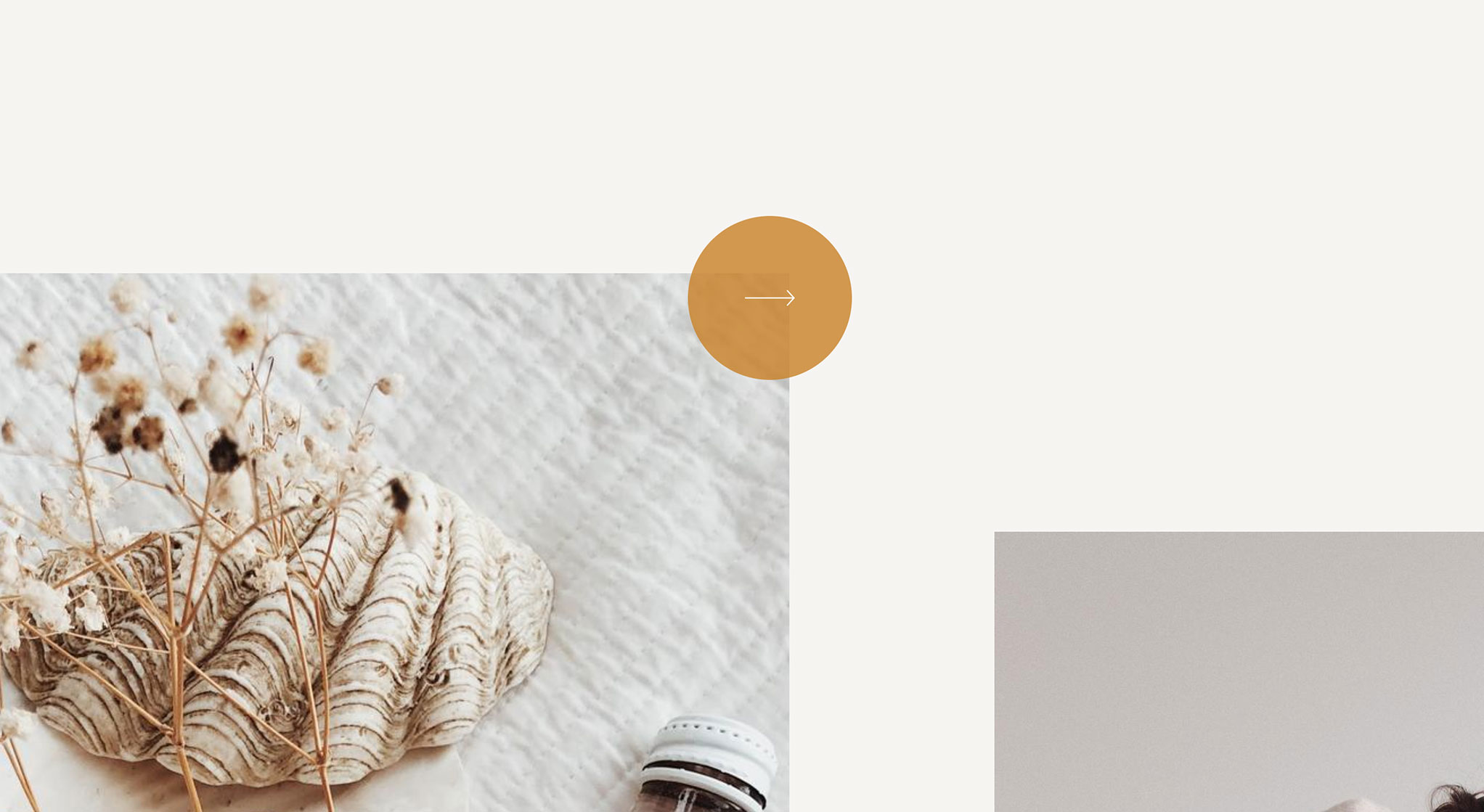 Visually stunning masonry gallery layout for dynamic portfolio display
Display your photos in a beautiful, modern gallery using the masonry layout, which arranges them in a cascading, Pinterest-like style that highlights their unique qualities. Check out the demo to see how stunning your photos will look!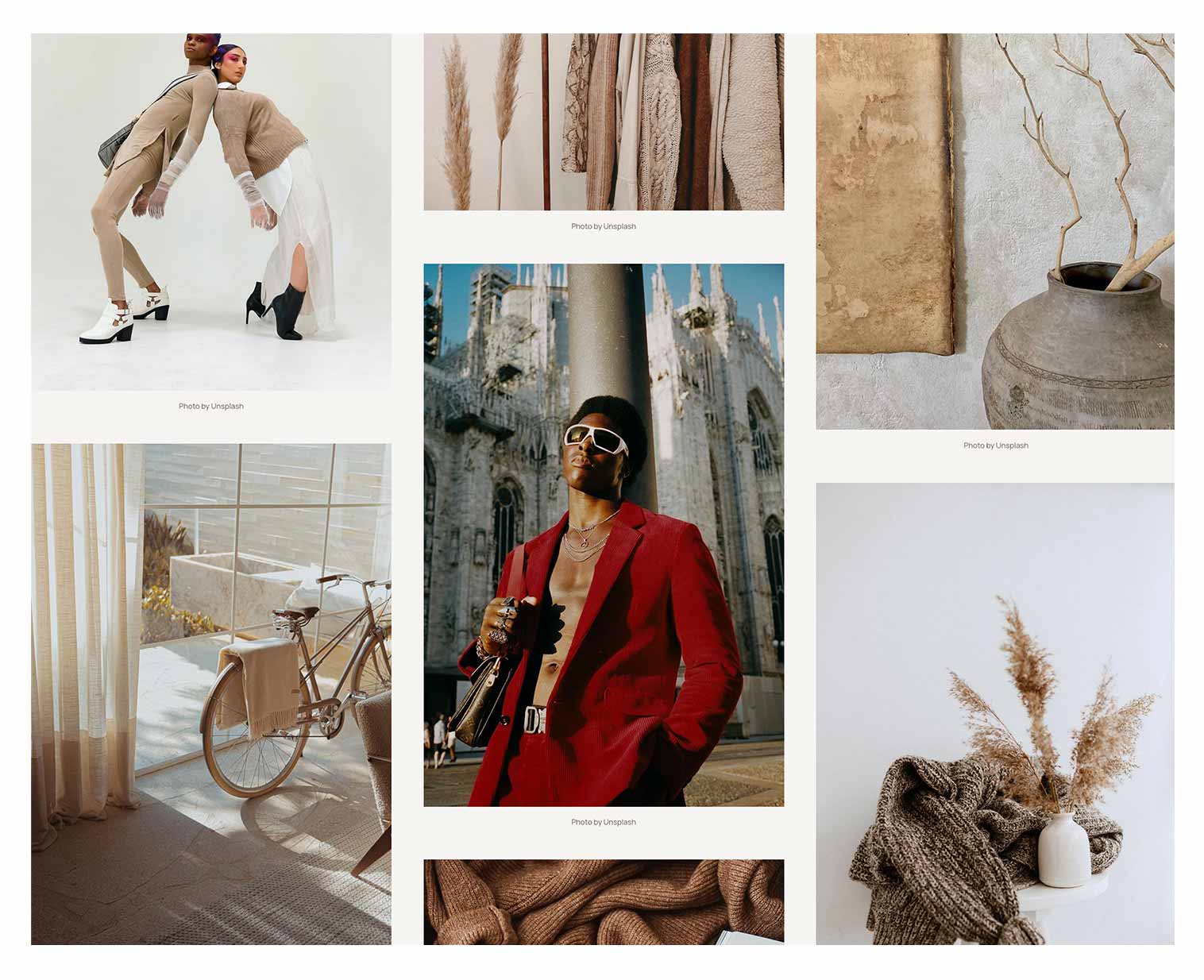 Page prefetching
If you want to keep your visitors around, it's important to have fast site loading times. With page prefetching, links that are in view in the browser and the user is likely to click on, will be preloaded when they're idle. This process makes load time almost instantaneous.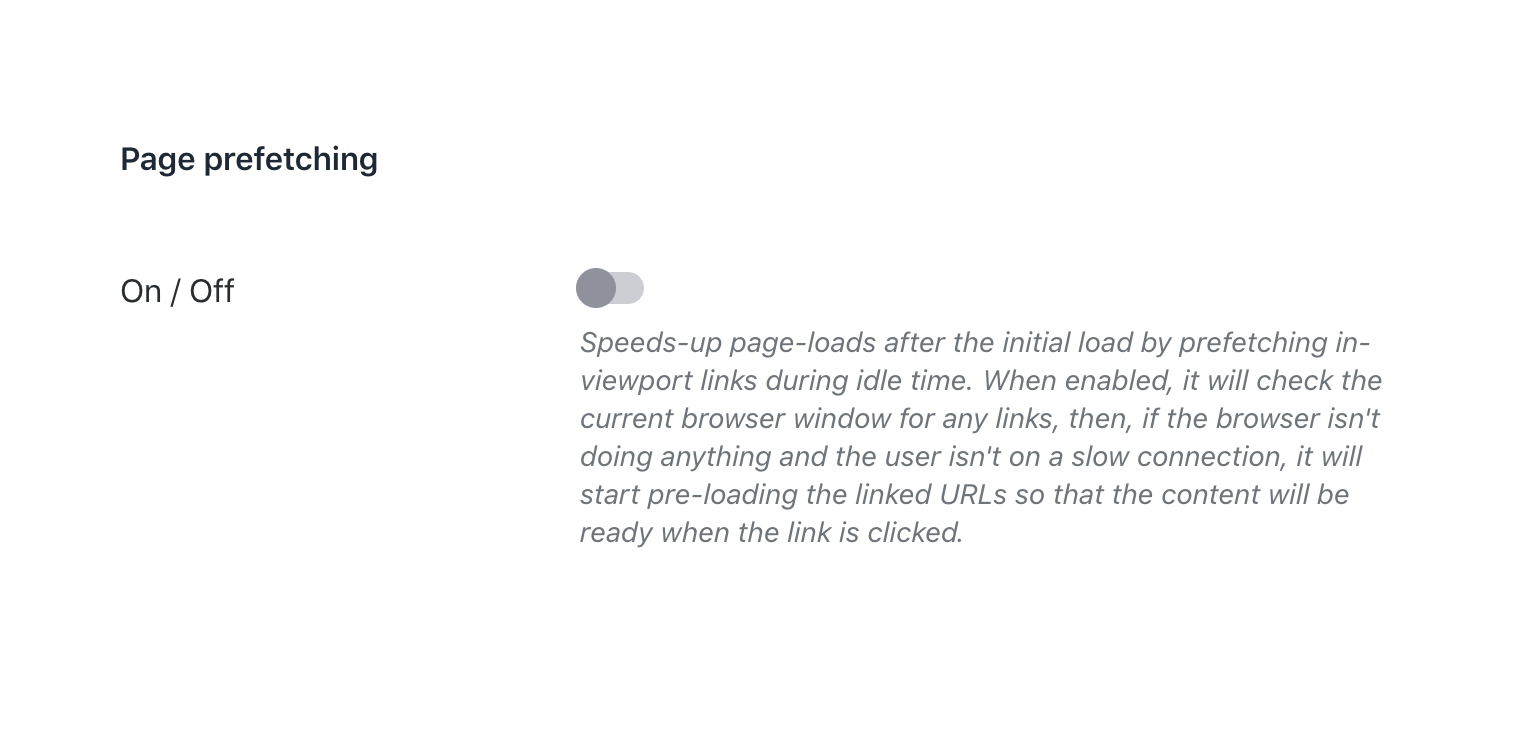 €

39.00
for 1 year
* Plus VAT for EU customers
What's included
✓ Lifetime usage on unlimited domains
✓ 12-months access to the files and updates
✓ 3-months premium support
Details
Version:

Updated:

June 02, 2023
Requirements and compatibility
Browser:

Edge, Firefox, Chrome, Safari, Opera

Requirements:

Publii 0.42 and up
Lightweight for a hyper-fast load time
Speed is of the essence when you're looking for answers, so our themes use no jQuery libraries or CSS frameworks; just pure JavaScript and custom CSS for shorter load-times. You won't need to worry about FOUT or FOIT effects in your text either, as you can use a system default fonts.
Get 3 months of professional support
Getting started with a new theme on a new website can be a challenge, but our experts are here to help. Every purchase of the commercial theme includes three months of support through our dedicated ticket system, so you'll have efficient and effective assistance with any issues you run into.
Standard features *
Manage your page look and feel with extensive coloring, menu, social media sharing and layout options, or switch it up completely with one of our many unique themes.
* The available options may vary from theme to theme but they are mostly standardized.