Follow Buttons
The Follow Buttons plugin enriches your website by streamlining how visitors follow your accounts on various media platforms. Compatible with 56 different platforms, this plugin facilitates an effortless connection between users and your brand's profiles across various networks, including social media and other digital channels. Boasting a user-friendly design and smooth integration, the plugin is ideal for expanding your presence across media platforms and enhancing audience engagement.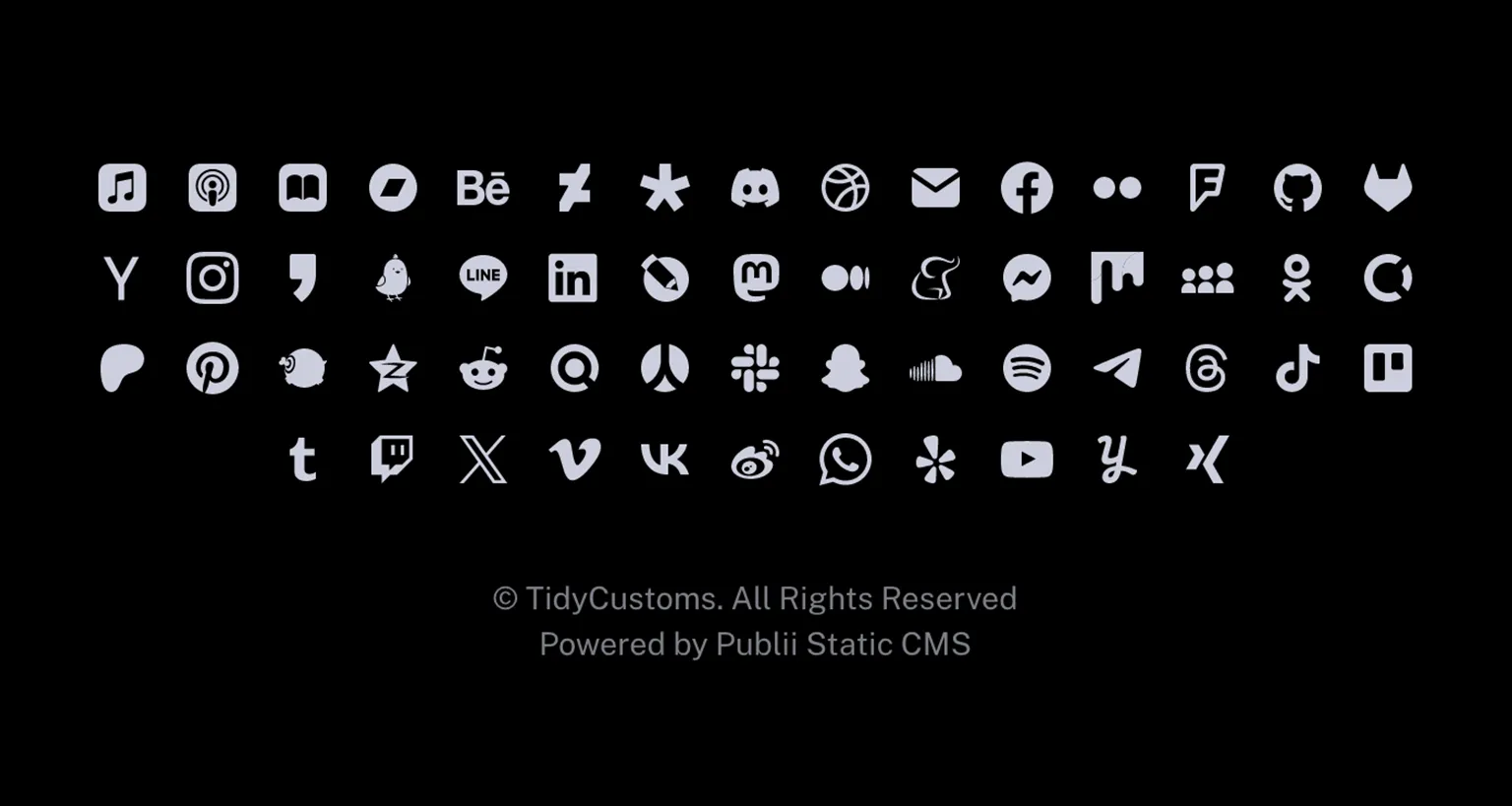 Versatile Button Customization Options
The Follow Buttons plugin offers a broad spectrum of button customization options. Whether you prefer Icon Only, Text Only, or a combination of Both Icon and Text, this feature enables you to tailor the buttons' appearance to integrate seamlessly with your website's design. This adaptability enhances the user interface and maintains a cohesive and appealing user experience.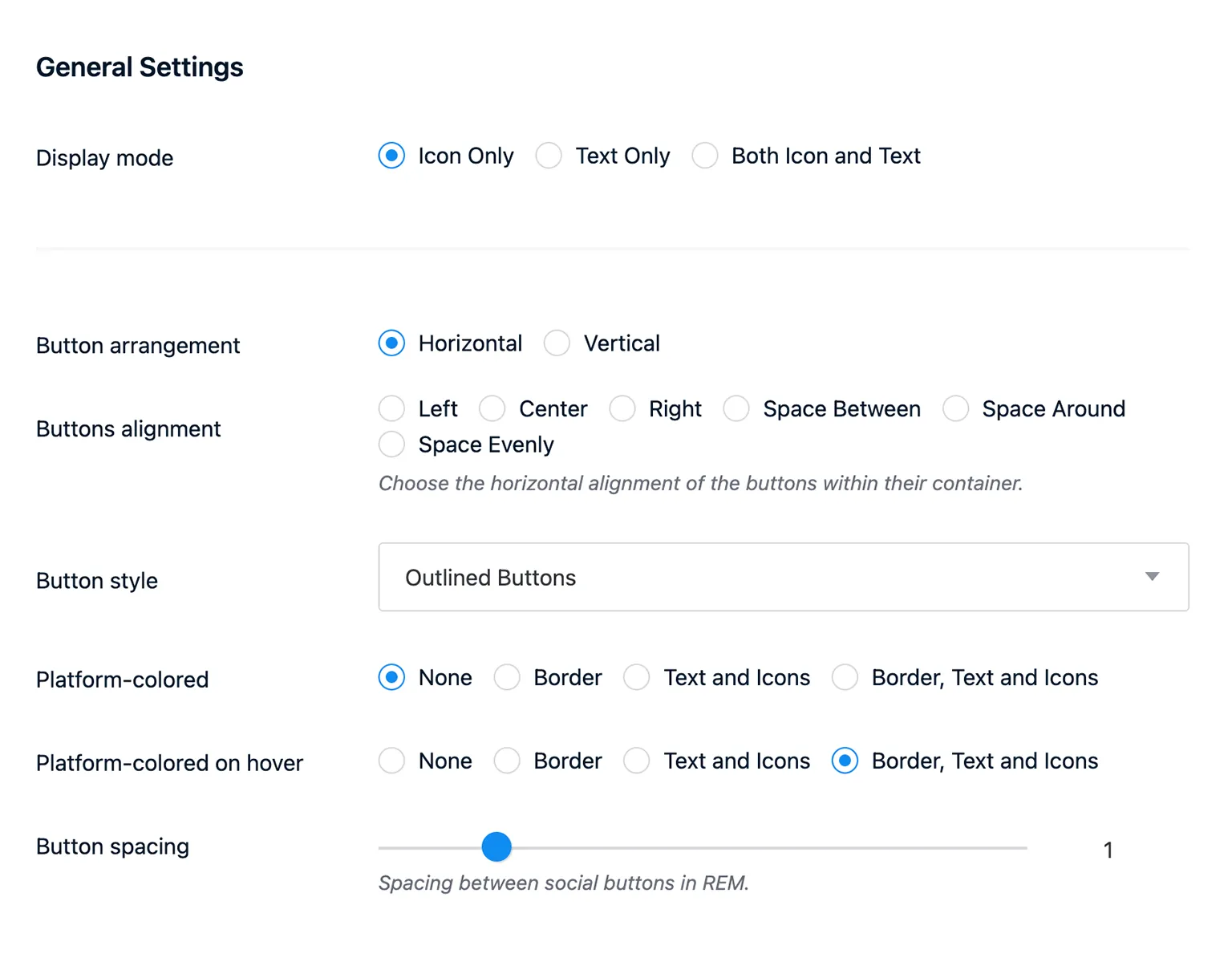 With options for both Horizontal and Vertical arrangements, the plugin is adaptable to various design layouts, ensuring the Follow buttons are both unobtrusive and easily accessible. Moreover, this plugin introduces multiple button styles, such as Links, Outlined Buttons, and Solid Buttons, each offering a distinct visual appeal.
The innovative use of platform-colored options for icons, text, borders, and backgrounds allows the buttons to dynamically match the color scheme of each media platform, creating a cohesive and engaging interface.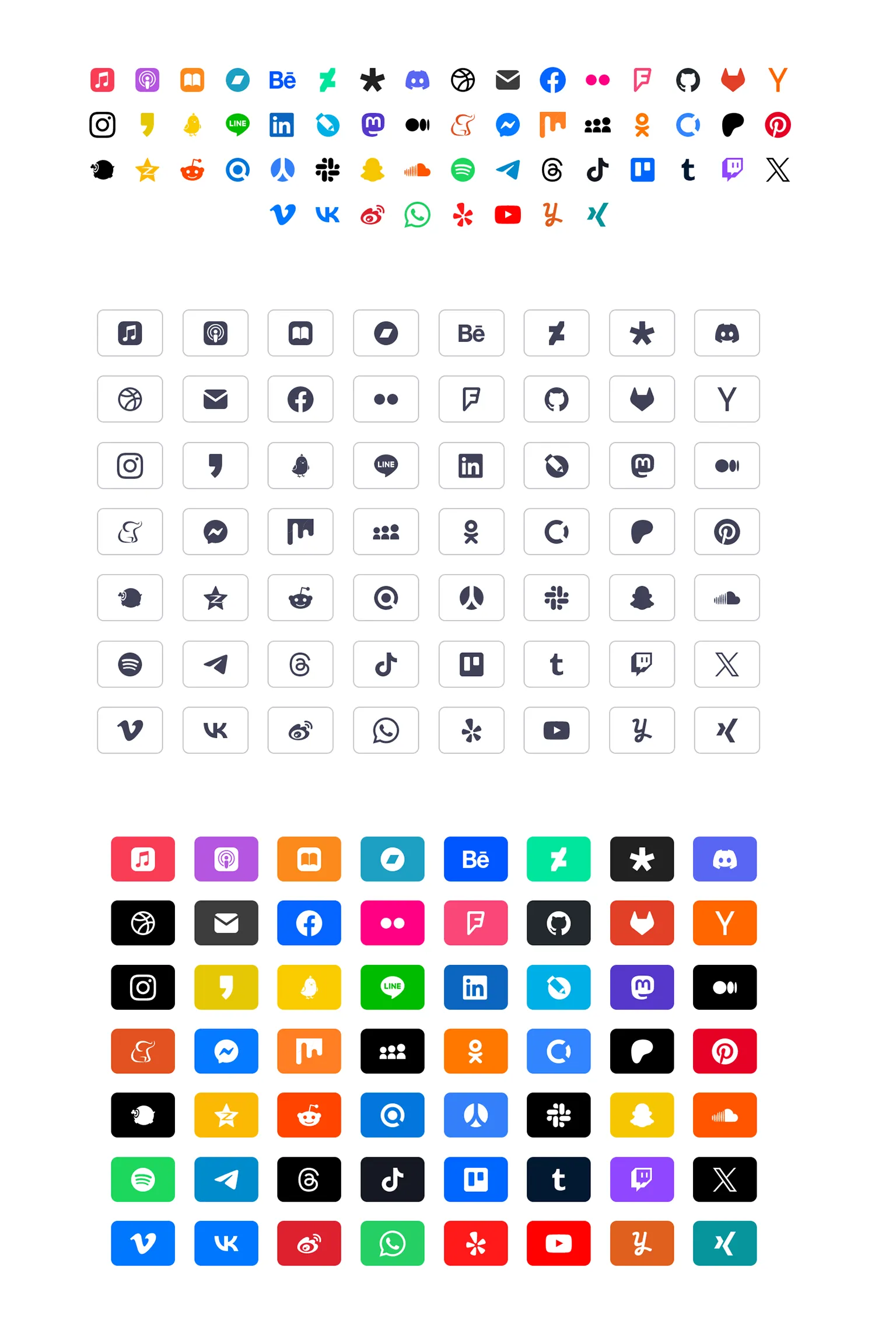 Linking to the Digital World
The Followed Platforms section offers a seamless and user-friendly way to integrate links into your website, including social media profiles and other digital channels like email. Supporting an impressive array of 56 different platforms, it provides a diverse and comprehensive linking experience. This feature enables connections to social networks and other digital services of your choice. Inputting specific URLs for each platform ensures that visitors are accurately directed to your various online presences, from social media pages to email communication.
Additionally, the plugin boasts an intuitive drag-and-drop interface for easy rearrangement of these platforms and options for their duplication or effortless removal.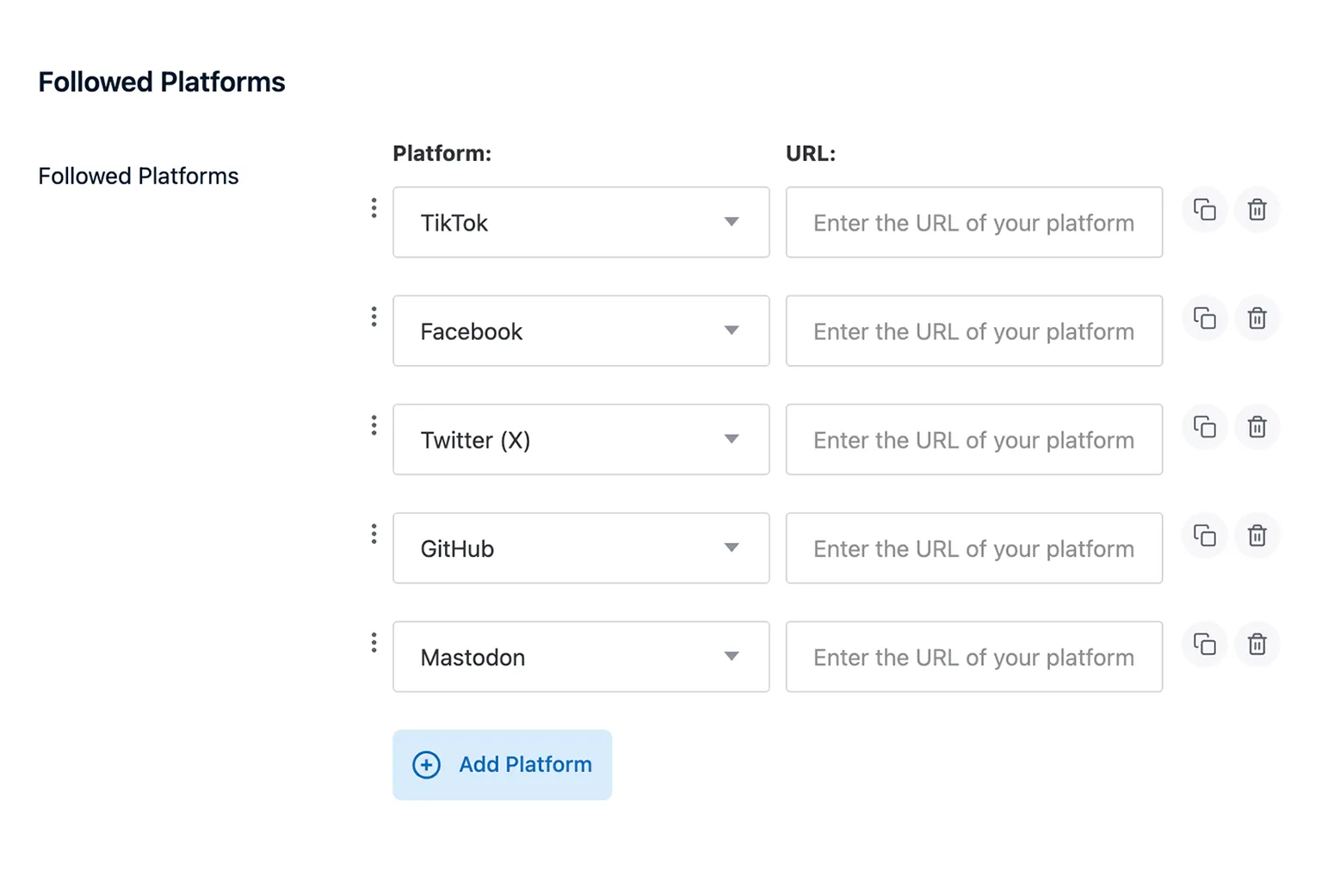 Enhanced Styling Flexibility
The Follow Buttons feature is designed with enhanced styling flexibility, allowing various customization options depending on the selected button style. Whether you choose a simple link or a more pronounced outlined button, you can tailor elements such as text, icons, borders, and background colors to your preference. This adaptability extends to hover states, offering an interactive experience for users. Particularly for solid-style buttons, the feature includes an advanced option to modify colors on hover using HSLA values. This capability lets you delicately alter the hues of platform-specific color options, lending an elegant and refined aesthetic to the user interface.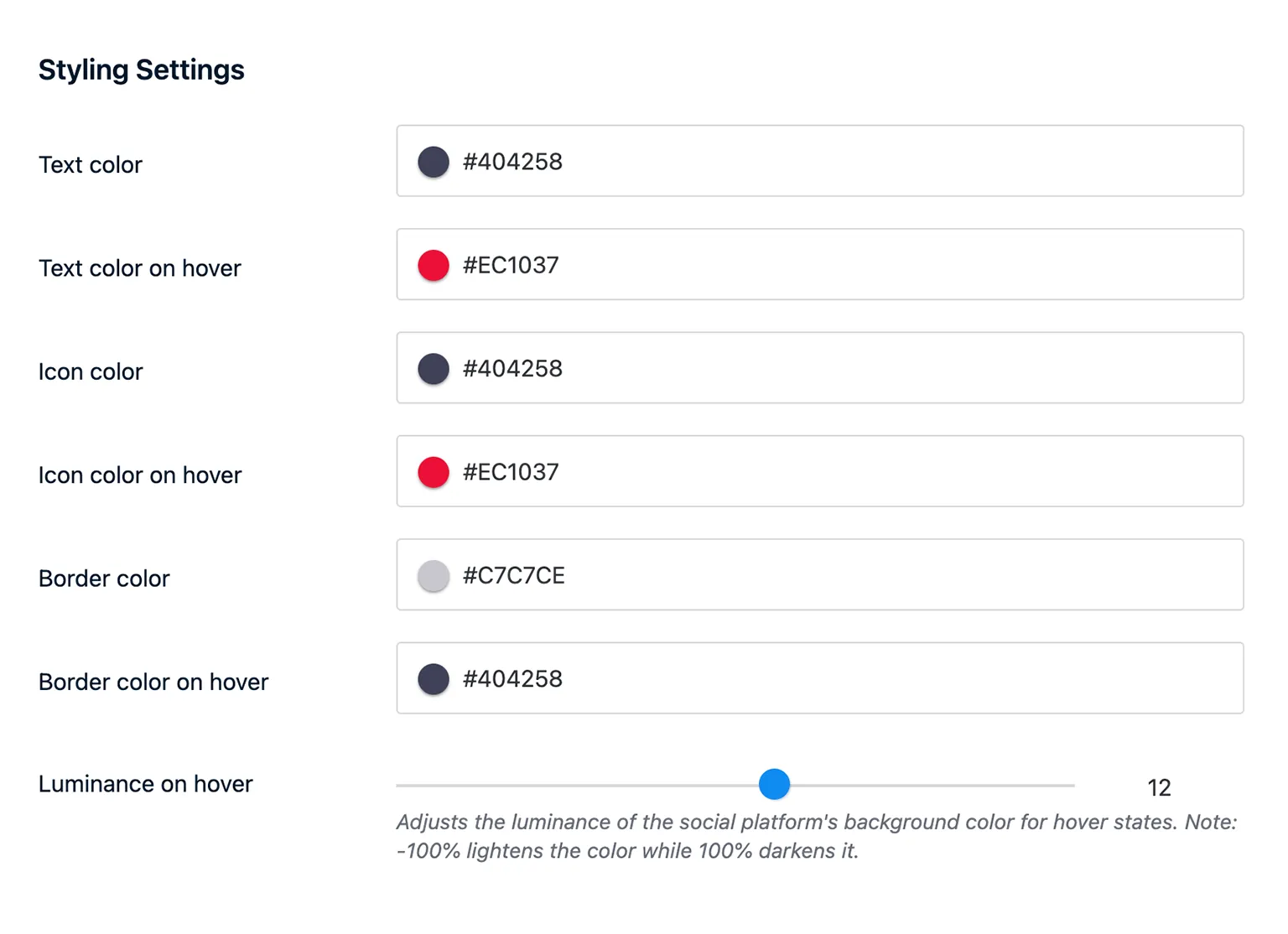 Layout Customization at Your Fingertips
Beyond aesthetic elements, the Follow Buttons plugin offers comprehensive layout customization options. Adjustments can be made to the gap between icon and text, padding, and the size of the icons and text. This control ensures that the follow buttons align perfectly with your site's design ethos, be it compact or spaced-out.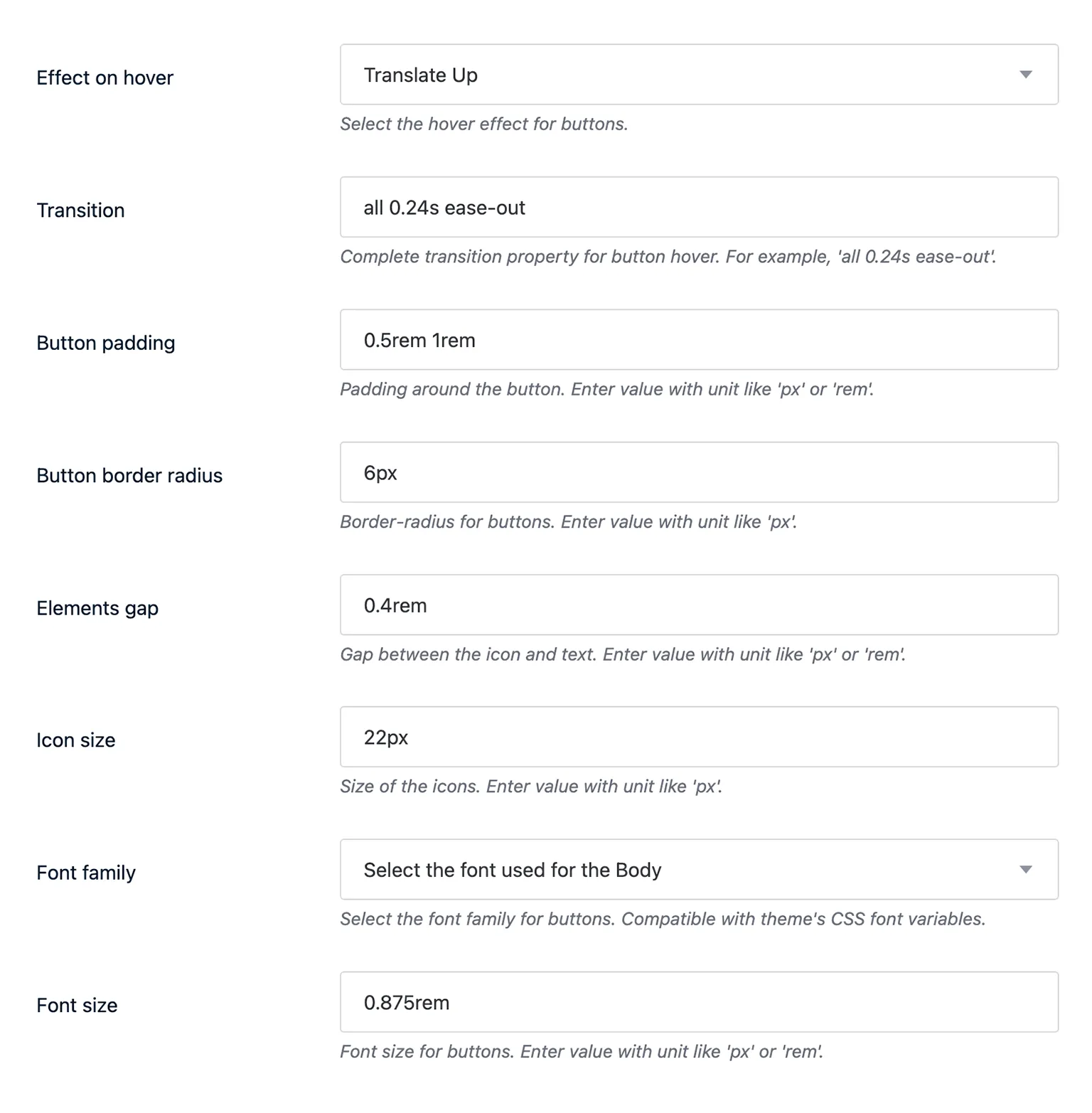 Advanced Options
The plugin provides advanced customization options, allowing you to control how the buttons open the links and blend with your site's design. You can set the follow buttons to open links in a new tab to keep your visitors on your site, or in the same tab for a more direct interaction.
The Target Container Class setting allows you to specify a container's class name where the follow buttons will be added, replacing the existing content of this container. This ensures that your follow buttons are seamlessly integrated into the desired section of your site. The 'Container CSS class' and 'Button CSS class' settings further offer the flexibility to rename the button classes according to your theme's naming convention, like BEM or others. These features are particularly useful for maintaining consistency and semantic clarity in your website's stylesheet.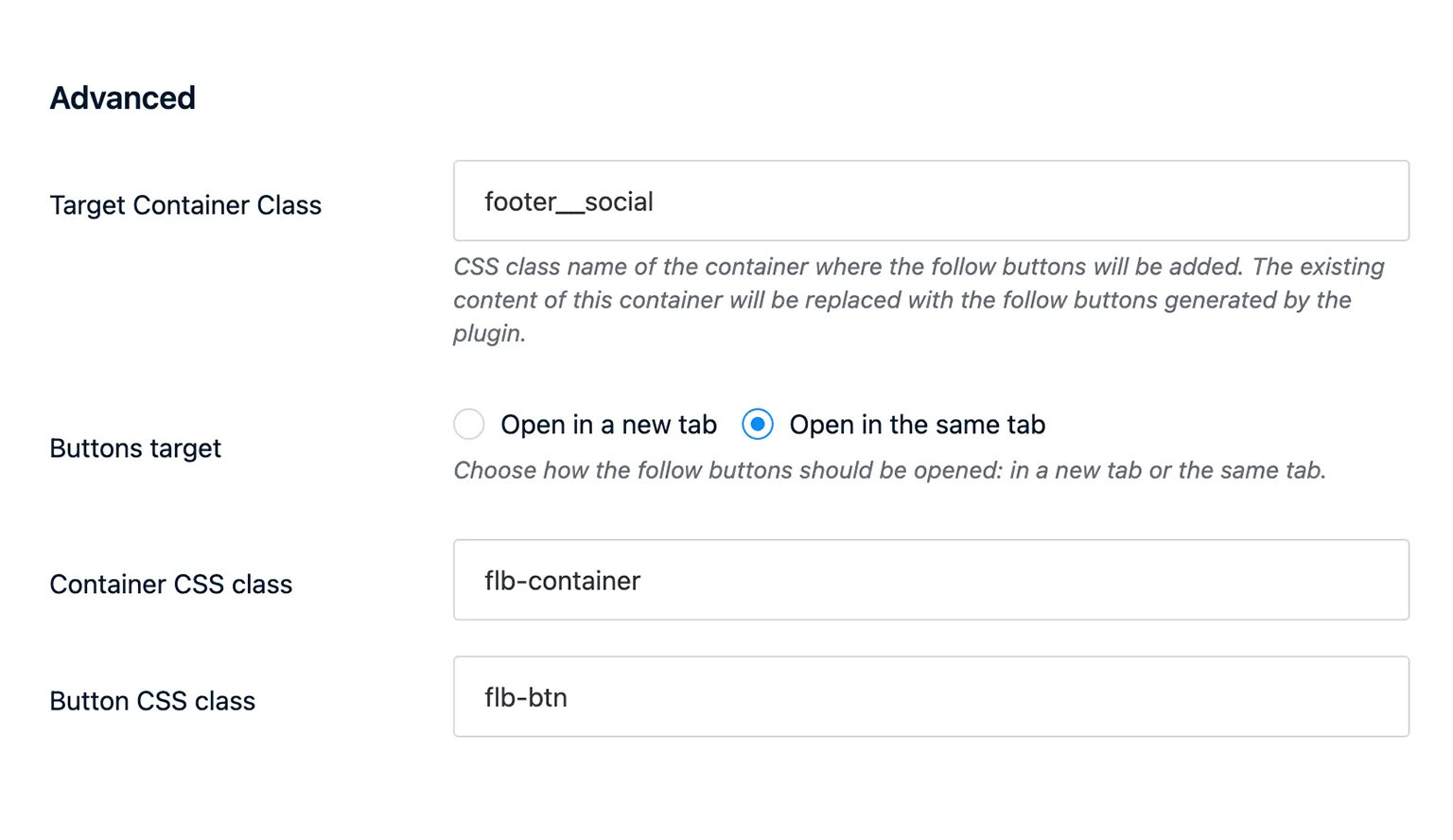 Flexible Shortcode Integration
The Follow Buttons plugin introduces a versatile shortcode feature, enhancing the flexibility of where and how you display your follow buttons on your website. With this functionality, you can easily embed follow buttons anywhere on your site, from the body of your posts to sidebars.
General Shortcode: By using the shortcode [follow_buttons], you can display all the follow buttons you've selected in the plugin settings. This is perfect for sections where you want to provide visitors with a comprehensive list of all the platforms you're present on.
Selective Shortcode: For more targeted displays, the plugin offers the ability to selectively show buttons for specific platforms. Using a shortcode like [follow_buttons=facebook, twitter], you can choose to only show buttons for Facebook and Twitter, or any combination of platforms you prefer. This feature is particularly useful for tailoring your follow buttons to match the content or context of different pages or sections of your site.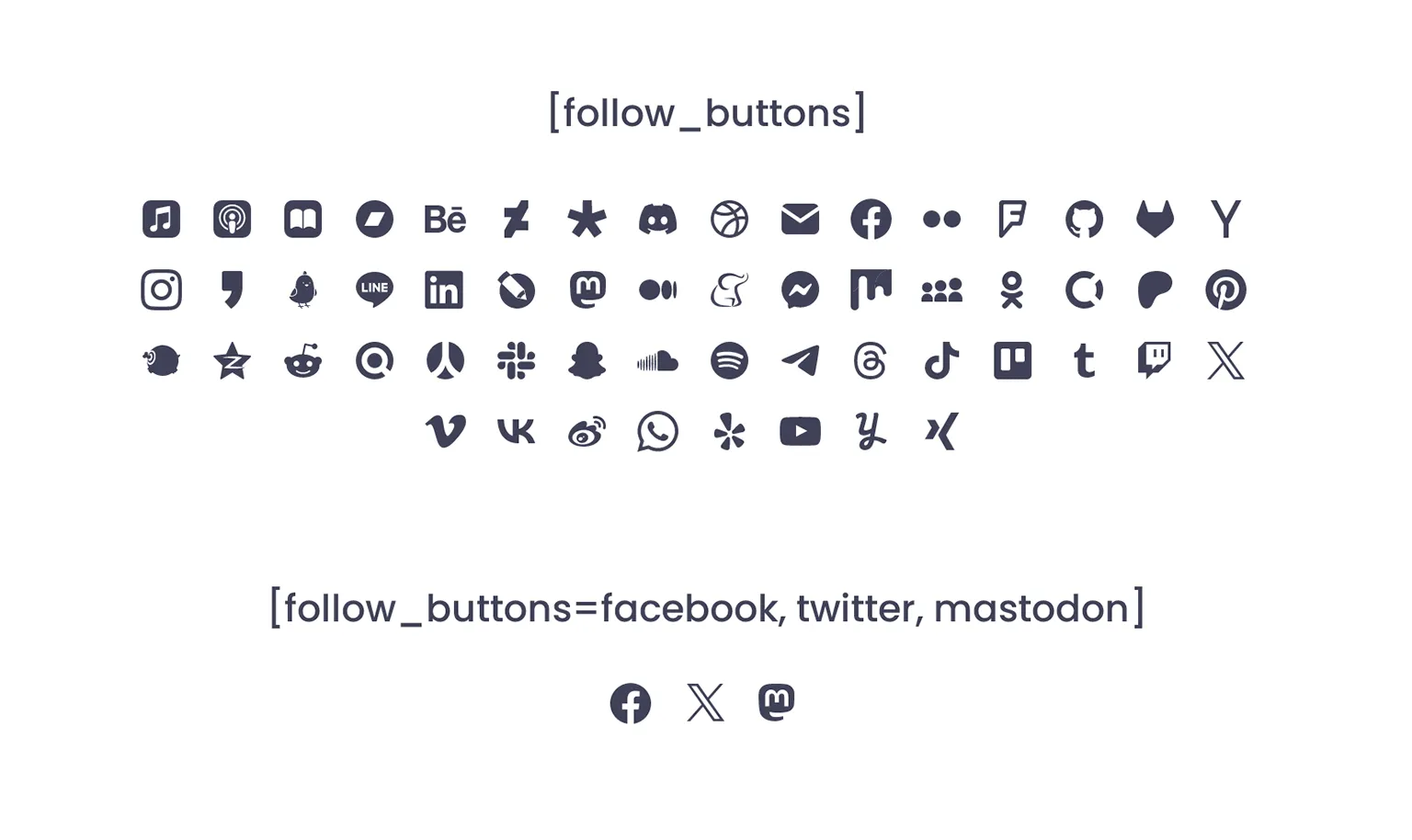 Streamlined Performance and Design
Follow Buttons plugin distinguishes itself with its highly optimized performance and efficient design. This plugin elegantly aggregates the icons for your chosen media platforms into a single SVG sprite map. Such an approach markedly reduces the load on your website, avoiding the need to load multiple individual icons and instead utilizing just one streamlined file.
Moreover, the plugin enhances website speed with tailored CSS, configured based on your selected options. Only the necessary styles are loaded, contributing to faster page rendering. The plugin operates efficiently without JavaScript scripts, ensuring a lightweight and responsive user experience. This design philosophy prioritizes a fast-loading and unobtrusive presence, aligning perfectly with modern web design's need for speed and efficiency.
Supported Followed Platforms
The Follow Buttons plugin for Publii CMS boasts an expansive selection of platforms, offering integration with 56 different options to enhance your website's connectivity and audience engagement.
Available platforms: Apple Music, Apple Podcasts, Apple Books, Bandcamp, Behance, Deviantart, Diaspora, Discord, Dribbble, Email, Facebook, Flickr, Foursquare, GitHub, GitLab, Hacker News, Instagram, Kakao, KooApp, Line, LinkedIn, LiveJournal, Mastodon, Medium, Meneame, Messenger, Mix, Myspace, Odnoklassniki, Open Collective, Patreon, Pinterest, Plurk, QZone, Reddit, Refind, Renren, Slack, Snapchat, SoundCloud, Spotify, Telegram, Threads, TikTok, Trello, Tumblr, Twitch, Twitter (X), Vimeo, VKontakte (VK), Weibo, WhatsApp, Yelp, YouTube, Yummly, and XING.
€

19.00
for 1 year
* Plus VAT for EU customers
What's included
✓ Lifetime usage on unlimited domains
✓ 12-months access to the files and updates
✓ 3-months premium support
Details
Version:

Updated:

Nov 19, 2023
Requirements and compatibility
Browser:

Edge, Firefox, Chrome, Safari, Opera

Requirements:

Publii 0.43.1 and up
Get 3 months of professional support
Getting started with a new plugin on a new website can be a challenge, but our experts are here to help. Every purchase of the commercial plugin includes three months of support through our dedicated ticket system, so you'll have efficient and effective assistance with any issues you run into.