Collapsible Table of Contents
The Collapsible TOC is a premium plugin that serves to enhance the performance, accessibility, and functionality of the Table of Contents created within Publii's editors. While it doesn't generate a TOC itself, this plugin provides features that enhance the accessibility and navigation of an existing TOC.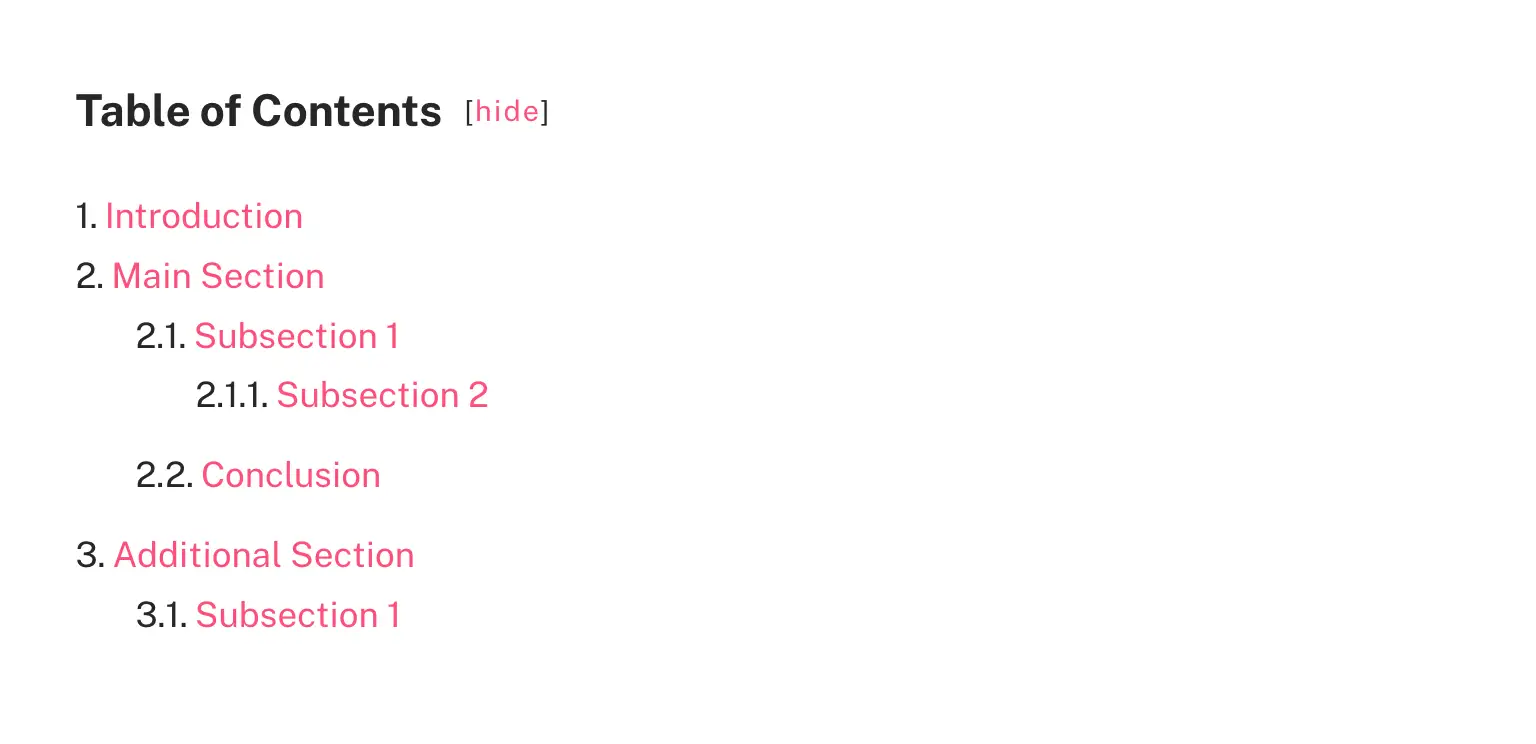 Get better TOC in a flash
Once the plugin is activated, it'll instantly expand the generated TOC on your Publii site, providing expandable or collapsible functionality with a single click. Additionally, it enhances the code by making it clearer and more semantic, ensuring a clear and user-friendly experience. You won't need to worry about getting anything set-up beyond setting the options you prefer; just insert a TOC using the option included in Publii's editors, and the plugin will take care of the rest.
Improve site accessibility for differently-abled Users
The Collapsible TOC plugin improves the structure of the generated TOC and adds ARIA (Accessible Rich Internet Applications) attributes to make it more friendly to screen readers and other assistive tools, allowing users unhindered access to all your content without fuss. All this is implemented immediately on activation; no need to modify your existing articles one-by-one to get them up to speed.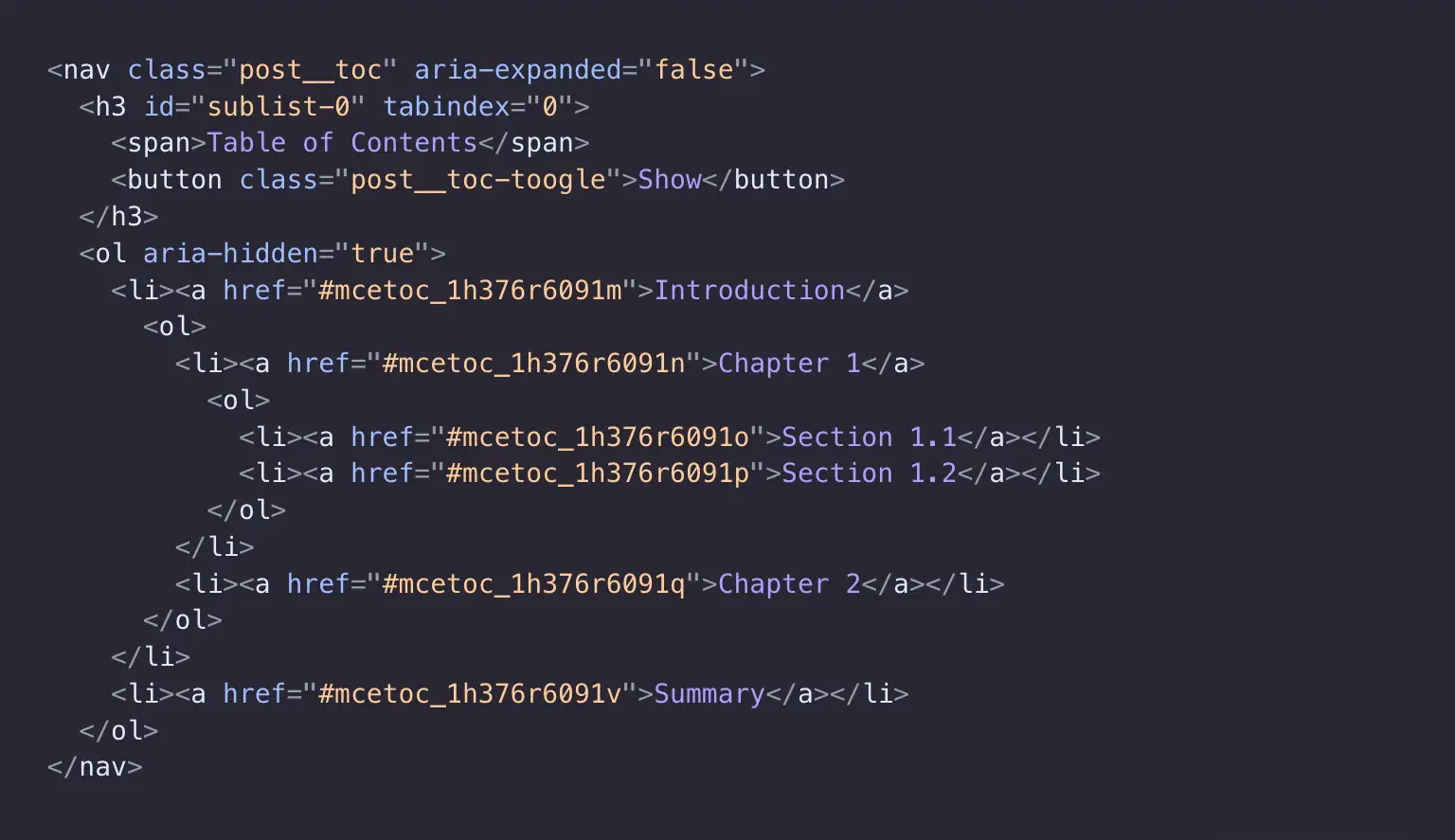 Set Your TOC behavior
As you'd expect, this plugin comes with multiple options for controlling how your TOCs work. Set them to be expanded by default, or collapsed. Let visitors click a button or the heading to expand a section. Furthermore, you have the flexibility to manage the TOC's height. This feature creates a compact, scrollable TOC, offering an effective solution for handling extensive TOC content while preserving a tidy page layout.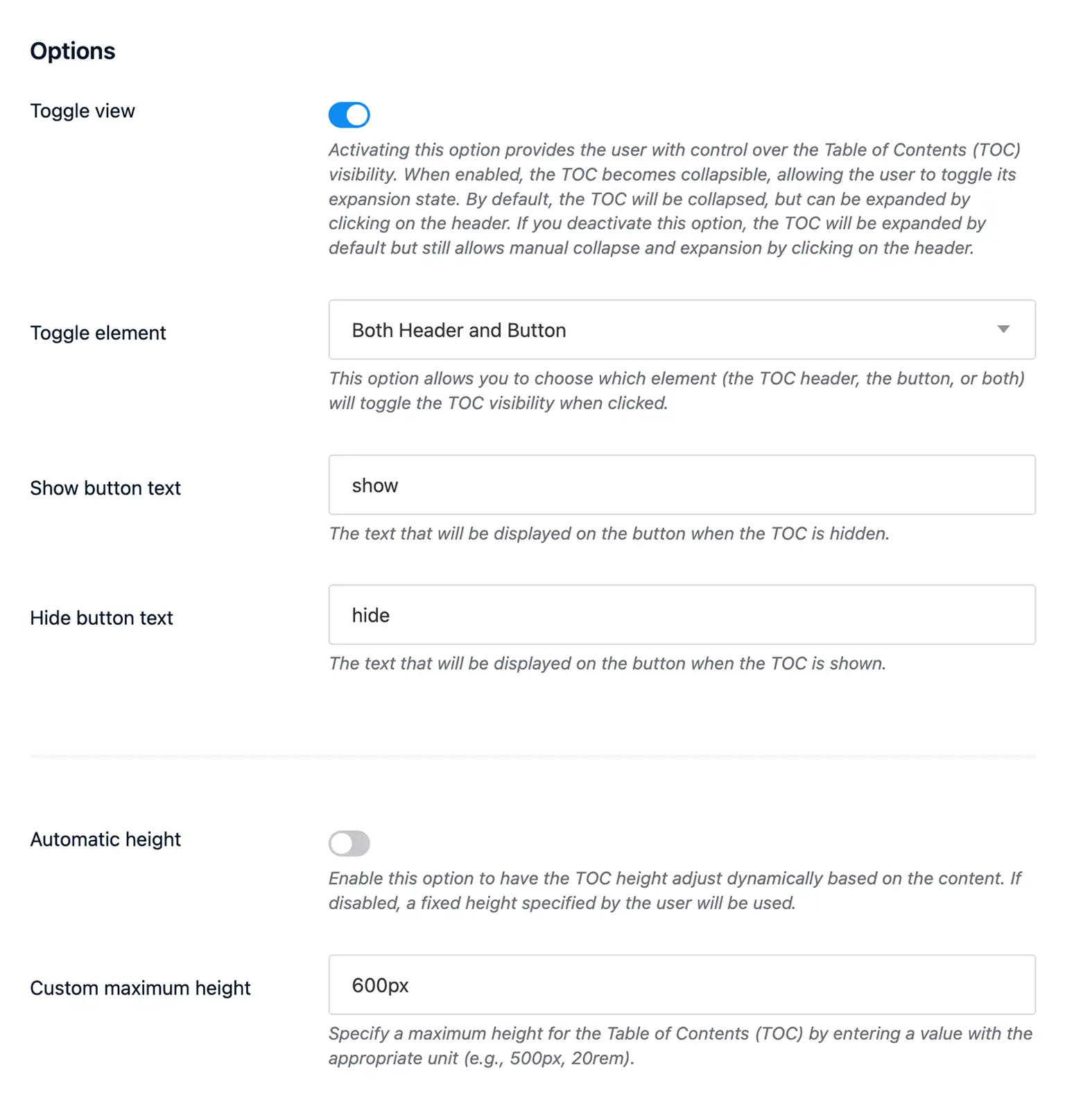 Dive deeper with TOC customization
Before delving into the depth of customization, it's important to note that this plugin comes with a variety of built-in options accessible via the interface. These options offer flexibility in setting the content and style of your TOC header, deciding the heading level, choosing the numbering style for the TOC list, and adjusting the scrolling padding at the top.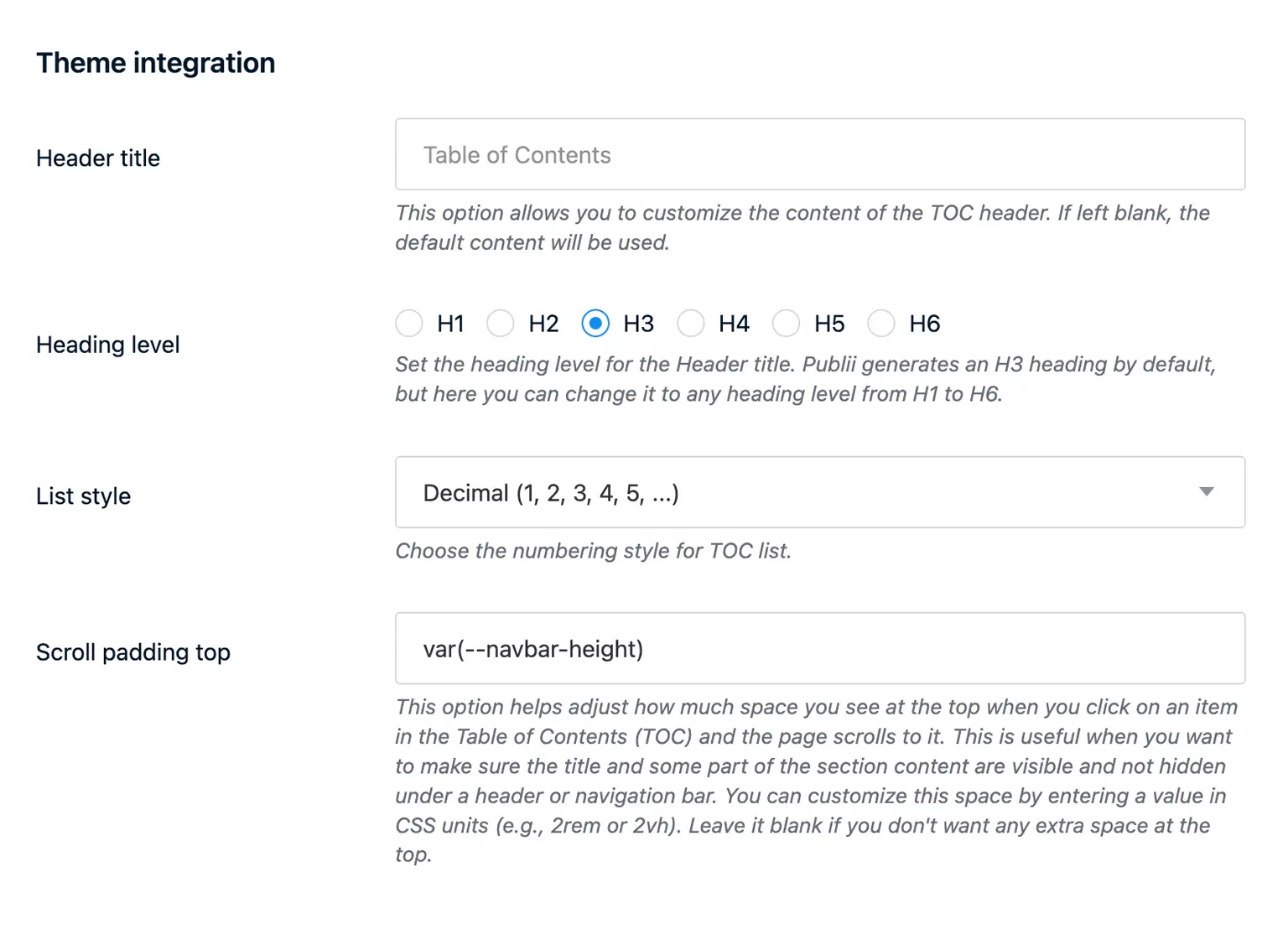 Want to go further with your customization? The TOC created via this plugin supports the CSS variables used by your theme. This allows for precise control over the appearance of your content, ensuring a seamless match with your site's aesthetics. However, if you wish, you can easily override these settings using the Custom CSS tool included with Publii. To learn more about this, you can refer to the TOC plugin documentation.
€

19.00
for 1 year
* Plus VAT for EU customers
What's included
✓ Lifetime usage on unlimited domains
✓ 12-months access to the files and updates
✓ 3-months premium support
Details
Version:

Updated:

June 21, 2023
Requirements and compatibility
Browser:

Edge, Firefox, Chrome, Safari, Opera

Requirements:

Publii 0.42 and up
View documentation
Get 3 months of professional support
Getting started with a new plugin on a new website can be a challenge, but our experts are here to help. Every purchase of the commercial plugin includes three months of support through our dedicated ticket system, so you'll have efficient and effective assistance with any issues you run into.